CANTON – Sequoyah volleyball put on back-to-back dominating performances on Saturday afternoon to advance to the Elite Eight of the Class AAAAAA state playoffs.
Playing at home in front of a raucous student section, the Class AAAAAA No. 1-ranked Lady Chiefs' defeated Lanier and Tucker in their first and second round matches. Both the first and second round matches were played on Saturday in this bracket to ease travel for the visiting teams.
Sequoyah's first match of the day was against the Lanier Longhorns (29-16).
Sequoyah (38-1) dominated the first set with a decisive 25-8 first set victory and Lanier was not able to get anything going offensively or defensively.
The second set for the Lady Chiefs was a struggle early on. They quickly found themselves down 9-5, struggling to return serves and to set up a rally.
"There were times in the first match where we weren't completely focused," Sequoyah coach John Edwards said. "Lanier did play very well in the second set and sort of us took us out of our comfort zone at the beginning."
The Lady Chiefs flipped the switch in the second set after being down early, going on a big run to eventually win the set 25-20.
Throughout the third set, Sequoyah was able to ride the momentum from the second set victory, ultimately winning the third set by a score of 25-15.
Lady Chiefs outside hitters Paige Powers and Sara Siefert dominated the match with a combined 32 kills, while setter Taylor Pecht dished out 41 assists. Middle blocker Catherine Brumbeloe, right front Allie Powers, left back Skylar Martin and Pecht combined for eight aces.
The second match on the day for the Lady Chiefs pitted them against the Tucker Tigers (26-13).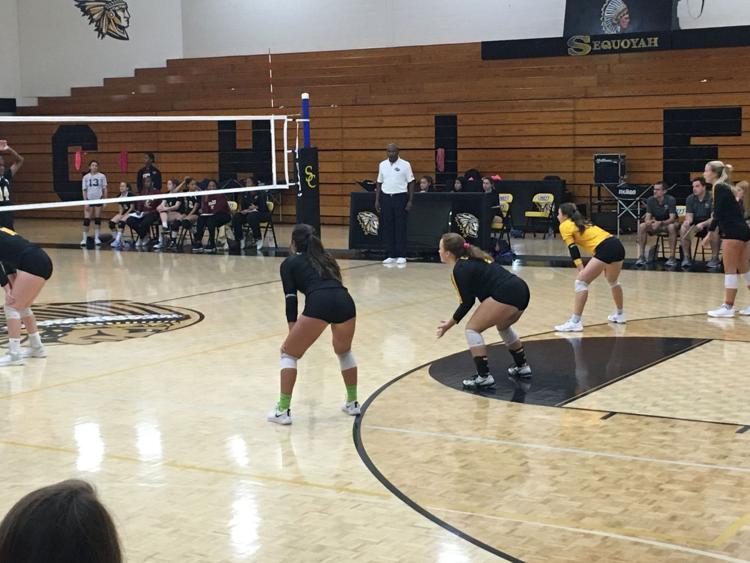 Sequoyah dominated the match, winning all three sets by scores of 25-6, 25-9 and 25-10. The Lady Tigers were overwhelmed physically and mentally by the Lady Chiefs, showing visible frustration throughout the match.
The Lady Chiefs once again showed off their overwhelming power, combining for 33 kills as a team. They also tallied 15 aces.
"I think overall we did a great job of staying focused and working as a team in both matches," Edwards said. "We do a great job of tuning out any negativity. Sometimes it may or may not look good at certain points of the match like the beginning of the second set against Lanier, but in this tournament you just want to advance and that's what we did and that's all that really matters."
Sequoyah will play at home Saturday with the time and opponent yet to be determined.