CANTON -- Grant Davis is well known in Cherokee County, but the Sequoyah junior has goals for himself that reach well beyond his hometown.
Davis is set to swim in the state championships next week, but his sights are also set on the National Club Swimming Association Junior Nationals, which will take place in March in Orlando, Florida.
Davis will have the opportunity at the NCSA Junior Nationals to qualify for this summer's Olympic trials. His personal best in the 1,500-meter (1-mile) freestyle is 15 minutes, 47.80 seconds, and if he can shave a few seconds off his time to reach the 15.44.89 mark, he would guarantee himself an opportunity to swim at the Olympic trials.
"The mile and the 800-meter races are my two closest events, and I'm not far off on the 400-meter," Davis said. "My goal right now is the mile. I'm hoping I can hit that time in March."
The goal of qualifying for an Olympic trial may not be so far-fetched for Davis. Earlier this month, he was announced as the 75th-ranked 18-and-under male in the world for the 1,500-meter freestyle by USA Swimming.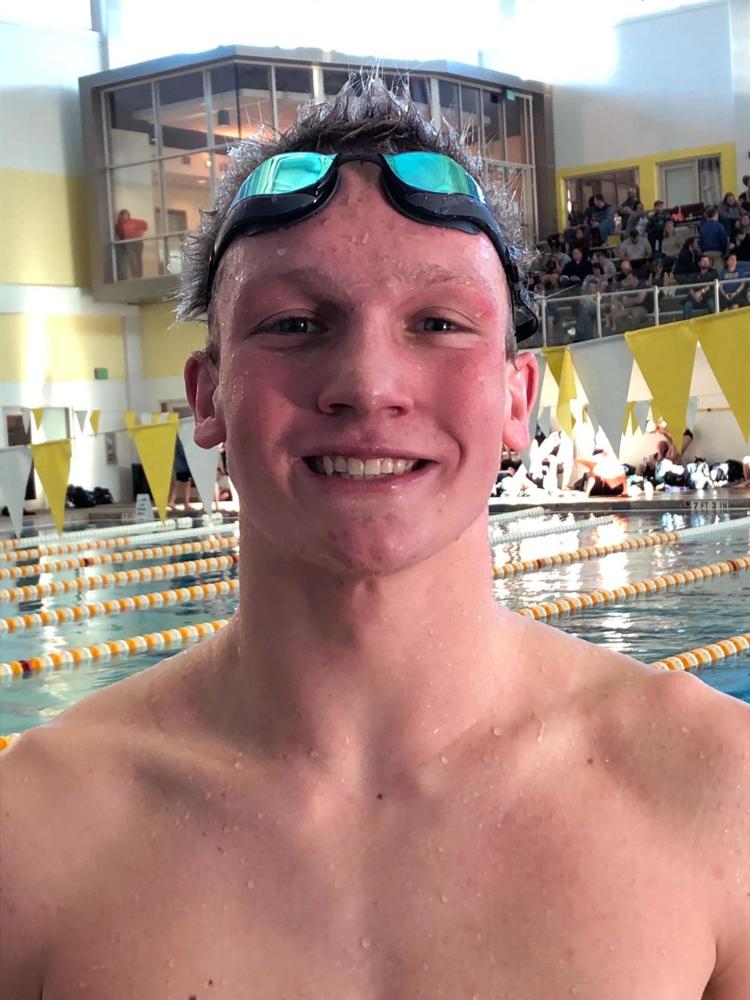 First-place finishes have not occurred for the entirety of Davis' swimming career. A summer season state championship in the 25-yard backstroke as a 6-year-old was followed by years of swimming "for the love the sport," as he recalled cycling through multiple coaches. 
That changed three years ago, according to Davis, when he began training full-time with Mark Schilling at the Woodstock-based Chattahoochee Gold program. Davis credited Schilling with improving everything from his technique to his mental approach in the pool.
"There was a while there when I was just swimming to swim, but ever since I've had (Schilling) as a coach, I feel like I've steadily continued to improve," Davis said. "He's a fantastic coach when it comes to technique, but he also teaches us a lot about being better people not just better swimmers."
Schilling began helping Davis specialize his training into distance-focused workouts. The mile event at the Olympic trials and the NCSA Junior Nationals will both be held on a long course -- a 50-meter pool -- and Chattahoochee Gold is one of the few clubs in the state which has its own long-course pool available for swimmers to train on a daily basis.
Davis admits among his weaknesses as a swimmer at this point in his career are his flip turns, which is why he prefers the long-course format that requires less stop and starts.
"As far as distance swimming, he's the fastest boy I've coached in those top, marquee races," Schilling said. "He's grown a lot in the mental aspect of the sport, and now, when he swims his races, he's showing a lot more racing maturity. I tell my swimmers all the time that anyone can go out there and flail from the first lap on, but it's superstars who can control their effort throughout a race.
"Right now, he's really focused on making that mile time, and 3 seconds in a mile is really not a lot. It's very doable for him. I think his odds of hitting that mark are really good, and it would be a huge deal. He'll still be 16 this summer, and there will probably only be 15 to 20 16-year-olds at the Olympic trials this summer."
This past weekend, Davis set multiple county records at the Cherokee County Championships. His time of 46.88 in the 100-yard freestyle broke the previous mark of 47.95, and his 4:32.33 in the 500 freestyle broke the previous mark of 4:37.19 by nearly five full seconds.
Younger swimmers watched in awe on the pool deck as Davis glided through the water, and even after setting new records, he was quick to deflect the attention to those behind him.
🚨 Record alert 🚨 Sequoyah's Grant Davis just shattered the Cherokee County record for the 500 freestyle.The previous record was 4:37.19 and Davis came in at 4:32.33. That's 4:32 to swim 20 laps! It'd take me 20 minutes! pic.twitter.com/ADIz18Hpat

— Patrick O'Shea (@Patrick_J_OShea) January 25, 2020
"Freestyle is definitely my favorite stroke, and breaking those records hopefully will lead the way for more people to come after me," Davis said. "There are some underclassmen in the county who I know can come up and beat those records."
Heard on the pool deck by a younger swimmer: "Grant Davis is amazing."Sequoyah senior sets a new Cherokee County record in the 100 yard freestyle (46.88) breaking the old record of 47.95.Davis is committed to swim at Auburn. pic.twitter.com/jvS5lNrbhS

— Patrick O'Shea (@Patrick_J_OShea) January 25, 2020
The days are full for Davis, and beyond a few weeks throughout the year, his routine remains relatively consistent. He wakes up at 5 a.m., leading to early-morning swims, a full day of classes and a second pool session in the afternoon. He swims upwards of 10,000 yards -- 400 laps in a regular neighborhood pool -- a day.
What Davis enjoys most, however, is the relationships swimming has introduced into his life. There seems to be an understanding between Davis and his teammates, which he said he values above all else.
"We can relate to each other and talk about things while we're in the pool," Davis said. "We're going through some of the toughest workouts of our lives in the water, but then we're also going through some of the toughest times of our lives outside of the water with high school and everything else going on. The bond I have with my teammates and coaches is something I don't get anywhere else."