For the second straight year, Reinhardt's wrestling team achieved a new milestone.
The Eagles finished third of 53 teams March 7 at the NAIA championships in Park City, Kansas, marking the best finish in program history. In 2019, the team finished fifth.
Iowa's Grand View University won its ninth national title in 10 years, while California's Menlo College finished as runner-up. However, for a program as young as the fourth-year Reinhardt team, the Eagles are trending in the right direction.
"We definitely are headed in the right direction, but we've still got a lot of work to do," Reinhardt coach Jeff Bedard said. "We've gotten near the top really quick, and now we've got to do that much more work to stay there."
In addition to its third-place finish, Reinhardt also set a team record with seven All-Americans, while Justin George became the first wrestler to advance to a national final. George, a junior from Buford, finished as the runner-up in the 165-pound weight class, losing a hard-fought 4-2 decision to Graceland's Brennan Swafford.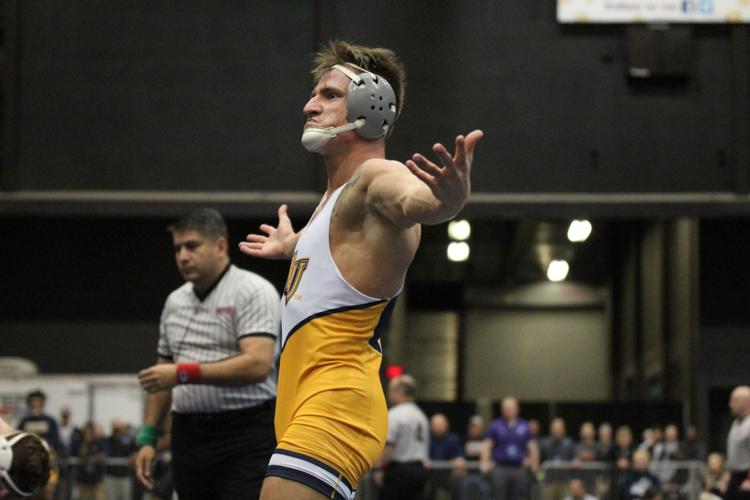 Junior Nolan Saxton finished third at 157, while junior Antonio Stewart was fourth at 184. Other All-Americans included Michael Carew (sixth, 174), Trent Leon (fifth, 141), Jody McAlister (seventh, 141) and Koby Milner (seventh, 125).
"It's a testament to the kind of kids we recruit and the work they put in," Bedard said. "We should have finished second, to be honest with you. We had some guys wrestle really well and some other guys who did not wrestle to their potential. That tournament is so weird, because it's really about who gets hot at the right time, but don't get me wrong, because I'm really pleased and proud of our guys and our coaching staff."
Reinhardt, which finished with 83 points, missed finishing as national runner-up by 1.5 points behind Menlo. The Eagles dealt with a number of injuries during the tournament, with Carew tearing his lateral collateral ligament in the quarterfinals and Milner wrestling his final three matches with a broken ankle.
"Guys stepping up and being tough like that is a testament to how hard they work and the kind of kids we try to recruit," Bedard said.
Bedard was also named by the NAIA coach of the tear for the second straight year by the National Wrestling Coaches Association. The Eagles finished the season with a duals record of 17-2, including six wins over ranked NAIA schools and two more against NCAA Division II programs.
Bedard acknowledged that Reinhardt is well beyond where it was at its beginning, but he reiterated the need to strive for improvement. The Eagles also have a number of talented wrestlers waiting in the wings, including Creekview senior Wyatt Higgins, a state champion and the Cherokee Tribune Wrestler of the Year.
"We're excited about where we're at, and if we can get a couple of these kids we're targeting, we'll be in a good position," Bedard said. "We try to get the right type of kids — guys who will work hard on and off the mat. We've got a lot to be proud of, but we've still got a lot of room for improvement. It's encouraging, but we're still not where we need to be."