CANTON — It took until the second half for the Lady Warriors to pull away on Friday night but once they did it was clear why they're one of the top-ranked teams in the state.
Playing on their home floor, Cherokee defeated Newnan 71-35 in the first round of the AAAAAAA state playoffs. It was the 14th straight win for Cherokee (26-2) who used its depth and skill to wear down a Newnan side which kept it close past the first quarter of play. After Newnan tied the game 22-22 midway through the second quarter. Cherokee closed the half on a 12-2 run and took a 34-24 lead into the halftime locker room.
"I wasn't happy with the first half. I didn't think we played well defensively," Cherokee coach Matt Cates said. "But we came in at halftime and made some adjustments and squared it away in the second half. A win is a win right now, I don't care what the score is."
The Lady Warriors were balanced with their scoring as they have been all season long. Sydney Watts knocked down a 3-pointer to open the second half and was followed by a pair of free throws by Chatham Brown following an offensive rebound. Watts finished with nine points while Brown finished with 13.
Kate Johnson, who continues to develop as a skilled post player, scored six of the next seven points and Ashlyn Andrus' 3-pointer put a cap on a 15-4 run to open the second half. Westlake was forced to call a timeout to halt the run but the damage had been as the Lady Warriors led 49-28 midway through the third.
Andrus finished with a team-high 15 points but it was Johnson's activity on the inside, both offensively and defensively, which may be a harbinger for Cherokee's playoff run. The 6-foot-3-inch junior center finished with 12 points, eight in the second half.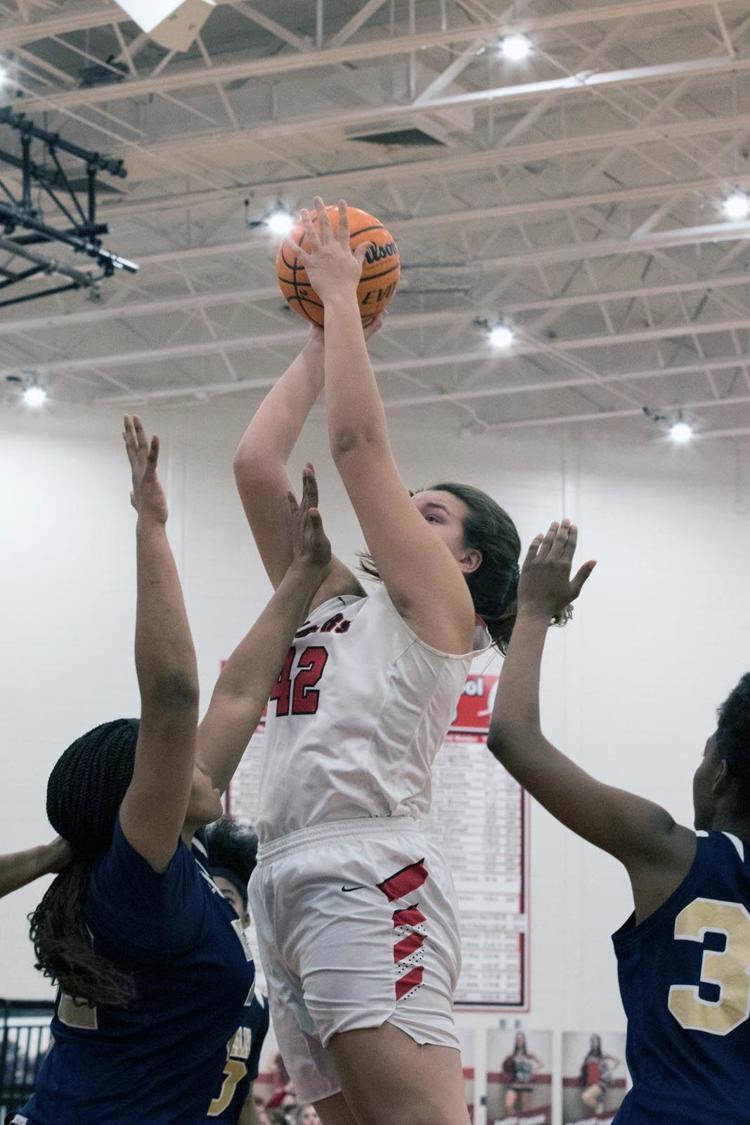 "She's still just barely 16 years old so she's still learning everything," Cates said. "That's what you want to see is her continuing to grow and learn. She can be tough to handle."
With the game well in hand, Cherokee emptied its bench in the fourth quarter. Through the first three quarters, the Lady Warriors also saw contributions from Courtney Cates, Presli Clark, Haylee Donley and Lily Griffith. It was Griffith who knocked down a 3-pointer to spur the second quarter run following Newnan tying the game and Donley finished the seven points, the most for any player off the bench. The defensive efforts from all four helped seal the win and move Cherokee into the Sweet 16.
Cherokee will play Grayson (19-9) in the next round, a team the Lady Warriors beat 53-49 in early January. Johnson did not play in the first game against Grayson but the Lady Warriors will need to be prepared as the Lady Rams have four players averaging double digits in points per game.
Senior Victoria Dames, an Arkansas State commit, leads Grayson with 14.1 points per game while senior Malia Grace, an Alabama State commit, is averaging a double-double with 11.1 points and 10.3 rebounds per game.
"We'll start with watching film on Sunday," Cates said. "We've already played them so it helps having already seen them but they've already seen us too. We've got to be on top of our game defending because Grayson is tough. They've got a big kid who's good and they've got good guards. They love to run and push the ball so we'll have to be ready."
Cherokee will tip-off at 6 p.m. on Thursday at home against Grayson.