CANTON — A one-goal loss from a season ago was still motivation for a team looking for its first-ever playoff appearance.
Cherokee defeated Woodstock 9-6 on Friday night at Tommy Baker Field. The Lady Warriors (4-1, 2-0) remained unbeaten in Area 5 play and controlled the second half after a furious first-half comeback by the Lady Wolverines (4-2-1, 0-1). Once the final whistle was blown, the Cherokee coaches embraced each other and congratulated their players. It was possibly a pivotal win for the Lady Warriors, who last year fell just short of the playoffs and who are looking to make the program's first-ever playoff appearance.
"This win is a big deal," Cherokee coach Jamie Hunt said. "It was between us and Woodstock for the fourth spot in the playoffs last year so this year we just really wanted to get this one. Woodstock is a good team and one thing that we've always needed to focus on is being mentally tough and not playing other people's games. That's why we've lost in the past but this year our kids are unstoppable mentally."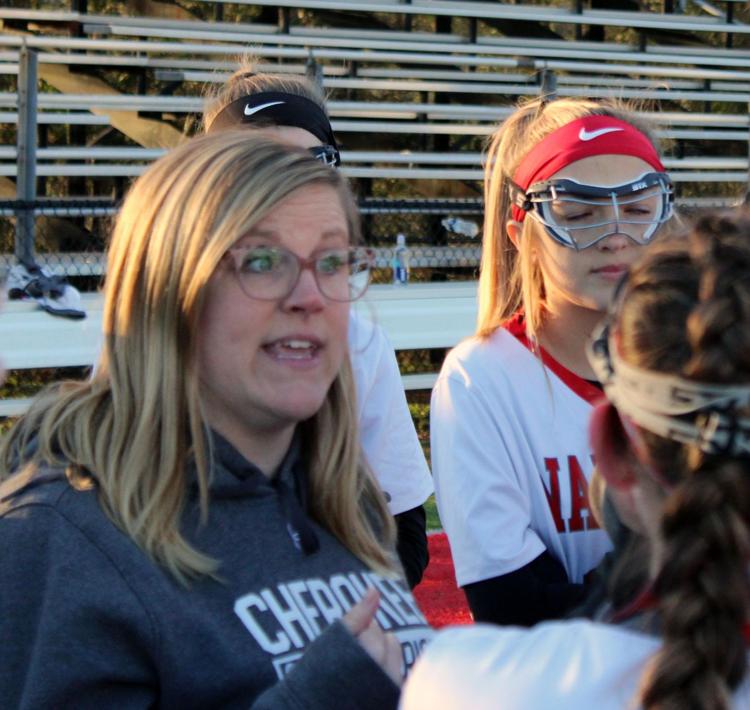 Through the first 10 minutes of the game it looked as though the Lady Warriors would run away from Woodstock. With the scored tied 1-1 less than four minutes into the game, Cherokee's Emma Kirkman scored following a rebound in front of the goal. Cherokee scored the next three goals before Woodstock answered but the Lady Warriors added one more and led 6-2 with less than nine minutes remaining in the first half.
Woodstock, which entered Friday on a four-game winning streak while averaging 16 goals per contest, promptly made its run to close the half. The Lady Wolverines scored four-straight goals with sophomore Reece Morrish finishing the final score and the two teams went into the half tied 6-6.
"Our girls played hard and we came up short due to several factors," Woodstock coach Casey Clouse said. "We will regroup and be ready for North Cobb on Wednesday."
The halftime break seemed to calm the Lady Warriors as Cherokee outscored Woodstock 3-0 over the game's final 24 minutes. Sophomore Stella Starosciak, who finished with a team-high four goals to go along with one assist, scored the final two goals and the Lady Warriors controlled the ball in Woodstock territory over the game's final minutes.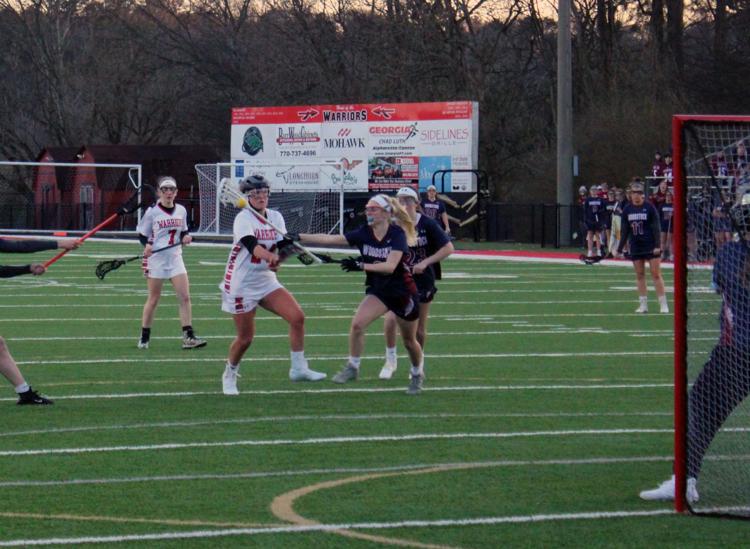 For Cherokee, Lilly Stock finished with two goals and one assist while Lexi Bowen, Claire Crotty and Kirkman each added one goal apiece. Maddie Sanford finished with two assists and freshman goalie Hailey Darko finished with five saves. For Woodstock, Morrish scored a team-high two goals while freshman goalie Annie Wise finished with 14 saves on 17 shots.
"I don't know why but we're a second half team," Hunt said. "We stayed patient and calm in the second half and they got frustrated. We just reiterated what we had already talked about. Picking up ground balls, positive talk on the sidelines, purposeful passes, we just reiterated those things. In a situation like that you just have to stay positive. We stayed mentally tough, that's really all it was."