WOODSTOCK — In her first season back at her alma mater, Kaitlyn Smith oversaw the continuation of multiple championship streaks.
The 2007 Etowah graduate took over as the program swimming coach after spending five years at Cherokee, and she wasted little time in extending the program's run of success.
Etowah won its fourth straight overall county title, as well as its third straight girls championship. The Lady Eagles also finished second in Region 4AAAAAAA behind eventual state champion Lassiter, and they won the girls title at the annual Janueagle meet.
For helping Etowah continue its excellence, Smith is the 2019-20 Cherokee Tribune Girls Swimming Coach of the Year.
"I think it's just nice to be recognized for putting in the hard work that all the coaches do," Smith said. "All the coaches in the county put in extra work, and it's always nice to get recognition from people that you're doing a good job and they appreciate what you're doing."
Etowah's county title did not come easy.
Outscored by River Ridge and Creekview in the boys competition, it was up to the Etowah girls to make up the ground. Along with standout performances from Payton Smith in the 100-yard butterfly (first, 57.61) and 200 freestyle (1:54.38), and Bianca Santiago in the 200 individual medley (second, 2:16.12) and 100 breaststroke (second, 1:07.82), the depth of Lady Eagles roster helped tally points.
Despite trailing River Ridge by nearly 100 points on the boys side, Etowah's girls managed to build their own advantage of more than 100 points and give Etowah a 656-636 overall advantage over the River Ridge.
The depth in races like the 500 freestyle, in which Etowah placed six of the top 12 swimmers, helped the Lady Eagles' cause.
"I think every meet that the girls swam in this season, they outperformed the other teams in a big way," Kaitlyn Smith said. "A lot of them were the top finishers in their events at county and state. I think all those girls really made a big impact this year."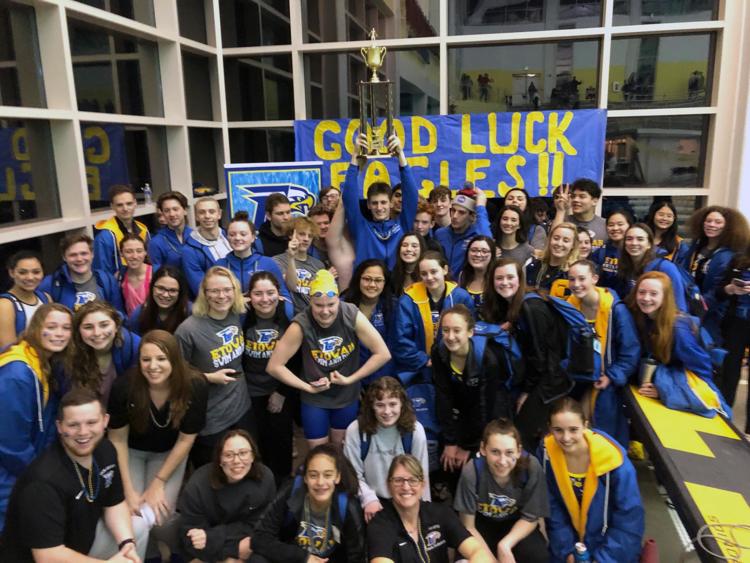 Smith said she did not know quite what to expect coming into a new team this year. While coaching at Cherokee, Smith taught at nearby Teasley Middle School, but she was on campus with her swimmers at Etowah, teaching biology at the school.
Smith, who swam collegiately at Florida Southern, said she never expected to one day return as Etowah's swimming coach after graduating from high school. She's now back among her former coaches and continues to be surprised by where the sport has taken her.
"It's been a unique experience," Smith said. "I get to work with some of my mentors and give back to my school. It's a little more exciting being on campus this year, because you get to coach the kids in more ways than one. A lot of the girls surprised me this year, and they were really committed to working hard. They were all committed to winning this year, and the county championship was their goal from Day 1. They did whatever I asked, and it was a fun group to coach."