CANTON — Delaney Harrison was less than a second away from winning a state title as a freshman in 2019.
One year later, Harrison would not be denied.
The Sequoyah swimmer broke onto the scene as a freshman, winning Cherokee Tribune Girls Swimmer of the Year while finishing on the podium at the state meet in the 50-yard freestyle and 100 freestyle.
This year, she claimed the state title in the 100 freestyle with a time of 52.00 seconds and finished second in the 50 freestyle (23.80). She also set county records in both events, breaking her own marks from the 2018-19 season.
For her efforts in the pool, Harrison is once again the Cherokee Tribune Girls Swimmer of the Year.
"I feel like it's cool to bring awareness to the school — to let people know that we do have a swim team and we do really well," said Delaney, who continued a run of Sequoyah swimmers winning the award, following Kristina Friedrichs in 2018.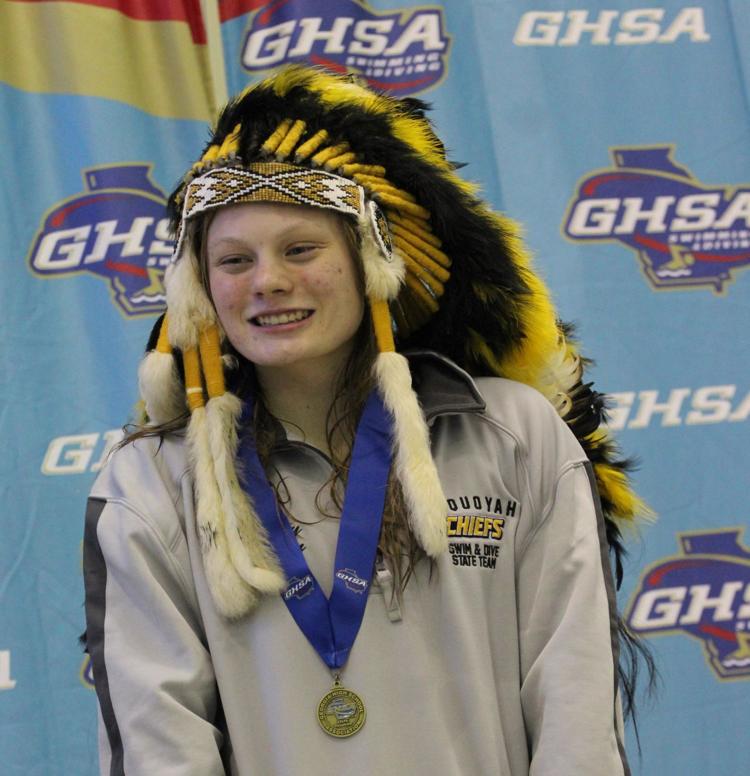 Harrison said she entered the season expecting to win state titles in both freestyle events. She dropped a full second in her 100 time in December while swimming with her Chattahoochee Gold club team, and heading into the high school state finals, she felt she had it in her to win.
Harrison dropped time in the 50 as well, but when asked which accomplishment she was most proud of, it was a team relay that first came to mind.
"I was definitely most proud of our 200 freestyle relay," Harrison said. "We made the 'A' finals (at the state championships), which is something that I'm not sure anyone expected going in. We ended up dropping a lot — I think 2 seconds — and it was definitely a joint effort from everyone. Just being in that 'A' final was a really cool experience."
Harrison competed with Laurel Blase, Emma Gellett and Kelsey Jackson in the relay, finishing fifth in Class AAAAAA (1:40.94).
Next year, Harrison will likely challenge her county records in the 50 (24.00) and 100 freestyles (52.15) again next year.
Grant Davis, the lead swimmer for Sequoyah's boys team, said Harrison's improvements this season did not come as a shock.
"Delaney has grown a lot as a swimmer and a person this year," Davis said. "I think she knows that, and it's been really cool to watch. I expected a lot from her this high school season, and it's been really cool to see her accomplish that."
Harrison has goals for herself beyond high school and, beginning in July, will be allowed to communicate with college recruiters.
She admitted that she has thought about which schools may come calling. Harrison will compete later this month at the National Club Swimming Association Junior Nationals in Orlando, Florida, and said her performance at the event could also affect her college options.
With two full years of high school remaining, Harrison is already considering the next step.
"How I do down there is definitely something colleges look at," Harrison said. "I'm not allowed to talk to them yet, but I've been thinking about it. I don't really want to think about it. It scares me, because it means I'm getting old, but I'm excited to see who reaches out, because I really don't know at this point."