Cherokee County resident Garland Pinholster will be inducted into the Atlanta Sports Hall of Fame this weekend.
Pinholster will be one of six new inductees at the ceremony which will take place on Saturday at the College Football Hall of Fame in Atlanta. Other inductees include former Atlanta Falcons kicker Morten Anderson, former Georgia Tech and Detroit Lions wide receiver Calvin Johnson and former Atlanta Hawk Dikembe Mutombo.
Pinholster's induction will honor his remarkable contribution to the game of basketball, but Pinholster was also an integral figure in Cherokee County following his coaching career.
Born in Clyattville, Georgia in 1928, Pinholster later attended North Georgia College where he played basketball. Pinholster served as the head basketball coach at Oglethorpe University from 1956 to 1966 where compiled a 181-67 record and where the court is now named after him. He also coached the United States National Team to a gold medal at the 1963 Pan American Games.
Pinholster's most lasting legacy to the game of basketball may be his innovation of the "wheel offense" which utilizes continuous motion and which was ahead of its time in the 1950s and 1960s. Many other of Pinholster's ideas were ahead of their time including huddling before free throws, utilizing hand signals from the sidelines to conserve timeouts and introducing summer basketball camps throughout the state.
Saturday will be the sixth Hall of Fame induction for Pinholster who already is a member of the Oglethorpe Athletic Hall of Fame, Georgia Sports Hall of Fame, Valdosta Lowndes County Athletic Hall of Fame, Chattooga County Hall of Fame, and North Georgia College Hall of Fame.
The drive to succeed which fueled his success in athletics also served him well in his life after basketball.
Following his coaching career, Pinholster went on to become one of Atlanta's most successful businessmen and a successful politician. He earned Republican Legislator of the Year during his tenure in the Georgia House of Representatives and also was elected as the president of both the Buckhead and Canton Rotary Clubs. He was the Rotarian of the year for the Canton Rotary Club in 1988 and also served on the executive board of the Boy Scouts of America.
It was his work while on the board of the Georgia Department of Transportation, however, which helped turn the revitalization of the the city of Ball Ground from a dream to reality.
"Mr. Pinholster helped Ball Ground secured several grants to benefit the water system," Ball Ground city manager Eric Wilmarth said. "We completed that project in 2009 and it was Mr. Pinholster who secured those initial grant funds for the downtown streetscapes. With those funds we were able to put in storm drains, new sidewalks, everything right down to the pedestrian benches and street lamps. Mr. Pinholster was the main reason all that was accomplished."
Ball Ground named the city's plaza "Garland Pinholster Plaza" in 2011 and January 12, 2003 was declared Garland Pinholster Day in Cherokee and Pickens counties.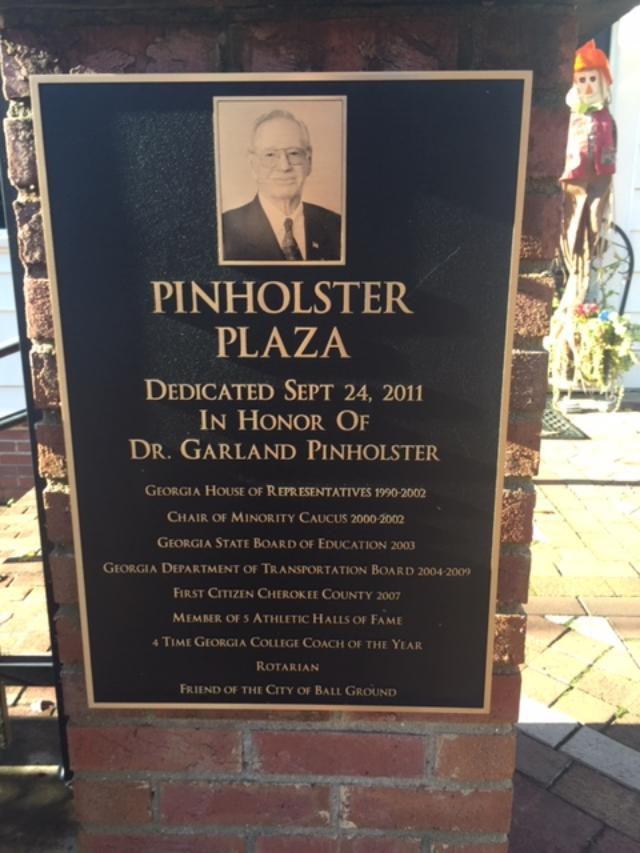 Wilmarth said a group from Ball Ground including Mayor Rick Roberts and other city employees will travel to Atlanta this weekend in support of Pinholster.
"We do have a group that's going down, just to honor him and pay our respects," Wilmarth said. "I know he's being honored for athletics, but he's been such an important person in our revitalization and Mayor Roberts thought it was important for us to support him in this."