CANTON — Sequoyah's Grant Davis again set the bar for boys swimming in Cherokee County.
A year after being named Cherokee Tribune Boys Swimmer of the Year as a sophomore, Davis earned the honor once again following a junior campaign that saw him set multiple county records and become the first male swimmer from Sequoyah to claim an individual state title.
With one more year in front of him before he sets off to swim at Auburn, there is no telling what new marks Davis could set for the younger swimmers coming up behind him.
"It's really exciting, and it's a really cool honor," Davis said. "Not a lot of people know about swimming, unless it's the Olympics, so it's pretty cool to bring recognition to the sport in high school."
At the county championships in late January, Davis set new county records in the 100-yard freestyle (46.88 seconds) and 500 freestyle (4:32.33). His record time in the 100 freestyle broke the record Woodstock's Chase Moore set in 2017 of 47.95, and his record-setting time in the 500 eclipsed the 2011 record set by Etowah's Alec Cohen's (4:37.19).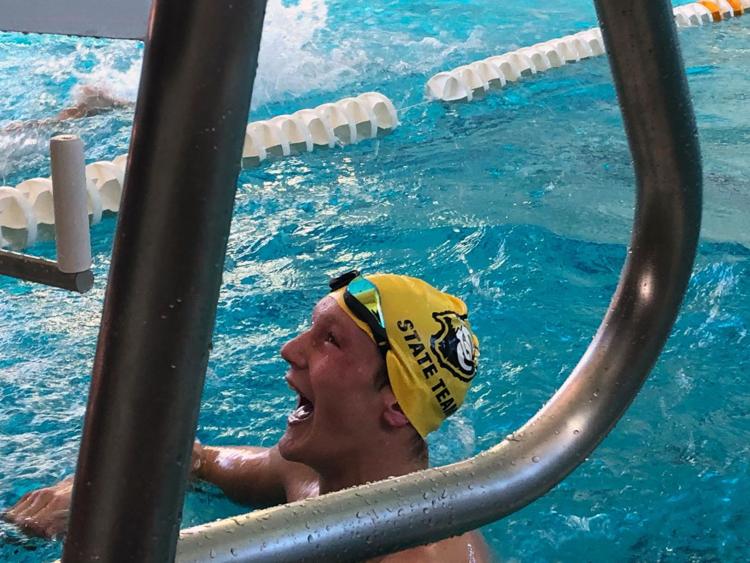 After finishing fifth in the 200 freestyle and fourth in the 500 freestyle at the 2019 state championships, Davis once again finished fifth in the 200 freestyle (1:41.36), but he shaved nearly 2 seconds off his county-record time in the 500 to claim the Class AAAAAA state title with a time of 4:30.60.
"Being a state champion is a really cool thing to do, especially here at Sequoyah," Davis said. "Bringing it home and being the first guy from Sequoyah to win state, it's something I'll remember."
In less than two weeks, Davis will attempt to accomplish yet another goal — qualifying for the Olympic trials.
Beginning March 17 in Orlando, Florida Davis will compete at the National Club Swimming Association Junior Nationals. His goal of qualifying for the 1,500-meter would require him to shave a few seconds off his personal-best time of 15:47.80, but he is confident in his abilities and excited for the opportunity.
Hitting the mark of 15.44.89 at the junior nationals would guarantee Davis an opportunity to swim at the Olympic trials.
"It'll be the first race of the meet down there, which is pretty exciting because they usually save the long races for the end," Davis said. "It's just a couple seconds I need, so I think it's doable."
During the county championships, younger swimmers could be heard and seen watching in awe from the pool deck as Davis knifed his way through the water. His presence could certainly be a factor moving forward in attracting new swimmers to the sport, not only at Sequoyah but countywide.
"It's growing as a sport at our school, which is really cool to see because we've never had that big of a swim team in the past," Davis said. "This year, with the big class of incoming freshmen, it was great to see. I definitely want to see if I can set those school and county records as low as I can so more people can come up behind me and have something to shoot for."