CANTON — After winning the first region championship in program history, the Warriors' magic fell dry.
Westlake defeated Cherokee 61-55 on Friday night in the first round of the AAAAAAA state playoffs, ending the Warriors' season. Cherokee (23-5) was unable to find offense late in the game as Westlake (10-19) used its defensive pressure to turn turnovers into easy buckets in the final moments.
"They gave us problems with their pressure," Cherokee coach Roger Kvam said. "Westlake is very well-coached. We watched them on film and felt like they did a lot of good things from switching up their defenses to running plays to get their best players the ball on offense. We didn't play our best and I thought we had to play almost our best to beat them."
Early on, the Warriors looked like they would use the home court momentum to carry them to the next round. Elijah Tucker knocked down a deep 3-pointer on his first shot attempt and was followed by Bennett Ulm who sunk another 3-pointer from the wing. Tucker threw down a dunk for Cherokee's next basket and found Taihland Owens slicing to the rim to help Cherokee build a 10-4 lead early in the first quarter.
Westlake began the game in a full court 2-2-1 press and throughout the game the Cherokee guards were forced into uncomfortable situations by the Lions' length and speed.
It was the inability to rebound on the defensive end which hurt Cherokee in the first quarter, however, as Westlake crashed the glass and found high percentage points in the paint. Christian Carter scored a pair of baskets off offensive putbacks late in the first and Westlake took a 16-14 into the second.
"Kids want to play zone but we didn't rebound out of it," Kvam said. "Once we went man-to-man I felt we were better."
Cherokee switched it's defense in the second quarter but Westlake responded with it's skill at the guard position. Sophomore point guard Dillon Hunter knocked down a pair of 3-pointers late in the period and Westlake took a 28-22 lead into the half.
"People look at our record but they don't realize that we've played one of the hardest schedules in the country," Westlake coach Darron Rogers said. "We've played four state champions, the best team out of Ohio, the best team out of Florida and then you look at our games within our region. We've played some tough teams.
"We knew Cherokee had two dominant scorers, but we've already faced teams with two dominant scorers and now our kids are following the game plan versus just playing."
Cherokee senior Zack Vickers did his best to lead the Warriors, scoring 13 of his team-high 19 points in the second half but it wasn't enough. Cherokee made its run in the fourth quarter, however, taking a 43-42 lead on a basket by Tucker, who finished with 16 points, 13 rebounds and three assists. Owens finished with 11 points.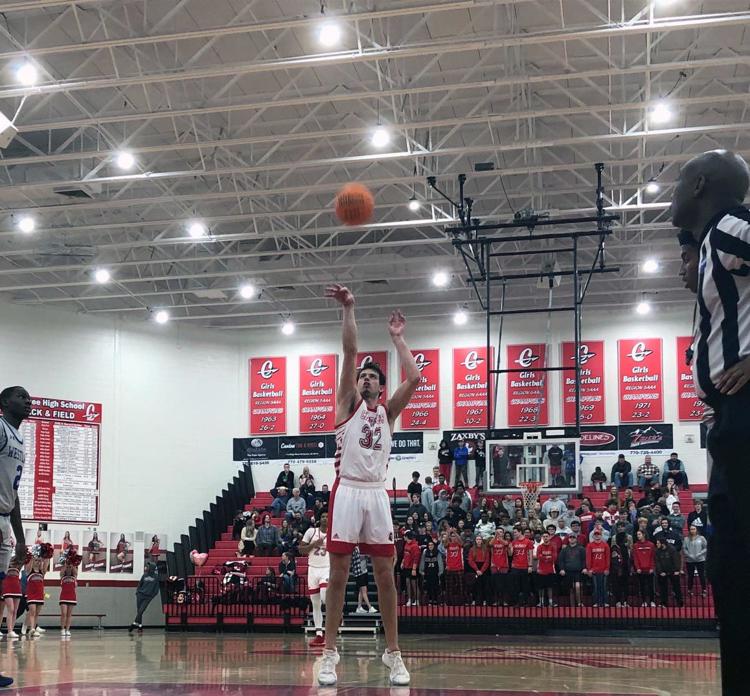 After the game was knotted up at 46-46 moments later, Hunter knocked down yet another 3-pointer giving Westlake the lead for good. Jalal Mckie led Westlake with 14 points while Donald Davis added 12.
Westlake, which dropped out of its full court defensive pressure in the second and third quarters, went back to the 2-2-1 press in the fourth and Cherokee was unable to find quality offense as a result. Instead of attacking the basket, Cherokee settled for longer jumpers and Westlake shot 13-for-18 from the foul line in the fourth quarter to put the game away.
"We've run that same game plan we ran tonight 10 times already this season against nationally ranked players," Rogers said. "That's a big thing when a team has already been through the fire because now you can come in and play comfortably away from home. I think that helped us."
Despite the loss, Cherokee still completed one of the most successful seasons in program history. Cherokee won four in-season tournaments, including the region tournament, and with a number of talented players returning next season the future looks bright for Cherokee basketball.
"I felt like this year we played hard every game," Kvam said. "We didn't always play well, we didn't always play smart but we played hard. That was such a big step from last year where it was off and on. It was a fun year for me because I love watching kids compete and I thought we competed all season."