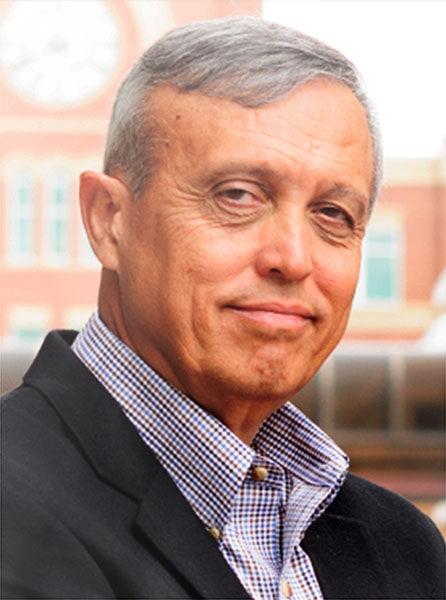 It's a tale of three Cobb County governments, two of them deserving of praise.
In May, the Cobb Board of Education adopted its fiscal 2019 budget, keeping the school district's millage the same. The budget included a 1.1 percent bonus for teachers and a 1.1 percent raise for employees. It also includes a full salary step for all eligible employees.
Even so, the school board's sole Democrat, David Morgan, insisted on raising the millage rate to give employees "More, More, More."
"It is my position, my belief, my opinion that when it comes to pay, employees are being short-changed," opined Morgan, a curious statement coming from a lobbyist for the charter school industry.
School board member Randy Scamihorn said the extra money the school system received from the state this year was funneled into teacher raises. Scamihorn said he would love to double the salaries of all school district employees, but wants them to know the district is already stretching its resources thin to offer raises and bonuses.
"If we raise the millage rate 1.1 mills, what do we do next year or the year after?" Scamihorn asked. "If we go all the way up, where do we go from there?"
The state caps the school district's tax rate at 20 mills, a cap it's almost reached (and would reach if Morgan's proposal became effective) at 18.9 mills.
But Morgan isn't the only grandstander basking in the spotlight of government employee adulation.
The Marietta City Council adopted its 2019 budget on Wednesday, offering raises of up to 4 percent for all eligible full-time employees hired before July 1.
After the Council's Finance Committee adopted the budget in May, newly elected Councilman Reggie Copeland ordained that a 4 percent raise wasn't sufficient to lavish upon city bureaucrats, insisting on stuffing the budget with an additional 1 percent across-the-board hike.
Copeland has been a lightning rod ever since taking office, picking fights with the mayor and council members, calling the police on one council member, introducing himself as "Councilman Reggie 'Gamechanger' Copeland," and, believe it or not, comparing himself to Martin Luther King Jr.
(The immediate thought that comes to mind is that of the 1988 U.S. vice-presidential debate when Lloyd Bentsen told Dan Quayle, "Senator, I served with Jack Kennedy. I knew Jack Kennedy. Jack Kennedy was a friend of mine. Senator, you're no Jack Kennedy." But we digress.)
Councilman Johnny Walker said he didn't understand why Copeland was calling for the additional raise after the budget had passed through the committee and was set to be approved. Did he not understand the budget process?
"I don't want to say he's grandstanding, but I don't understand what his thought process is," Walker said.
Councilman Grif Chalfant chimed in to say he thinks highly of the city staff, that they do a great job and that the council had just given them a raise. However, "We really need to think about the welfare of the citizens of Marietta and not overburden them with too much. We're trying to keep taxes low," Chalfant said.
Meanwhile, Councilwoman Cheryl Richardson was not about to accept Gamechanger Copeland's accusation that his fellow council members who voted down his recommendation did not care about the city employees, calling him out for the insinuation.
Copeland and Morgan are case studies in posturing grandstanders, pandering to the rank-and-file who often are a formidable voting bloc. Fortunately, wiser minds on the Cobb school board and the Marietta City Council prevailed.
That's the tale of two good governments.
Such wisdom did not win the day with the Cobb Board of Commissioners in February 2017 when newly seated Chairman Mike Boyce led the commission to award raises to county employees. That's a $10.4 million annually recurring cost to taxpayers — money, we now know, the commission did not have to give.
The recommendation was midwifed by a consultant whose initial market study sent to the county included the words "DeKalb County" atop each page, leading some to understandably wonder if this was just a cut-and-paste affair. That consultant — The Archer Company — never met a salary it couldn't hike.
A predictable result of approving the pay hikes is that Boyce is now traipsing across the county, bowl in hand, asking the taxpayer, "Please, sir, I want some more." Because as any fiscal conservative will tell you, the government's bottomless appetite for what's in your pocketbook is never sated. And it's quite easy to give away other people's money to buy goodwill from government employees who'll remember what you did for them in the next election.
"When a business or individual spends more than it makes, it goes bankrupt. When government does, it sends you the bill," Ronald Reagan appropriately said.
And here we have Boyce sending Cobb taxpayers the bill.
In these scenarios, all three governments raised employee salaries. The difference is the first two did so without raising the millage rate on taxpayers. That doesn't appear to be the case with Cobb County.
In a propaganda campaign worthy of P.T. Barnum, the chairman starts a seven town hall tour Monday at which he'll give the citizenry the choice of raising taxes or closing parks and libraries. They'll pay one way or the other.
Thomas Sowell, the American economist, said it best: "The real goal should be reduced government spending, rather than balanced budgets achieved by ever rising tax rates to cover ever rising spending."
If only the Cobb Board of Commissioners would take this to heart.