WOODSTOCK — Adults can now carry alcoholic beverages at the Outlet Shoppes of Atlanta between the outlet mall's restaurants and retailers.
The Woodstock City Council unanimously approved an entertainment district last week that consists of the outlet mall's footprint, not including the parking lot or any out-parcel buildings. The mall is the city's second entertainment district, where it is permitted to walk with alcoholic drinks within the district, so long as they are purchased from a business with the appropriate license. Like in the downtown district, drinks are required to be in a plastic container and not to exceed 16 ounces.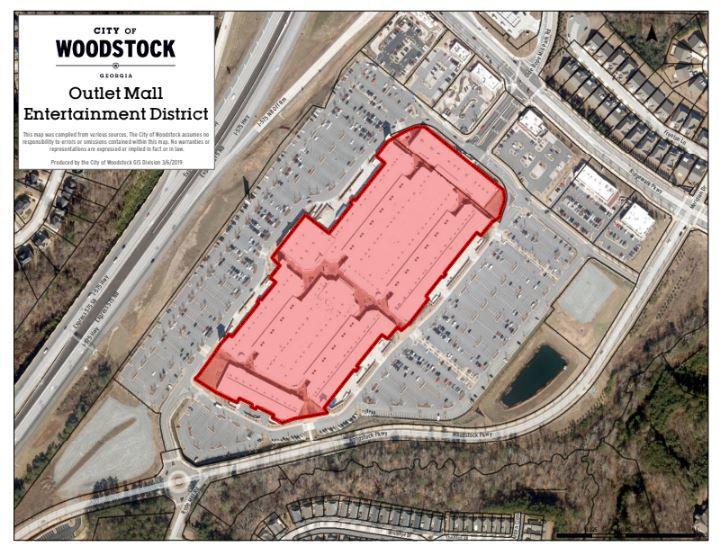 General Manager Charlie Loughran said to the council that creating the district will add an important boost in businesses for stores and restaurants at the outlet mall, helping them to compete with similar shopping destinations.
"What we have to focus on is our customers' experience, offering them entertainment, amenities and a really great environment. The Outlet Shoppes is a family-friendly environment, we think that is critically important to us, but we'd also like to provide our adult patrons a little bit more flexibility, that they might have an alcoholic beverage and be able to walk our breezeways, wait on a table at one of our restaurants or even just to be social it gives you a little broader experience," she said. "We also believe this will help us in the competitive market. Our competitor, such as Avalon, is already an open container facility."
The Outlet Shoppes at Atlanta has two restaurants with alcohol licenses, De Allende Mexican Kitchen and Tequila Bar and Taqueria Tsunami, so the new district will only allow beverages from those places, although retailers and other businesses may apply for special event permits to serve alcohol.
"My vision, sort of, was that perhaps we could have a winery weekend, buy a special event permit and invite guests out to do things they might not otherwise do by going and seeing our wineries," Loughran said.
Because the mall is private property, Outlet Shoppes officials will create and enforce the rules and procedures associated with the district.