BALL GROUND — In the Parkinson's disease support group at Ball Ground United Methodist Church, there is exercising, dancing and a lot of joking about falling.
It's also a place where people can safely share what it's like living with or caring for someone with the disease, surrounded by others who have had a similar experience.
The group is the passion project of Ball Ground resident Norma Schmidt, 81, who has been diagnosed with Parkinson's about 12 years, though she believes she had it long before that.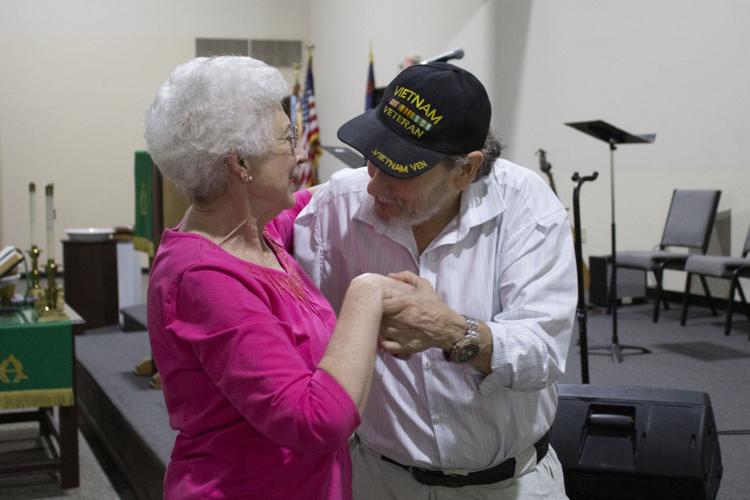 Before the Parkinson's diagnosis, Schmidt didn't have signs of the tremors commonly associated with the disease. She remembers feeling tired all the time, frequently falling asleep. At least once, she fell asleep while driving. After she had a name for her illness, she knew she didn't want to go through it alone. She reached out to a friend, Martha Fast, whose son had Parkinson's, and formed a small support group.
Two years ago, they made flyers and posted them around the area, in doctors' offices and to "anybody that would let us," she said. Four people were in attendance at the first meeting, and the group has since grown to see about 30 patients, caregivers, family members and medical professionals at their monthly meetings.
"It's been a thrill. This is my heart," she said of the support group. "We thought if we were able to help one person, that'd be worth it all."
Evelyn Ball, whose husband Kenneth Ball has had Parkinson's for at least 27 years, said the group has made a difference for both, especially him.
"It's helped my husband more than me, to be someone who realizes they're not the only one," Ball said. "We enjoy the group because we keep growing. We have people sharing what's available."
Melony Matteson, a primary caregiver for her brother-in-law, Ed Matteson, said though her family has been a few times to the meetings, they've been helpful.
"Every time we've come, we've enjoyed it. It's very informative," she said. "Sitting and talking to other people that have the same issue, you know that you're not alone."
Because those with Parkinson's often lose their balance, a major concern for caretakers is falling.
Matteson said she was able to learn how to prevent falls that cause serious injury and how to respond to falls from a longtime caregiver.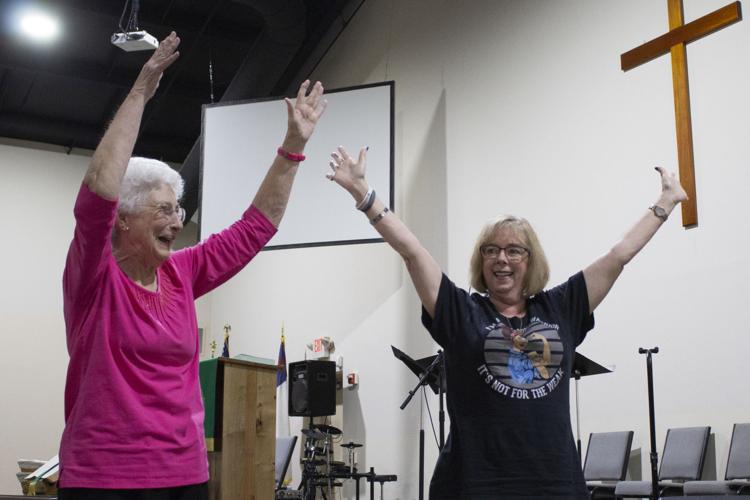 At Sunday's meeting, Parkinson's patients practiced exercises in a brief presentation on movements that can help mitigate symptoms, from Matthew Ward of New Beginnings Therapy Services in Jasper.
Parkinson's is not Schmidt's only health challenge: she also lives with diabetes and rheumatoid arthritis. In July, she was diagnosed with pancreatic cancer.
"It doesn't scare me. I just figure it's another battle; I'll fight it," she says.
With help from her husband, Hal Schmidt, she responds to all of these challenges with optimism and humor, always looking for ways to help others.
About four years ago, Norma Schmidt was in a coma that lasted about two weeks. She jokes now that her family "pulled the plug," but at the time they didn't believe she would make it without a respirator. To everyone's surprise, she started breathing on her own and woke up. She continued to surprise doctors and family members by walking on her own a few months later. Since starting cancer treatments, she uses a walker to help her get around.
"I know what I can and what I can't do, and I'll go as far as I can," she said.
The Parkinson's support group meets 6 p.m. the first Sunday of the month at Ball Ground United Methodist Church, 3045 Canton Highway in Ball Ground.