A longtime presence on the Holly Springs City Council has died, but those close to her say her personality and love for the city will always be remembered.
Karen Barnett, Holly Springs council member for 17 years, died May 20 at the age of 64 due to complications from COVID-19 and pneumonia at Wellstar Kennestone Hospital, said Melissa Kohring, her daughter.
An obituary posted on the Holly Springs website May 25 confirmed her death, and city officials publicly remembered Barnett at their meeting Monday.
Kohring said her mom worked at Kennestone Hospital in X-ray, CT, and MRI for almost four decades before retiring last year. Along with her job at the hospital, for almost two decades, she was a presence on the Holly Springs City Council, a position Barnett's daughter said she was very passionate about.
"Her interest in government started when the city was planning an apartments project near our home that she thought wasn't a good location for people to safely get in and out of," Kohring said. "She went to the city council to voice her concerns, and next thing you know she was running for city council and I was there helping her campaign. She was very passionate about helping the people that live here and helping the city grow."
Barnett lived in Holly Springs for over 20 years and became a constant, present figure in the community.
"She did everything for everyone, whatever was needed to be done she did," Kohring said.
Kohring said her mom was always there for her activities, including Girl Scouts. She said Barnett even became scout leader after the previous scout leader decided not to lead that year. Barnett stayed scout leader until her daughter decided she no longer wanted to participate in Girl Scouts.
"She also became involved in my high school band, and every Friday night football game she was there, supplying hot chocolate to all the band kids who needed or wanted it. She even made us warm pockets for us."
Kohring added that her mom and dad held many different parties and festivities, including inviting Holly Springs police officers to their house on Christmas Day every year to show their support.
"We had plenty of great meals with the officers, which was super important to my mom to show her appreciation," she said. "I've had two police officers who worked with her in the past that reached out to me to tell me how proud they were to be able to know her and work with her."
Kohring said she helped her mother campaign for many years.
"She planned to continue her current term and then retire," Kohring said. "She was very adamant about wanting to finish out the term because she didn't want to cost the city $10,000 to call for a special election. She and my dad had plans to travel after retirement, but she really cared about Holly Springs."
Barnett's term on council was scheduled to end Dec. 31, 2022. City Manager Rob Logan said the city council will decide June 21 how to fill her seat.
Her husband of 44 years, Richard Barnett, said he couldn't have asked for a better partner.
"She was intelligent, loving, caring, and she knew what she wanted and she would tell you," he said. "She really loved the city and had a soft spot for the people here."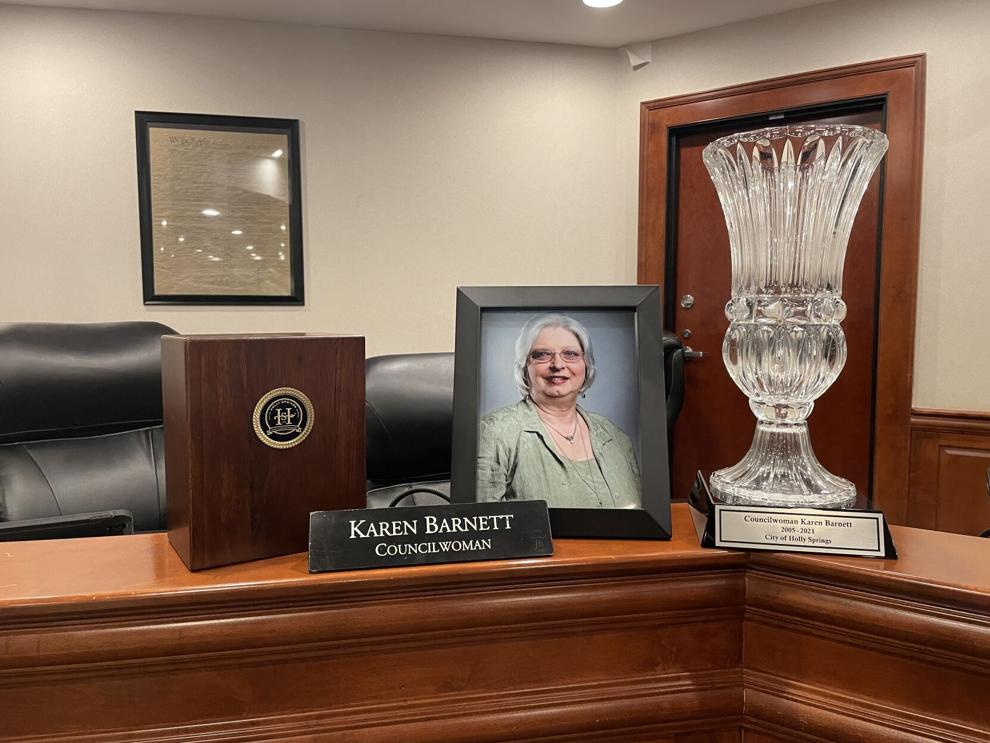 Holly Springs Mayor Steven Miller and city council members shared memories of Barnett Monday.
Miller said he met Barnett around five years ago, when he attended a council meeting after deciding to run for mayor. At his second meeting, he said, the two had had a long conversation that set the tone for their relationship.
"It's rare to find someone as genuine as her and it's a blessing to know her for five years," Miller said.
Council member Michael Zenchuk said he will miss the many nights of passing notes back and forth with Barnett to see what each other thought, and that he often told her she was a fixture of the city.
Council members Dee Phillips, Kyle Whitaker, and Jeff Wilbur all expressed their sadness at Barnett's passing, and said they have the utmost respect for her. Logan also shared fond memories of working with Barnett, and praised her as being instrumental in expanding and improving the city's parks system. Anthony Griffin, former city manager for Holly Springs from 2002 to 2007, praised her diligence and thoughtfulness in making decisions.