Northside Hospital Cherokee is steadily admitting fewer patients for the coronavirus, and they're needing intensive care in smaller numbers, according to a physician at the hospital.
Dr. Todd Martin, medical director of internal medicine at Northside Hospital Cherokee, said Thursday there were just 20 COVID-19 patients at the hospital, lower than a week before, and intensive care unit cases were also decreasing.
"Hospitalizations overall, at least the last week, have gone down, which is great," he said.
Martin took care of two or three patients last week who were sick with the virus, he said.
"It seems like they had been around people that also had been affected. They had not gotten their vaccines, which also was obviously extremely important," he said.
The percentage of patients testing positive for the virus had ticked up slightly after spring break from 8% to 10%, but was staying around 5% for the past week, Martin said.
As of Friday, 26% of Cherokee County residents, or 65,327, were fully vaccinated for COVID-19, according to the state Department of Public Health. At least 34%, or 83,007, had received at least one vaccine dose.
"We can always do better, but I think we're on the right track," Martin said.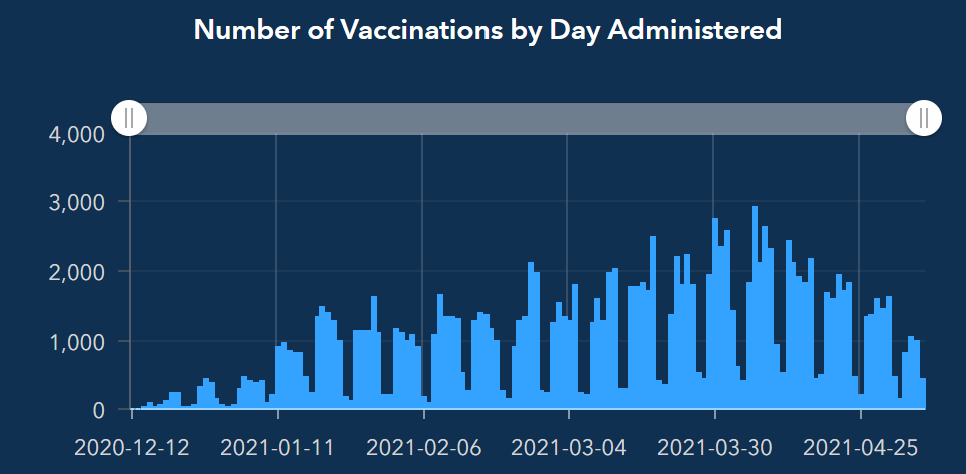 Those numbers of residents getting shots in the arm are declining, however. In the week ending Thursday, 5,520 vaccines were administered in Cherokee County, according to the state health department. That's down from 8,224 in the previous seven-day period.
Northside is hosting one more free clinic for COVID-19 vaccinations May 21 at the county's Bluffs administration building, 1130 Bluffs Parkway in Canton. Vaccinations are by appointment only.
Those interested in getting a COVID-19 vaccine can also sign up through a number of places through the Georgia Department of Public Health and at many pharmacies. CVS announced this week it will accept walk-ins for vaccines at all its United States locations.
Some are reluctant to get the vaccines, with concerns about how quickly they were developed and potential side effects. But while the vaccines are new, the technology used to create them has been around for decades, Martin said, and they were approved for emergency use due to the pandemic.
"People should not be nervous about getting the vaccine. On the flip side, I think people should be nervous about getting COVID, because that's where we see our huge mortality," he said. "Not only are we seeing mortality from patients with COVID, but we're getting these latter effects that we have patients that have gotten COVID, back in December, and they're still having deleterious effects from their COVID that they had, you know, five, six months ago."
Symptoms seen in patients with "long-haul" symptoms months after COVID-19 include cardiovascular disease and lung tissue damage, and sometimes blood clots in the lungs, Martin said.
In all, Cherokee County has had 22,433 confirmed coronavirus cases since the pandemic began, according to Georgia DPH. Of those, 1,294 have been hospitalized with the virus and 304 have died.
Cherokee was reporting 113 confirmed cases per 100,000 people over the past two weeks as of Friday, per state data. The county was averaging 4.8% positive for COVID-19 over the past seven days.
National data can be found at the Centers for Disease Control and Prevention's website at cdc.gov.