WOODSTOCK — Sixth grader Denise Figueroa steers a small car with her convertible tablet/laptop, using keys to control its two wheels and laughs when it nearly collides with a wall.
She is programming the car to shine a headlight in dark areas and to give off an alert when another car is approaching.
Her engineering teacher, Daniele Deneka at E.T. Booth Middle School, as well as Brad Mann of Dean Rusk Middle School, piloted a preliminary SAM Labs coding kit with the SAM Space application in their classes late last school year. Now, the kits are available at middle schools throughout the district.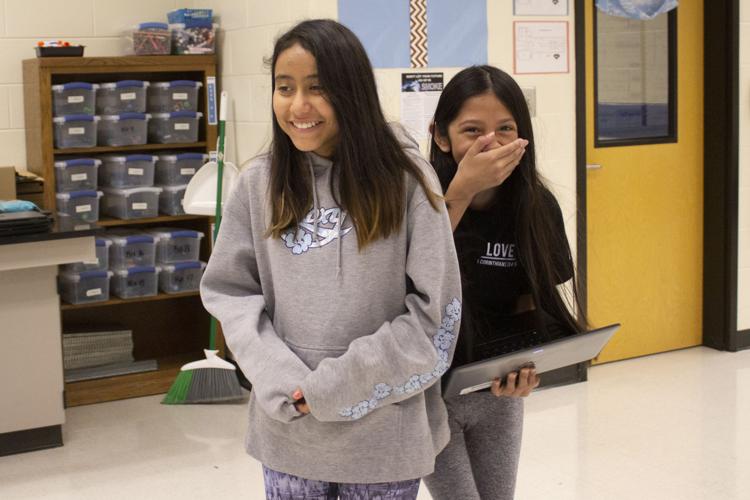 The kits, which are typically shared in small groups, consist of a set of blocks that are each associated with different commands, and some hardware, including larger blocks and some gears. The sets are compatible with Lego pieces, which creates endless possibilities for what the students can build.
"A lot of coding is all online, and it's just software, and sometimes you do lose some of the kids that are very hands-on that way," Deneka said. "This is cool because you have the hands-on hardware and they can be doing both, so it's really engaging for them."
Through the app, students follow visual cues to customize and create a series of commands to complete challenges. In the process they learn the basic concepts of inputs, outputs and behaviors in coding.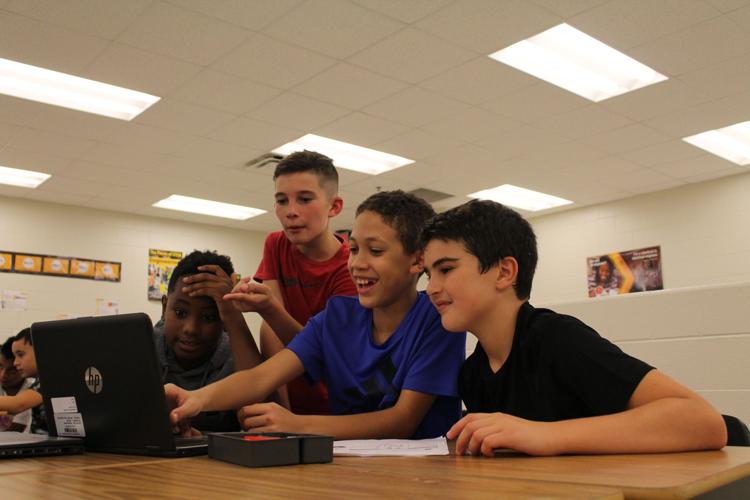 Dean Rusk seventh grader Ava Gill used the kits last year to set up a camera with a light sensor to take a picture of someone when they open a laptop.
"It's really fun to be able to do stuff you want. It's an easier and simpler way to code and program," she said.
Soon, Deneka and Manns will have the opportunity to pilot another, more advanced SAM Labs kit: one that uses block programming rather than matching pictures of commands. The new kits will help prepare students for text-based programming.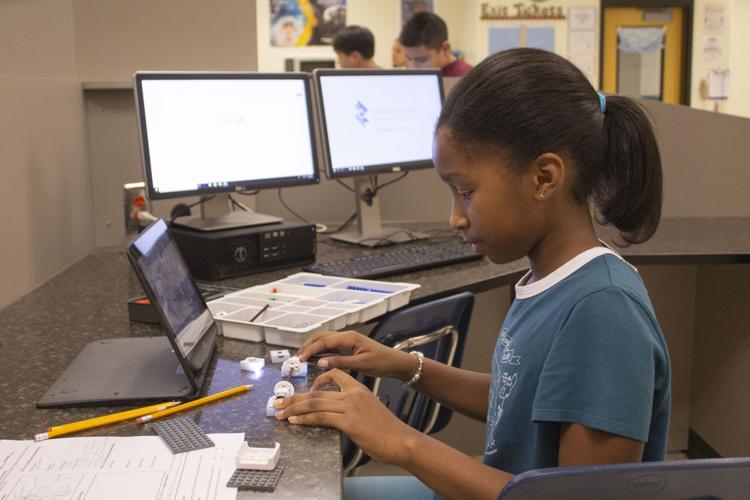 And, the two teachers will present what they've done in the classroom at a STEM Georgia STEM/STEAM forum in October.
The coding challenges can also be incorporated with standards-based curriculum from other subjects. When Dean Rusk sixth graders were learning about earthquakes last year, Mann presented a lesson with the SAM Labs blocks that involved testing for earthquake-like conditions.
"The great thing about this is they don't even realize it, but I talk with their math teachers, their science teachers and teachers from the other subjects. They tell me what concepts they're learning, and I sneak it in. I did inequalities with these guys about two months before they learned it in class," Mann said. "This is kind of tricking them into learning. It's so much fun."
The teachers say that more than teaching basic coding skills, the SAM Labs kits provide tools for logic problem solving that will help students grow in many areas.
"I think it helps with their logic—they have to do a lot of, if this, then what happens?" Deneka said. "A lot of the lessons SAM Labs has are real-world connected. It helps them realize, I might see a light sensor when my street lights come on at night, that's my real world connection. These are connecting through Bluetooth; what else do I own that connects through Bluetooth? That sort of thing. So I think it helps them to see what they use every day is connected to programming and coding, inputs, outputs and behaviors. It helps them see things in a new way."