This past weekend several holiday events were either rained out or postponed: Canton's Love Lights a Tree and Woodstock's Christmas Jubilee and Parade of Lights were canceled, and Canton Christmas parade was postponed to Dec. 8, but Holly Springs Christmas Tree Lighting and Parade events went on as scheduled.
According to Main Street Director Erin Honea the weather did impact Saturday's event. Honea said via email "Holly Springs hosts hundreds along Holly Springs Parkway and the historic Train Depot. Each event the city hosts has lots of moving parts and particulars that go into deciding whether or not to cancel when less than ideal weather sets in. The safety of our guests is the first thing we take into consideration. Thunder, lightning, or damaging winds means the event is canceled. While this past Saturday was certainly not what we hoped for, we felt confident that the rain would be on and off, and without the threat of unsafe conditions."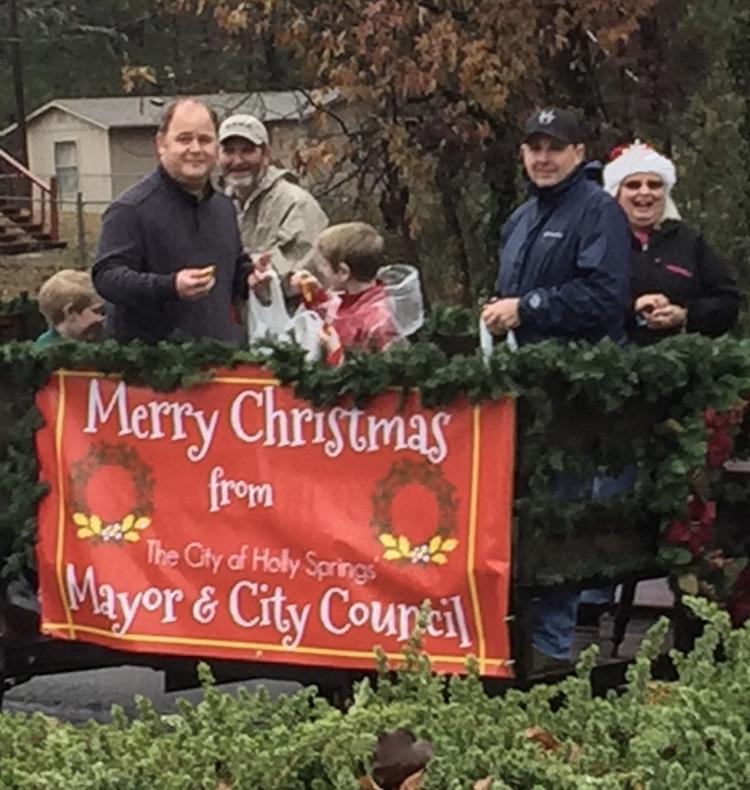 Honea said the city chose to move forward because many local businesses, scouts, church groups and civic organizations spent a lot of time of their parade entries. "We wanted to give them the opportunity to showcase their efforts," Honea said.
Honea said that the logistics of rescheduling becomes difficult especially when the holiday season gets busier with each passing week-end. "We knew rescheduling would mean many people wouldn't be able to participate or watch," Honea said.
"Planning for the Christmas Parade and Tree Lighting Ceremony be-gins each year in the summer. This year's tree is a 15-foot Fraser Fir, and there are well over hundreds of lights on it," said Honea.
People can enjoy the Community Christmas Tree, along with the Depot decorations, through Sunday, Jan 6 when lights come on at dusk each evening. "A group of four from public works hung the outdoor lights," Honea said.