The latest wave of COVID-19 cases in Cherokee County surpassed 1,000 new cases for the third straight week, though the number was down slightly from the previous week, state data shows.
The county saw 1,001 confirmed COVID-19 cases reported in the seven days ending Friday, down from 1,265 the week before, according to the Georgia Department of Public Health. Cherokee was averaging 143 new confirmed cases a day Friday. Last Friday, Cherokee was averaging 180.7 cases a day.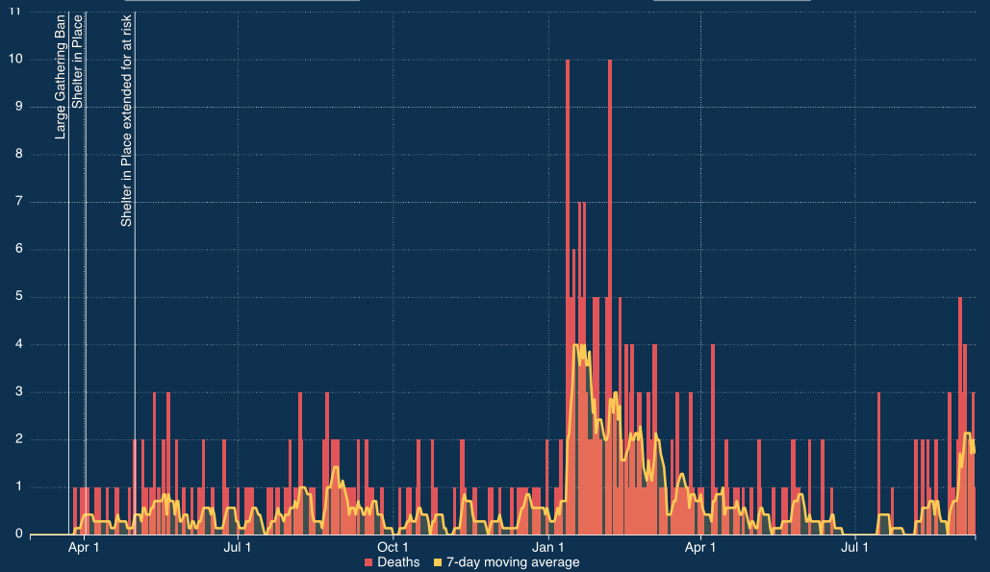 Twelve deaths were reported in Cherokee County in the seven days ending Friday, and the county was averaging 1.7 deaths per day.
Cherokee County was reporting 850 cases of COVID-19 infections per 100,000 people over the past two weeks.
Of those tested for the coronavirus in Cherokee County, an average of 18.6% were testing positive Friday, down from 20.1% a week before.
Friday, the Cherokee County School District reported 375 active COVID-19 cases throughout the system, of which 317 were students and 58 were faculty and staff. That's down from 424 student cases and 80 staff cases reported the week of Sept. 3.
Elementary and middle schools with 10 or more active cases include Bascomb Elementary (16), Creekland Middle (21), Dean Rusk Middle (12), ET Booth Middle (15), Johnston Elementary (12), Little River Elementary (18), Teasley Middle (23), Macedonia Elementary (15).
Five high schools were reporting 10 or more cases: Cherokee (31), Creekview (14), Etowah (14), River Ridge (11), Sequoyah (27).
Every school was reporting between zero and 3 confirmed COVID-19 cases among staff; seven cases were confirmed among transportation department employees.
Reinhardt University was reporting Friday 10 confirmed cases of the virus, 9 among students, faculty, and staff in isolation off-campus, and one on campus. In addition, eight off-campus students, faculty, staff were confirmed exposed to the virus, along with two on campus who were exposed.
A reported 36% of students have not responded to the university's request for their vaccination status. Reinhardt's latest report showed 33% of students unvaccinated, with an exemption for either personal belief or conviction (27%), medical (3%) or religious (3%) reasons.
As of Friday, 46% of Cherokee County residents, or 112,884 people, were fully vaccinated against COVID-19, according to state data. At least 51%, or 125,777 people, had received at least one vaccine dose. Statewide, 45% of residents, or over 4.6 million people, are fully vaccinated, and nationally that figure was 53.6% of the U.S. population, or nearly 177.9 million people, according to Georgia DPH and the Centers for Disease Control and Prevention.
Overall, COVID-19 vaccinations were outpacing new daily case numbers this week. As of Friday, a reported 2,428 COVID-19 vaccines had been administered in Cherokee County in the seven days ending Thursday, according to the Georgia Department of Public Health. The total reported vaccinations in the county was 234,896.
Those interested in getting a COVID-19 vaccine can sign up through the Georgia Department of Public Health and at private providers. Vaccines are also available at the Cherokee County Health Department facilities on Univeter Road in Canton and Main Street in Woodstock.
As of Friday, Cherokee County had a total of 28,733 confirmed coronavirus cases since the pandemic began, according to Georgia DPH. Of those, 1,649 had been hospitalized with the virus and 357 had died.