WOODSTOCK — The corner of Market Street and Dupree Road may have a food truck park open in the next few months.
Anita and Ken Corsini, the real estate couple of HGTV's "Flip or Flop Atlanta" fame, plans to redevelop a just over half-acre lot they recently acquired there to make room for up to six or seven food trucks, bathrooms and some seating.
The Corsinis purchased the lot, which includes a small white house, originally planning to add to their Red Barn Homes real estate inventory, possibly building townhouses. But they decided that its location on Market Street near Reformation Brewery and the Elm Street Event Green would be perfect for something that everyone can use, Ken Corsini said.
"We said, let's do something that enhances the community. So we came up with the idea for a food truck park," he said.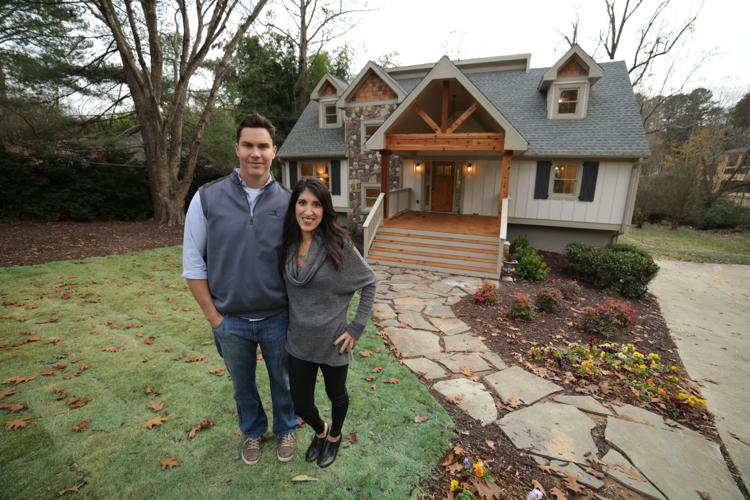 Included in the plan is a proposal to expand downtown Woodstock's entertainment district to include the food truck park.
Corsini said the park could open late this year or early next year, around March.
"We're just sort of banking on the fact there's some public demand for a vibrant outdoor scene in Woodstock. You look at Elm Street, downtown, there's a lot of walkable areas outdoors," he said. "People like that. And there could be an option for faster food."
City staff introduced the idea of expanding the district at Monday's council meeting, showing a map that would extend the boundaries along the sidewalk on Market Street and cover the lot. City council members suggested adding the sidewalks on Dupree Road and Main Street back toward the shops and restaurants there, and considered adding one or more parcels between Market Street and Main Street to the district.
"I'm all for expanding the district. My suggestion would be that we need to make this easier to follow. If every patron from your place leaving would have to walk back up Market Street, but they can't walk back to Main Street, from a communication and from a enforcement perspective, that's very difficult to communicate and to enforce," Councilman Colin Ake said Monday. "I'd almost rather draw a box and say, here's your box, instead of doing the parcel by parcel thing."
The proposed entertainment district map and the food truck park, which will include a rezoning request, will be reviewed by the city council Sept. 16.