While most high school seniors are thinking about meeting up with their friends the last summer before they go off to college or careers, Logan Droke is in a fight against cancer.
Droke, 17, who graduates from Creekview High School on Friday, was diagnosed with Acute Lymphoblastic Leukemia, known as ALL, when he was 9. Twice, he has gone into remission, but later the leukemia came back and he went through more treatments.
The Hickory Flat teen loves drawing and wants to go to Chattahoochee Technical College for two years to pursue his dreams to be an artist, but those plans are on hold because of the illness.
When his cancer came back last summer, Droke underwent CAR-T cell therapy, in which cells from the patient are engineered to better find and destroy cancer cells. The teen seemed to recover and live a relatively normal life for months, but he experienced side effects from the new treatment, his father, Randall Droke said.
"One of the drawbacks, or one of the possible scenarios with CAR-T therapy that is the cell can mutate. So his cell mutated into what's called CD22, it was CD19," said Randall Droke, a fireman for Cherokee County Fire and Emergency Services.
A network of firefighters has been working to keep Logan in good spirits while he has been at Scottish Rite Hospital.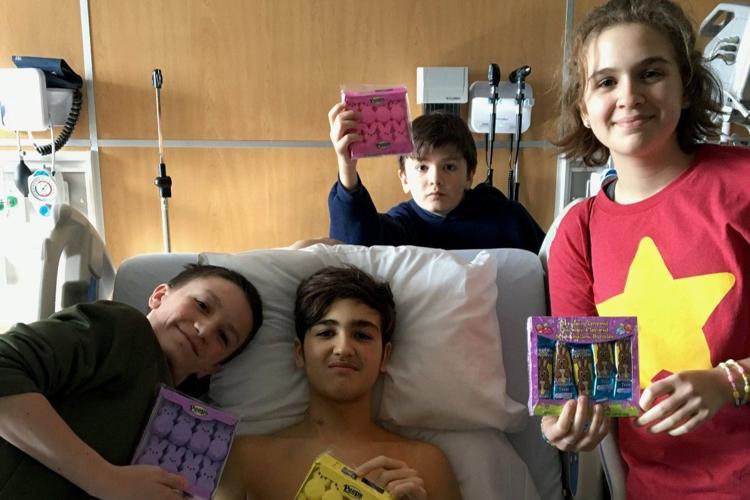 Cobb County fireman Tom Hancock met the Droke family through his wife,Terri, who is the teen's engineering teacher. One day, while visiting Logan at the hospital, Hancock had the idea to have someone send a video to encourage Logan. He soon made a video himself, and asked others to do the same.
"I got some guys to make some videos to keep his spirits up. I asked around, and he got a kick out of them, so more and more people started making videos," Hancock said.
Videos from Cherokee and Cobb firefighters started appearing, with messages like, "Stay strong," "We're supporting you" and saying the student is in their thoughts and prayers. But videos were also shared from other fire departments, across Georgia and in parts of Florida. One department from the United Kingdom shared an uplifting message from across the Atlantic.
"Those have been one of the most positive things that have happened while he's been physically in treatment. The support, love and prayers that have gone out to him have been huge in his morale," Logan's father said. "Across the country somebody's in need, they reach out and don't think twice. It's pretty phenomenal."
When the 17-year-old participates in his high school graduation, a team from several fire stations will be in attendance to show their support. Among them will be Cherokee County Fire Chief Tim Prather.
"It feels amazing how fast it's spread and how many care. A lot of them don't even know me, but they're still supporting me. They've got my back and they're fighting for me. It really means a lot," Logan Droke said.
The family plans to travel to Bethesda, Maryland for a trial of CD22 CAR-T therapy. If that's successful, Logan will receive a bone marrow transplant from his older brother, Jared, who is a 100% donor match, Randall Droke said.
Lt. Brady Cornelison, the station officer at Randall Droke's fire station, created a GoFundMe page for the family to help with medical bills. By Friday afternoon, the page had raised more than $5,000. To donate to the Droke family, visit gofundme.com/the-droke-family.