Residents and visitors to Holly Springs will see some initial construction work on parts of the long-awaited town center project this summer, according to the city's consultant.
Holly Springs officials expect the town center, which will include housing and commercial space, a new city hall and an amphitheater, will cost $100.6 million, City Manager Rob Logan told the Tribune.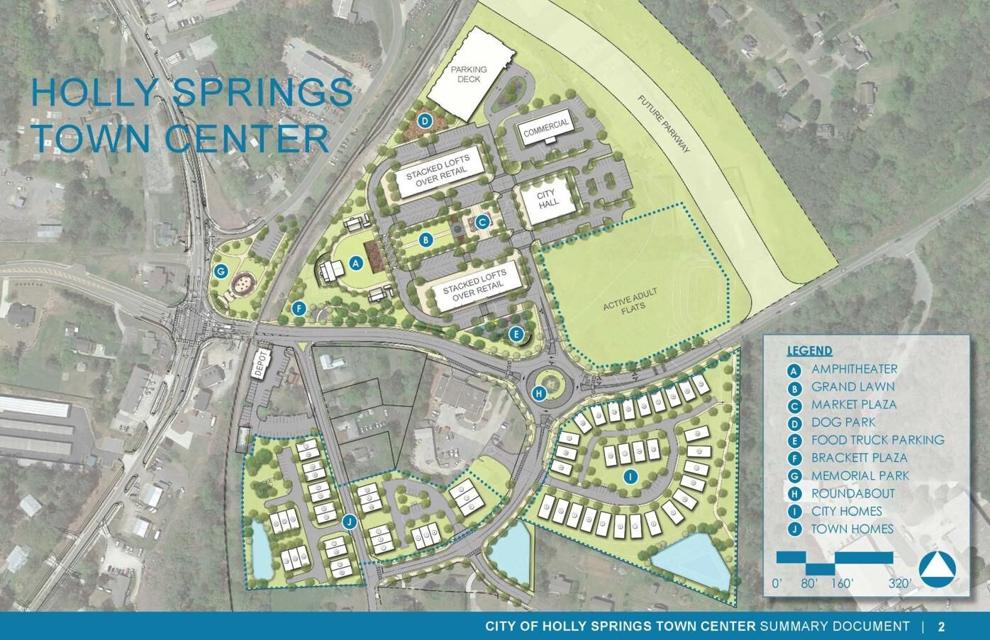 Guillermo Sanabia, secretary for the Holly Springs Downtown Development Authority, provided a timeline of the project last Monday in an email to the Tribune.
Sanabia said bids for work on the project site, which will include grading, excavation, construction and installation of various utilities, are due on June 17. The bids will come to the city council in July for discussion and a vote, City Manager Rob Logan said. If one of the bids is approved, then the selected developer will have 450 days to complete the work.
The timeline also showed that the construction of 36 townhomes along Palm Street, adjacent to the Holly Springs train depot, is slated to begin this fall.
The construction of city hall, three mixed-use buildings, 260 rental units, amphitheater, and 30 single-family housing units, will begin after the site work has been completed in the summer of 2022. Some of the housing options with this project will include lofts, townhomes, and cottage homes. There will also be retail and office space. Along with the amphitheater, the project will involve the construction of an event green, which city hall will overlook.
Charles Heiser with Stonecrest Homes, a housing developing company working with the city on developing this project, gave city officials an update on the project at last week's downtown development authority meeting.
Heiser told the authority that, while there are opportunities for clothing and general merchandise stores within this project, the project will mostly include restaurants. Heiser said he is in talks with potential restaurants to join the development, including, Italian, Mexican, American, fine dining, and breakfast options. A brewery is proposed for the area as well.
"Retail options within the project will be more along the lines of a candy, ice cream, and coffee shop," Heiser said. "Maybe a salon and cleaners as well."
Another update from Heiser on the project is the addition of a two-lane Uber drop-off in front of city hall to improve traffic flow. He said this drop-off will allow for less vehicle traffic and an easier way to get to the town center for neighborhoods such as Harmony on the Lakes.
Holly Springs and the downtown development authority entered into a development and management agreement with Stonecrest Homes Georgia in late 2017 for the development of the town center project.
Logan said the city's urban redevelopment agency will issue bonds to finance the construction of the town center.