CANTON - A crowd of more than 200 people filled Northside Hospital Cherokee Conference Center off Bluffs Parkway on Wednesday for the ninth annual State of the County event.
Hosted by the Atlanta-based Council for Quality Growth, attendees heard some of the latest updates and ideas for the future of the county from Cherokee County Board of Commissioners Chairman Harry Johnston, Cherokee Office of Economic Development President Misti Martin and Cherokee County School District Superintendent Brian Hightower.
Johnston said he believes the county has virtually everything going for it, from natural beauty, to strong schools and a low crime rate. The county has the third highest median family income and lowest unemployment rate in metro Atlanta. While infrastructure is a key concern throughout the county, Johnston stressed that road improvements are coming, while the parks and recreation system are very good.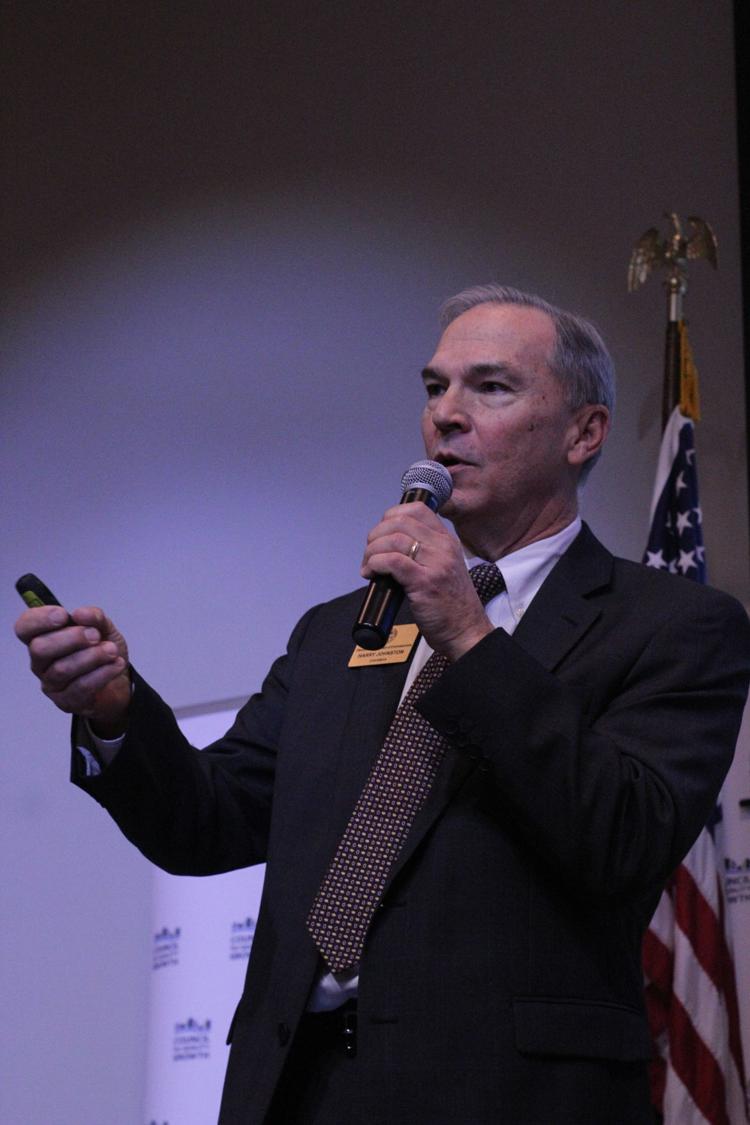 Along with the county as a whole, Johnston said cities within the county are thriving and pushing forward in their own ways. He also said there is strong cooperative leadership at all levels, from the board of commissioners finding a unified consensus on potentially divisive issues, to the county and its cities working together on a multitude of issues. Johnston said the county government is working hard to continue to manage growth and use reasonable restraint, while some of the key challenges facing the county include infrastructure, planning and the local economy.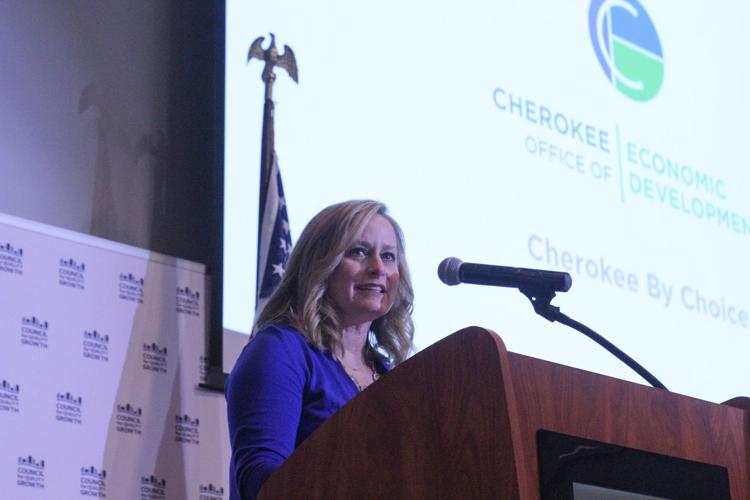 Martin said Cherokee County's future is definitely bright. With positive results coming from strong partnerships, she touched on some that have benefited everyone, such as the paid internship program with local companies available for high school students in the Cherokee County School District. At the same time, she said local opportunities need to be provided so county residents can "kick the commute" and work in a job closer to home to spend more time with their families rather than being on the road, while the county must preserve land for future business development to help meet this need.
The COED president continued to promote the county as a great place to set up shop and do business in and emphasizing the slogan of "Cherokee By Choice," be it for an entrepreneur, a small start-up or a large industry needing dozens of employees.
In his remarks, Hightower praised the Cherokee County School Board and school district staff for their efforts in providing quality education to a growing student population.
Hightower touted the district's strong financial standing. Much of the district's debt was incurred during rapid growth in the 1990s and early 2000s, and the district projects 70% of that debt will be paid off in 10 years. Part of that is because over the last two years the school board has moved a total of one mill from property taxes to pay for debt service, which for the half mill last year was estimated to save the district $20 million.
"I told you I wanted to flip the script on our debt, and I believe we've begun to do that," Hightower said.
This year the district launched its social emotional learning initiative, which promotes mental and emotional health for students and staff. Central concepts to SEL include self-awareness, relationship skills and responsible decision making. The district is focusing on five "core builds" for the program: equity and cultural competence, positive behavior frameworks, mental health and suicide prevention, trauma-informed practices and staff well-being and self-care.
"At the Hightower house, I'm looking at that wheel a lot. I'm trying to internalize it. Because when you think about the skills we want to grow in our kids, when you talk about soft skills in business, think through self awareness, self management, social awareness, relationship skills and responsible decision making," Hightower said.
Hightower took time during his speech to recognize three celebrated educators in the district Kelly Gilstrap of Mountain Road Elementary School is her school's Teacher of the Year one of three teachers in the U.S. selected to speak at an international educators' conference. Karen Garland of Clark Creek Elementary School STEM Academy was a finalist for the district's Teacher of the Year and recently was named Georgia Science Teachers Association 2020 Teacher of the Year for Elementary Schools. CCSD Teacher of the Year Barry Dalton of Hasty Elementary School Fine Arts Academy was recognized for building teamwork and partnership in his students.