Over 90 percent of Cherokee County School District seniors graduated in four years this spring, data from the state Department of Education shows.
CCSD's Class of 2021 showed a record-high four-year graduation rate at 90.8%, up from 90.3% in 2020, according to data released Thursday.
Creekview High School showed the highest four-year graduation rate, 95.2%, although it was down from its rate last year at 96.2%.
Four of the county's six traditional high schools reported gains in graduation rates: Woodstock High School at 94%, up from 92.4% in 2020; River Ridge High School at 93.2%, up from 88.9%, the largest increase of the schools; Sequoyah High School at 91.5%, up from 91.3%; and Cherokee High School at 84.9%, up from 83.1%.
Etowah High School's graduation rate was 89%, down almost four percentage points from 92.9% in 2020.
At all six high schools, the Class of 2021 showed higher four-year graduation rates than their last pre-pandemic counterparts in 2019.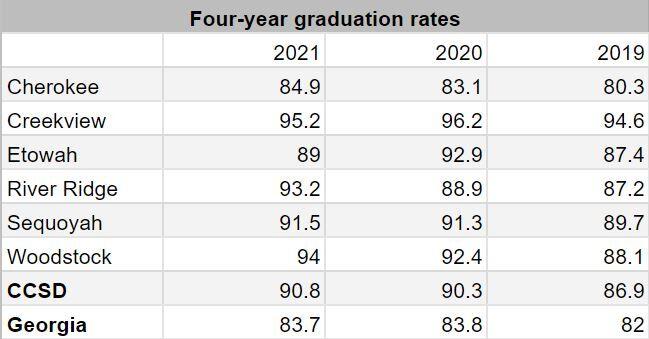 "We're proud of every student who graduates, and especially proud of our graduates who overcame the pandemic's challenges to achieve this important accomplishment," Superintendent Brian Hightower said in a statement. "Our increasing graduation rate also is a testament to the dedication of our teachers and staff, our students' families, and our community partners and volunteers. Together, we are guiding the emerging generation to success, and your support is deeply appreciated."
The results place Cherokee Schools third among metro Atlanta districts, behind City Schools of Decatur at 96.7% and Forsyth County Schools at 96.4%.
Georgia's average four-year graduation rate was down slightly at 83.7%, from 83.8% in 2020. But it was still above the pre-pandemic rate in 2019, which was 82%.
The state's four-year graduation rates are calculated based on four-year cohorts.
In the nine years that Georgia has used the cohort model, CCSD has grown its graduation rate by nearly 19 percentage points, according to the school district.
Cherokee Schools' reported its five-year graduation rate increased to 92.3%, from 88.9% in 2020. The "dropout" rate remains about 1 to 2%, according to the school district.
Every year, some students need a little more time to graduate, such as those delayed by medical treatments or family emergencies, Hightower said. He said he and the school board are dedicated to further improvement in the overall graduation rate.
This year, the district launched the new i-Grad Virtual Academy for high school students, and opened its Cherokee College and Career Academy with its first career pathway, cybersecurity. Two years ago, CCSD partnered with Mountain Education Charter High School to offer an improved evening high school program, which started classes last year.