CANTON — The Cherokee County school board has voted to ban critical race theory and The 1619 Project, and the superintendent has pledged not to adopt a diversity, equity and inclusion plan.
The board voted 4-1 Thursday to approve a resolution banning the two concepts, though they've never been taught in Cherokee public schools, according to the district. School board member Rick Steiner opposed the resolution after asking to table it. School board members John Harmon and Clark Menard abstained from the vote.
The ban comes amid controversy stemming from March, when the school board approved hiring an administrator on special assignment, Cecilia Lewis, to focus on Cherokee County School District's social and emotional learning initiative and a new diversity, equity and inclusion plan. The district's SEL program was rolled out two years ago to support the mental health of students and staff. Generally, DEI initiatives aim to promote diversity and fairness, and include all members of an organization.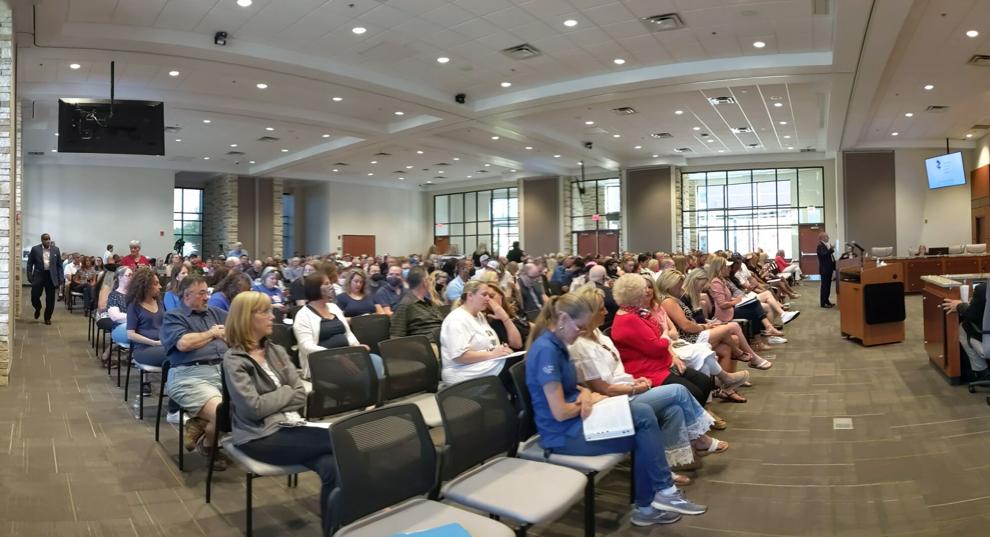 Critical race theory, an academic framework with core concepts including systemic racism, and The 1619 Project, a New York Times collection on United States history that highlights slavery and the contributions of Black Americans, were not taught and there were no plans to teach them, according to the district. But in response to misinformation on social media, Superintendent Brian Hightower and the all-Republican school board proposed a resolution banning them "under that name (or) by any other name."
The resolution references the district's SEL initiative, which was included in criticisms from many of the CRT opponents at Thursday's meeting.
Later, Harmon told the Tribune he also wanted to wait before voting.
Menard clarified that he doesn't support CRT or The 1619 Project, but it became evident "there would be no satisfaction of the issue by means of a resolution," he said.
"While well intended, last night highlighted the scope of this issue is too broad to be encompassed by a single, imperfect resolution and my abstention reflected that fact," he said in an email Friday, adding he stands by the board's decision.
Superintendent says no diversity, equity and inclusion plans
Hightower took a step further before the school board vote, declaring that the district would no longer create a plan for "diversity, equity and inclusion."
"Neither I, nor your school board, have any plans to implement critical race theory or The 1619 Project. We have no plans to implement any of their concepts or race-based teaching," he said in a read prepared statement. "Now while I had initially entertained and publicly spoken to the development of a standalone diversity, equity and inclusivity, DEI plan, I recognize that our intentions have become widely misunderstood within the community and have created division. To that end, I have concluded that there will be no separate DEI plan."
Hightower said the goals of the DEI plan to provide equal opportunities for and include all students would be rolled into the district's social and emotional learning initiative.
DEI, SEL receive pushback, support from parents
The board's decision drew the ire from many of those who showed up to protest CRT because the district will still have SEL programming, as well as those who supported the district's DEI plan.
Thursday, turnout reached standing-room only in the 400-seat auditorium, and more people watched from outside, mostly CRT opponents with a smaller group supporting the district's DEI plan. The board meeting saw heightened security measures including extra officers and screening people at the door. Hundreds of people watched the meeting streaming live on the district's YouTube channel, and by early Friday morning the video had gotten over 6,800 views.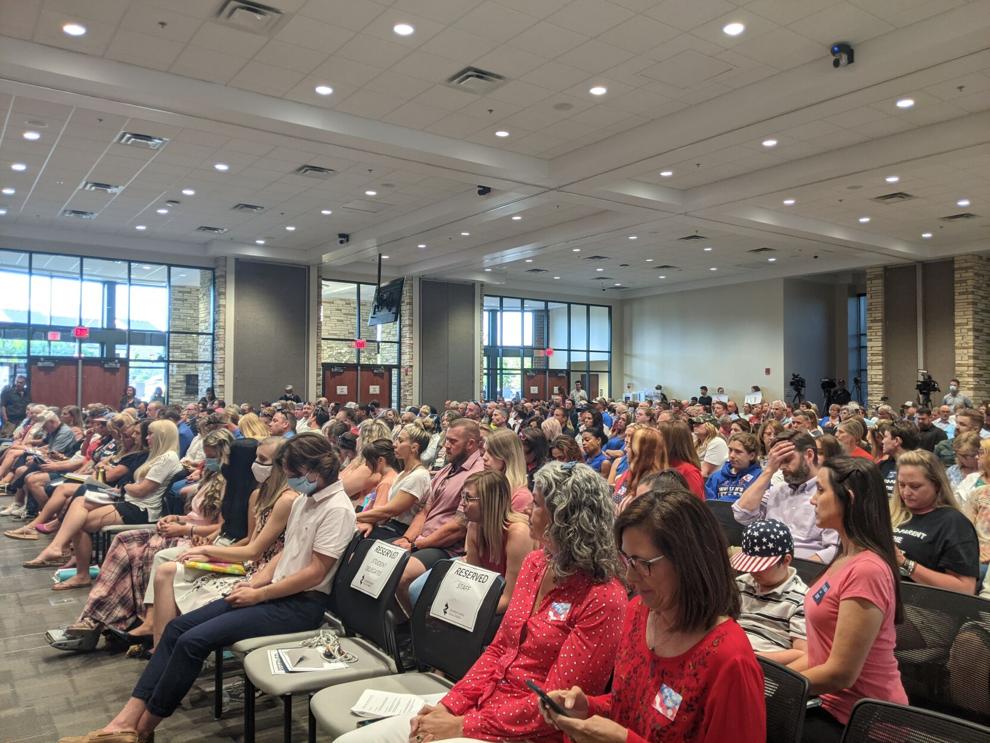 During an hour of public comments, opponents of critical race theory argued it paints all white people as oppressors and teaches white students to feel ashamed of the color of their skin. Several parents insisted that DEI and SEL were connected to, or synonymous with the theory, despite school district officials' statements, including David Oles, who said they were "un-American."
"I appreciate the board's resolution, I think it's a good first step toward the goal," he said. "But like so many here, I think I have a great deal of skepticism that it's little more than window dressing. We're here tonight because this board has embraced a program called SEL, first without actively or sufficiently involving the parents or obtaining parental approval for this program."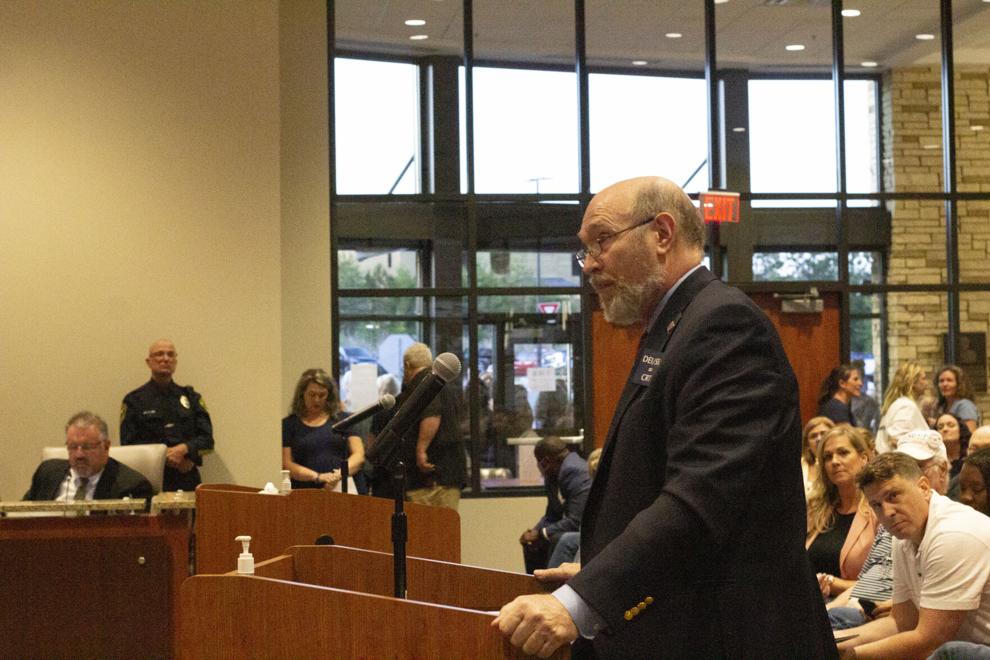 Among those denouncing critical race theory was state Rep. Brad Thomas, who announced he was working on legislation that would ban CRT and The 1619 Project statewide. He asked the school district to support the legislation.
Another parent, Jamie Smith, said the school district wasn't seeing a lot of racism.
"Why are we teaching fourth graders things that haven't even crossed their mind yet?" she said. "We will not be told that we're racist because we know we're not. This is a battle for the minds of our future. I love CCSD. I love our teachers and our students. So if SEL and CRT continue, I will not be one of the parents removing my children, but what I will do is change my vote."
A few parents, and a recent Cherokee High School graduate, spoke against the resolution, and some thanked board members for hiring Lewis. Opponents of the ban argued that outrage over CRT was being fueled by outside interest groups, and banning ideas would stifle critical thinking. Eliminating the district's diversity, equity and inclusion plan was an attempt to "back up" on their commitment to support diverse students, Desiree Jacobs said.
"Not just focusing on race, but focusing on the fact I have two boys, I'd love to see more boys and men teaching in the classroom...I'd love for my kids to see people that do look like them when they enter the school building, and that will only happen with decisions that are led in the community, as well as first on the school district level," she said. "I really want this to be a place for everybody to have a spot at the table."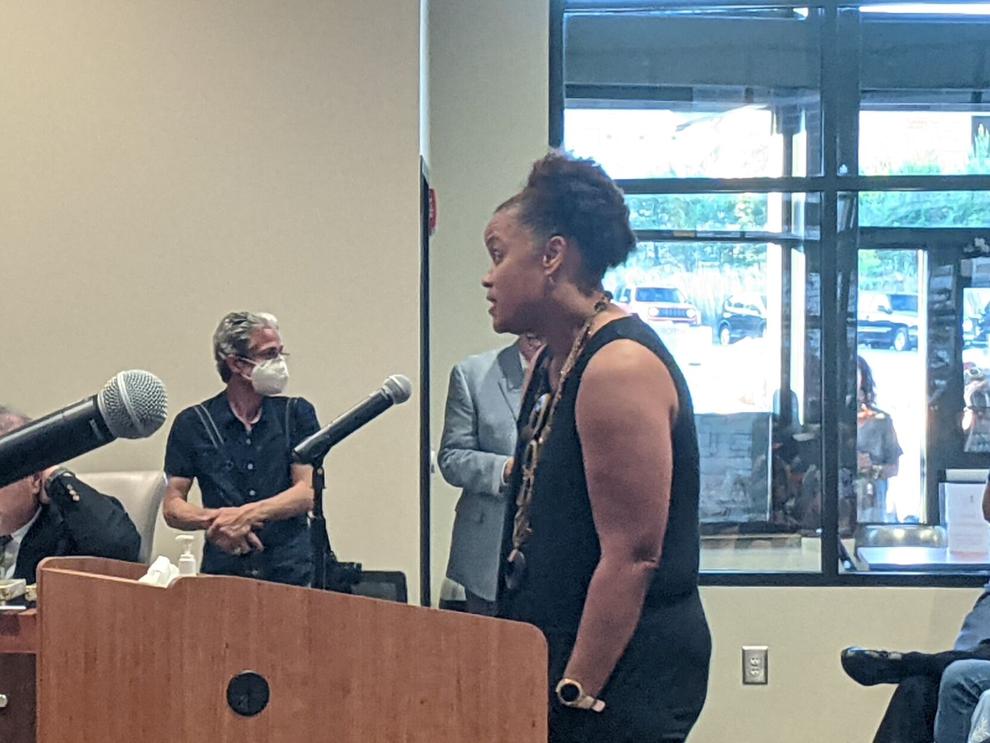 In one exchange, a parent pointed out academic gaps between white students and students of color at Creekview High School, and was interrupted by people in the audience.
"I can't hear the speaker," said school board Chair Kyla Cromer, who as the chair was tasked with running the meeting.
"We don't want to hear the speaker!' someone shouted.
The Cherokee school board's ban on critical race theory and The 1619 Project follows a similar crowd turning out to a Forsyth County school board meeting Tuesday to speak out about their DEI plans. The Forsyth board did not take any action or respond to public speakers, according to local media reports.
"I'm not sure if I'm supposed to support this because it says we're not going to do CRT, or if I'm supposed to oppose this because it says we support SEL. So which is it?" Menard said to audience members.
After the meeting, Lydia Green-Davidson, an Acworth resident, told the Tribune the school board should have eliminated the new administrator position entirely.
"Why couldn't we have four new teachers instead of this woman from Maryland? She doesn't know our community," she said, adding that CRT, DEI and SEL are racist and divisive.
Miranda Wicker of Holly Springs was also disappointed — that the superintendent reversed the district's intention to create a DEI plan, she said, calling it "a cowardly move."
"Adopting the resolution to ban CRT doesn't accomplish what they hope it will, and as we saw after adopting the resolution, it has now fueled hysteria," she said, adding that she had heard threatening chants in the audience after the vote. "Part of it is because the contingent in the room that was there tonight to fight against CRT and SEL, DEI, they don't really know what those three things are. They're being fed talking points by outside interest groups telling them what they should be saying."
This story has been updated to clarify that the school district planned to create a DEI plan, but did not have a plan in place.