Cherokee Fire and Emergency Services is eyeing the future as the department works to outline and begin initiatives it has set out in its five-year plan.
Fire Chief Tim Prather recently outlined the department's goals for the next several years at the county Board of Commissioner's work session Monday.
A highlight of the department's 2020-2025 strategic plan is to increase staffing for the department to cut down on response times, improve service, and assist in furthering another of Cherokee Fire's goals — become an internationally accredited agency.
Prather said 11 of the county's 23 staffed fire engines operate with three firefighters, and the goal is to increase that figure. Prather said the National Fire Protection Association recommends having four personnel on each engine, and the county's minimum is currently two firefighters to an engine.
"Our first goal was to establish the three-firefighter minimum for all engines, which we are still working on," Prather said. "Future goals will probably work toward four personnel…but it is common for many of our area departments to maintain three per engine."
Increasing staffing is vital to ensure quick and effective responses, he said.
"It has always been of my opinion that a 'quick response' added to staffing and equipment sets up the best opportunity to achieve the greatest success in saving life and property," Prather said. "Under current standards, a fire department shall not attempt any interior firefighter efforts with less than four personnel on scene. So…technically, a first arriving engine even with three personnel should not enter a burning structure, requiring them fight fire from the outside until additional personnel arrive on the scene. This is the reasoning for all of our ambulance personnel being trained firefighters who can assist when they arrive on scene."
Additional firefighters can also help to improve Cherokee Fire's rating with the Insurance Services Organization, which grades and rates the department's service and influences home insurance rates. Prather said the top factor improving Cherokee's ISO rating — Class 2 on a ranking system of Class 1 to Class 10, with Class 1 being the top rating — is staffing. He said the ISO expects the first engine to arrive within four minutes from a call with four firefighters and 18 personnel on the scene within eight minutes.
"Currently, we have to send three engines on a structure fire to get six personnel," Prather said. "Meeting our goal of a three-minimum personnel, we can reduce that response to a two-engine response along with the other apparatus that respond with it. For us to get over the hump to get to Class 1, it will require additional staffing and maybe additional stations."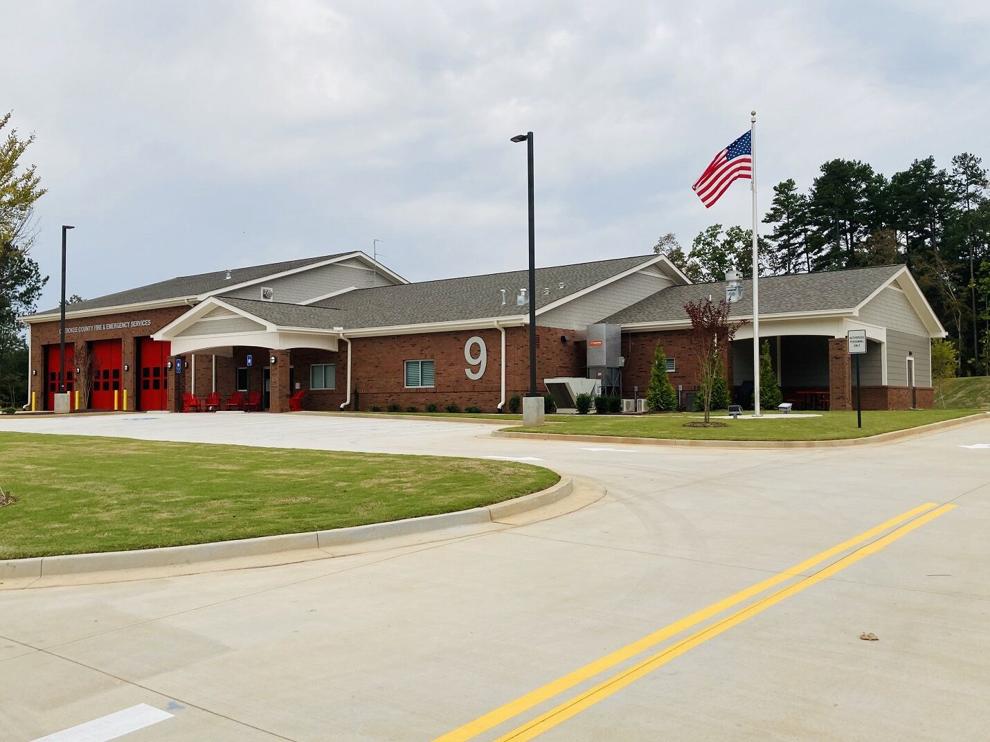 Increasing the county's number of fire stations is another goal within the strategic plan. Several, Prather said, are former volunteer fire stations that were not built with living quarters, including a station in Lake Arrowhead that is not staffed and has no sleeping quarters.
Prather said the department aims to renovate some of these former volunteer stations. Fire buildings near Yellow Creek and Sutallee, will "soon be replaced," he said.
"The ultimate goal of the remaining former volunteer fire stations is to ultimately replace (them) within the next 10 years," he said. "The currently planned renovations are to buy time until funding is available to replace (the stations)."
As the department looks to increase staffing, it will likely need to do so with career personnel due to a decline in volunteers.
"Volunteerism, in general, across the nation has been on serious decline over the past several years," Prather said. "Today, we have a very small pool of volunteer firefighters remaining. We have two stations in the Lake Arrowhead community. One station is staffed with a three-firefighter minimum engine. The other station is not career staffed, and volunteers have declined to practically nothing. Under the ISO guidelines, two stations are required to cover the geographical area of Lake Arrowhead."
Also among the department's goals is to seek international accreditation with the Center for Public Safety Excellence through the Commission on Fire Accreditation International.
"Staffing is only one element of the extensive accreditation process," Prather said. "It is very in depth from assessing community risks, providing standards of coverage to address risks, adequate staffing, adequate administration policies and procedures, future planning, budgeting, et cetera. The overall goal of CPSE accreditation is about 'continued improvement' in service."