As of Friday, Cherokee County was averaging 6.6 new confirmed coronavirus cases a day, according to data from the state Department of Public Health. That's the lowest new case rate since March 28, 2020 — a few days before Georgia issued its statewide shelter-in-place last year.
The county saw 46 confirmed COVID-19 cases in the seven days ending Friday, and just one case was reported Friday, per Georgia DPH. That's down from 65 cases reported the prior week. Last week, Cherokee's seven-day case average was 9.3 cases day.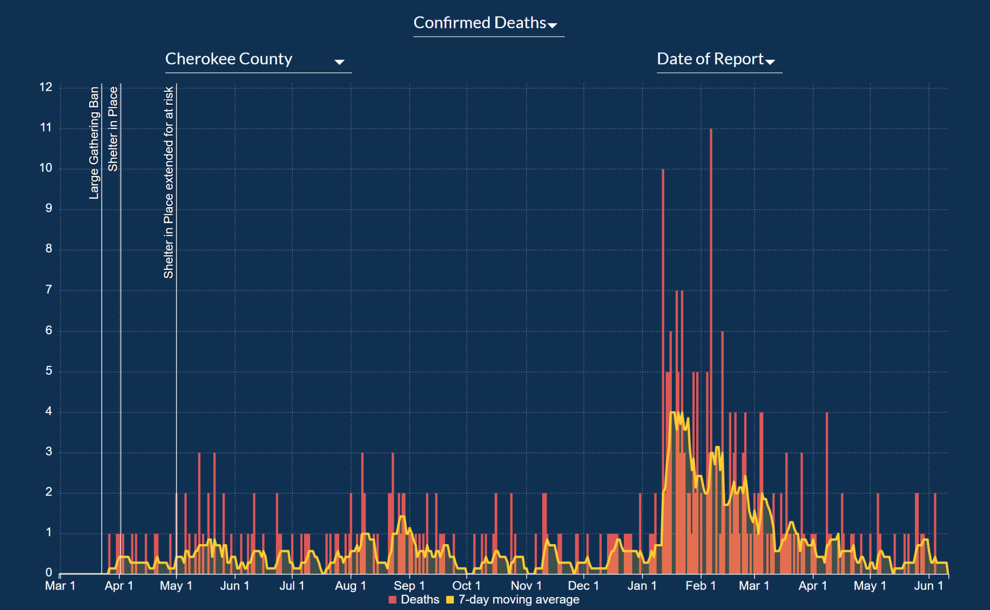 Cherokee County also went a week without any COVID-19 deaths reported — the last reported deaths were two June 4. The county's seven-day average for deaths had dropped from less than 1 to zero.
The county was reporting 42 cases of COVID-19 infections per 100,000 people over the past two weeks.
Of those tested for the coronavirus in Cherokee County, an average of 2.8% were testing positive Friday, down from 3.2% a week before and 4.4% May 11.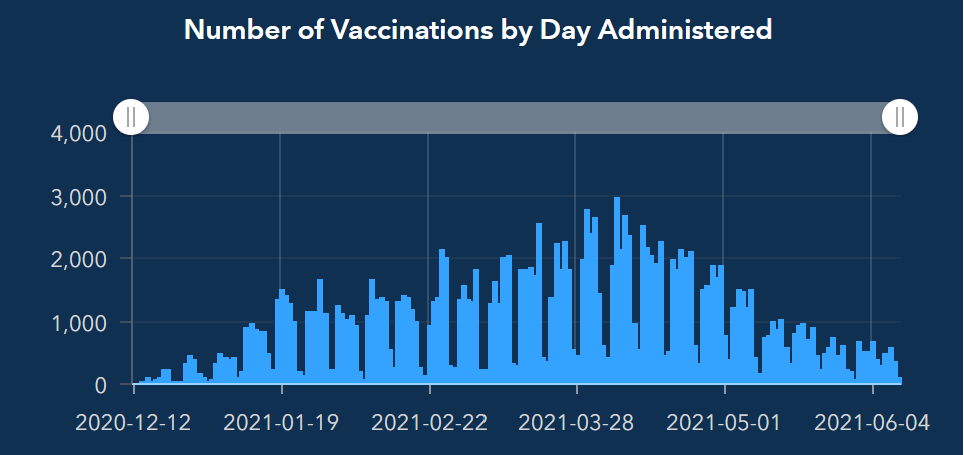 As of Friday, 33% of Cherokee County residents, or 82,712, were fully vaccinated against COVID-19, according to state data. At least 38%, or 93,572, had received at least one vaccine dose. Statewide, 35% of residents are fully vaccinated, and nationally that figure is 42.6%, according to Georgia DPH and the Centers for Disease Control and Prevention.
For the first week since April, Cherokee County did not see a drop in COVID-19 vaccinations, state data shows. In the seven days ending Thursday, 2,836 vaccines were administered in the county, slightly up from 2,768 in the previous seven-day period.
Those interested in getting a COVID-19 vaccine can sign up through the Georgia Department of Public Health and at private providers, including pharmacies.
As of Friday, Cherokee County had a total of 22,772 confirmed coronavirus cases since the pandemic began, according to Georgia DPH. Of those, 1,368 had been hospitalized with the virus and 315 had died.
National data can be found at the Centers for Disease Control and Prevention's website at cdc.gov.