The Canton City Council will hear requests for a tax allocation district, and a proposal for up to 70 units of affordable housing, at its upcoming meeting Thursday.
The council approved a contract with KB Advisory Group in March for research on a potential tax allocation district, designed to help redevelop certain properties.
A tax allocation district allows cities and counties to freeze property tax values in a certain area. Any new taxes during the freeze would go towards investing in redeveloping the area, primarily through bonds. The district serves as an incentive for companies to build new businesses there knowing property taxes won't go up in that area for a certain amount of time.
All existing property taxes would continue to go to the county, city and schools, and only additional taxes are pledged to the tax allocation district. The district also won't impact personal property taxes. Some pieces of land could be removed from the district, while others may be added.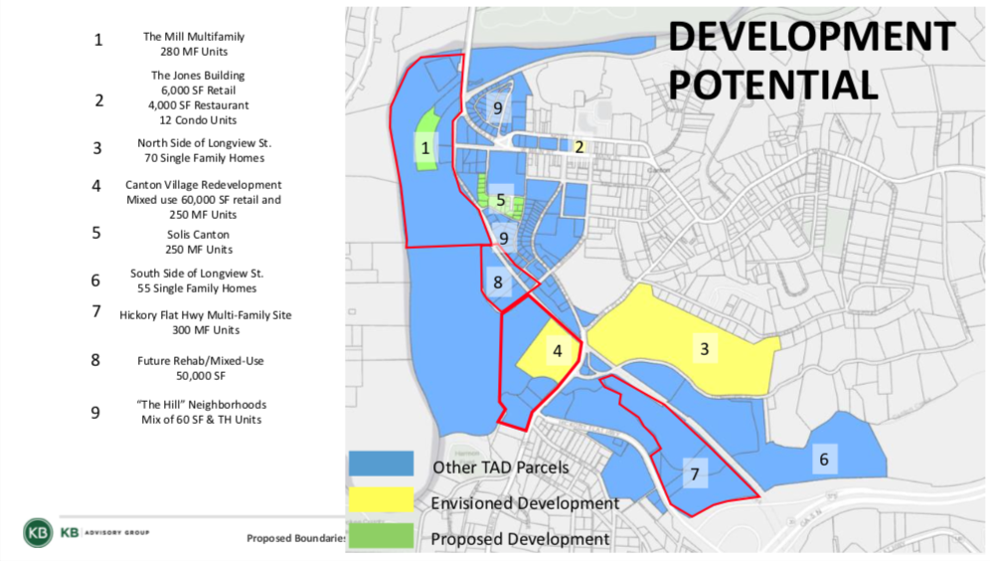 Proposed district boundaries in an initial study area include 172 pieces of land totaling 266 acres, with a current estimated city tax digest of around $11.8 million. This area covers a portion of downtown Canton, along the Etowah River, and would extend south along Marietta Road and Hickory Flat Highway toward I-575. An expanded district map with more potential TAD land consists of "envisioned" development such as the Jones Building in downtown Canton, Canton Village redevelopment at 271 Marietta Road, and 70 single family homes on the north side of Longview Street across from Canton Village. The expanded map also shows proposed development at the mill.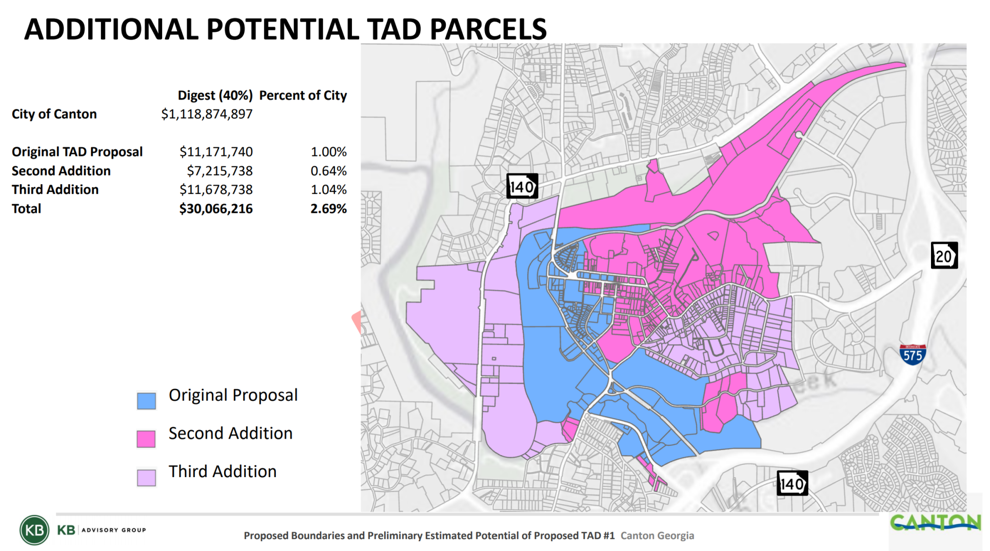 City Manager Billy Peppers said in an email Monday that the council will learn the value of the potential tax allocation district during Thursday's city council meeting. City staff is requesting the city council's direction and approval on the district boundaries to allow for work to begin on the next phase of the project, which would include a redevelopment plan, Peppers said.
Council member Brooke Schmidt said Monday the tax allocation district could be an effective tool for redevelopment, especially in areas that have been historically underserved or where barriers exist for private sector developers.
"A TAD can also allow the city to guide development in the best interests of the community," she said. "Economic development, improved infrastructure, and housing options are all positive results that can come from a TAD."
Council member Shawn Tolan also gave his thoughts on a possible tax allocation district.
"Having a TAD in Canton will open up opportunities for redevelopment that might otherwise be more challenging to accomplish," he said. "Canton city staff and city council have given careful consideration to the proposed TAD's boundaries in an effort to maximize the benefits for the community."
The Canton City Council will also hear a proposal for up to 70 units of affordable housing in the Shipp Street community.
The Canton Housing Authority and Sepia Transformation Partners, LLC, are looking to apply for low-income housing tax credits from the Georgia Department of Community Affairs for funding to construct up to 70 affordable housing units in that community near downtown Canton.
The neighborhood is made up of 39 units consisting of townhomes and duplexes. These units consist of one, two, three, and four bedrooms. The community also has a playground, appliances, and washer and dryer connections.
According to city staff, both the housing authority and STP are looking to collaborate with Canton and seek a loan commitment from the city in the amount of $570,000 to assist in the development of Shipp Street as part of the Housing and Urban Development's Rental Assistance Demonstration program. This program helps public housing agencies by providing access to funding for needed improvements to properties.
The city council meeting will start at 6 p.m. at city hall, 110 Academy St. in Canton. The meeting will be available online at www.cantonga.gov.