A new commercial development, possibly anchored by a grocery store, is coming to the intersection of Ga. Highway 20 and East Cherokee Drive in the Macedonia community.
Three tenants, Circle K, Guthrie's and Taco Bell, are confirmed for phase one of the site, which are estimated to open in May or June this year. Guthrie's and Circle K will share a building, and Taco Bell will be in an adjacent facility on the corner of the intersection, according to Stephen Galbraith of DG Retail Estate Partners, the developer of the project.
A site map from Dart Retail Advisors, the leasing agency, shows a 54,000-square-foot facility for the anchor tenant, attached to four smaller suites with a large parking lot. Additional parcels are available for stand-alone or shared buildings.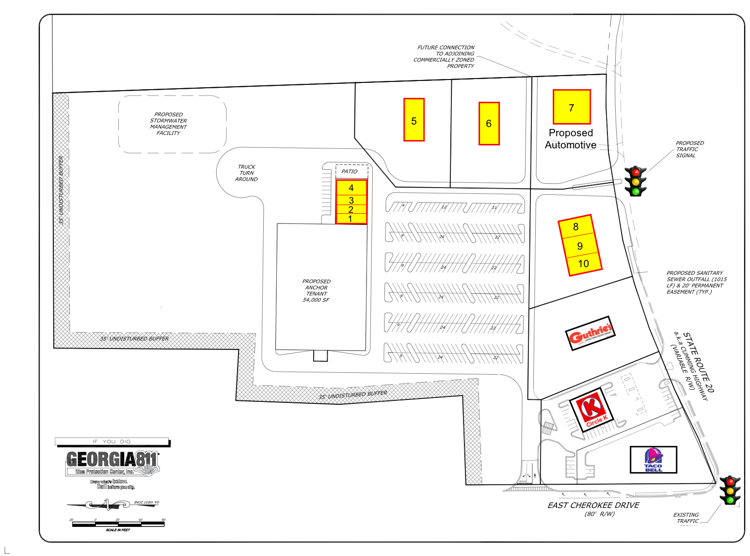 The exterior of the Circle K and Guthrie's is finished, and the finished dual purpose facility will include a drive-through. The combined businesses are scheduled to open at the end of May or early June, Galbraith said. Those in the area should see construction for Taco Bell start in the near future.
The second phase, which consists of the rest of the commercial space, has yet to start construction, though developers plan to have a grocery store in the anchor building. The remainder of commercial buildings are projected to be finished late next year.
"We believe the market's there for it," Galbraith said. "There's obviously some pretty extensive GDOT plans for widening the road to come at some point, they've started working toward our site. Kroger across the street is doing well; it's a good piece of property. We believe it's a strong intersection."