Students at three Cherokee County Schools heard stories of how people eat, sleep and live in space last Friday from biochemist and former astronaut Larry DeLucas.
Students enrolled in the Science, Technology, Engineering and Math program at Woodstock High School heard from DeLucas on his career, which included a trip to space with NASA. At Freedom Middle School and Woodstock Middle School, sixth graders learned about his life and his work growing protein crystals in space, and some received hands-on tips on growing crystals on Earth.
DeLucas, who is the principal scientist for the Aerospace Corp., a contractor for NASA, in 1992 flew NASA Mission STS-50 aboard the Space Shuttle Columbia. He went on to be the chief scientist at the International Space Station. He holds a Ph.D. in biochemistry from the University of Alabama at Birmingham, where he was a professor for many years.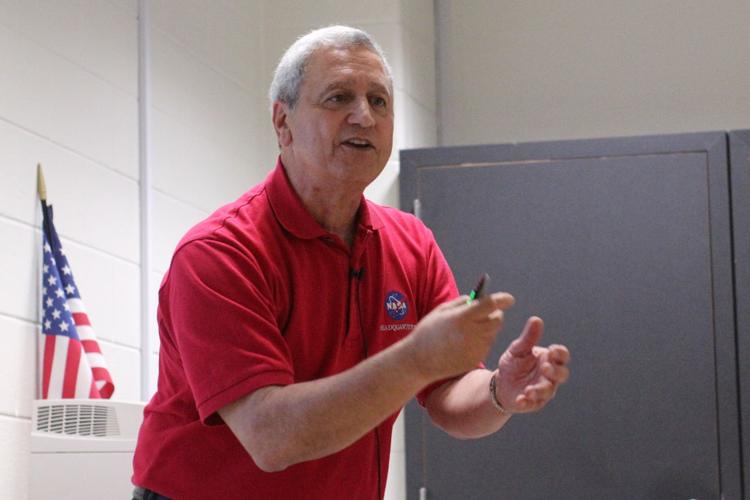 He decided to become an astronaut, he said to Freedom sixth graders, seven years earlier when he first watched his protein crystal research take off in a shuttle.
"I'm watching the rocket take off with my experiment, and the first thing I see is the fire and the smoke, but you can't hear it, because you're two miles away and the sound takes longer to get to you. I'm watching it, the rocket is going up, and all of a sudden the ground started shaking and I got hit into my chest with a shock wave from the sound. And I started crying. I looked to my right at my wife, she was crying, the television reporters were crying, it was so powerful that everybody started crying watching this thing take off," he said. "I turned to them, and I said, I'm going to fly on that. They started laughing at me, but it became a quest. I had to somehow figure out how to fly as an astronaut."
Proteins crystals are grown in space, DeLucas explained, so that scientists can better understand the protein's structure, which can allow them to create new medicines to fight disease.
A class of sixth grade students learned how to carefully measure saline solutions and test which concentration works best to grow crystals for a protein derived from egg whites.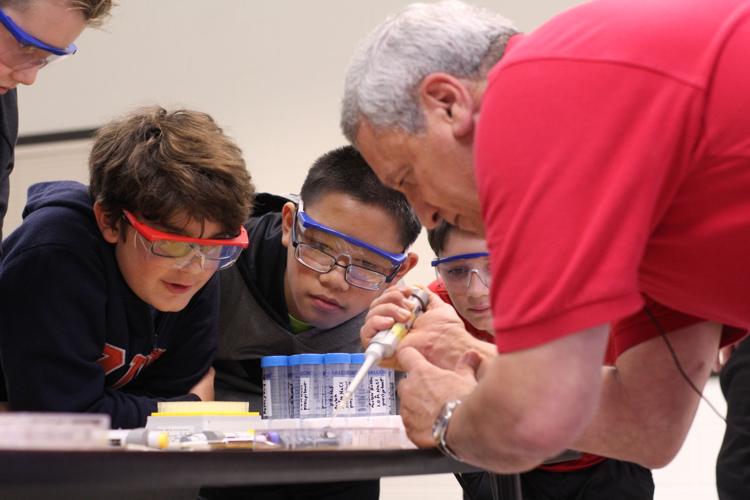 "It was really interesting," said sixth grade student Trinity Preiser of DeLucas' talk and experiment. "It changed my perspective on astronauts."
The former astronaut said he speaks to students to get them excited about science, adding that he's raised money for scholarships and he's working to establish grants for student research projects. He didn't see himself as a scientist when he was younger, but became one thanks to high school and college teachers who believed in him, he said.
"I slowly developed confidence," he said. "I realized if you work hard, and you really have a passion, and I loved the research I did, you can do it."
Next week, the middle school class will see how the crystals grew from the solutions they chose. The demonstration was filmed by Cherokee County School District so it will be available to all sixth grade classes.