WOODSTOCK — Downtown Woodstock's first dog-centered shop, Bark Alley, has opened its window to humans and canines alike.
The kiosk, located at 201 Wheeler St. beside Dress Up Woodstock and formerly an ice cream shop, opened last Friday and offers a variety of unique dog treats.
"Everything that I sell is shareable, meaning dogs and humans can eat it," Alyssa Vann, Bark Alley owner, said. "Many treats that I sell have a mix of different ingredients and are all curated exclusively for the dogs in Woodstock."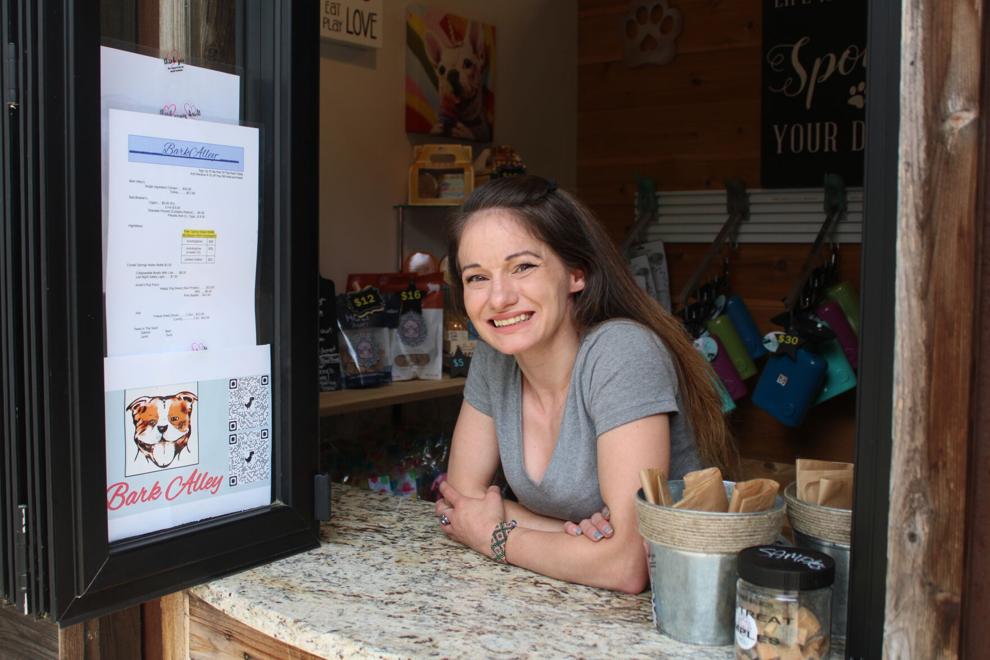 Vann said she chooses organic treats made by independent brands in small batches with ingredients from the U.S. The treats come from various states such as Florida and North Carolina.
At the window, various treats can be sampled for the interested shoppers.
"I want people to be able to have their dog sample a treat so they know if their dog likes it or not," Vann said. "I don't want an owner to buy treats from my shop, then they get home and their dog doesn't like it and they never come back to my shop again."
Along with treats, Vann said she will soon have accessories available for purchase.
"My dog Bambi has a beautiful flower on her collar," Vann said. "She gets a lot of compliments so I figured accessories such as that would be popular and something else I could sell."
Vann said she also sells water bottles called automatic dog bowls. The bowls work by squeezing the bowl. The water then goes to the top for the dog to drink, then the rest goes back down for later, she said. Vann added that shoppers can continue to bring the bowls back for unlimited free refills.
In an effort to help spread awareness about the shop, Vann said she plans to give out t-shirts to people on the trails downtown this weekend.
"Right now I'm mostly focused on getting the name out there," she said.
Dennis Conway, a retired special education teacher and former lacrosse coach at Woodstock High School, said the shop will be added to his list of places to stop at for treats.
"My dog Daisy and I have been companions for seven years now and we've traveled 4,200 miles together, and we haven't even left town," Conway said. "We get a treat during our travels, so I'll have to add Bark Alley to my list of stops."
Bark Alley's business hours are Wednesday through Friday from noon to 7 p.m., and during the weekend from 11 to 7 p.m.