The Ball Ground City Council will field an annexation request to bring 66 homes along Old Dawsonville Highway Thursday night.
The meeting is scheduled to start at 7 p.m. Thursday at Ball Ground City Hall.
Applicant Stan Fitts has requested to annex a portion of a 48-acre tract to develop 66 homes at 255 and 275 Old Dawsonville Road at a density of 1.37 units per acre. Ball Ground City Manager Eric Wilmarth said about 35 acres of the property was originally included within the city limits, and Fitts has requested to annex the additional acreage for the development.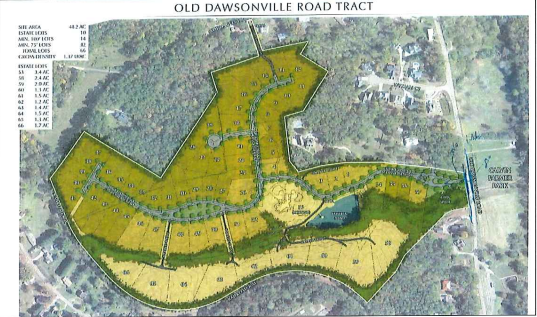 The request is not seeking additional density under what is already allowed under the zoning of the Ball Ground portion of the property, Wilmarth said.
The Cherokee County Commission did not object to the annexation request at its Oct. 5 meeting. However, the county did send Ball Ground a list of concerns with the proposal, including a shared driveway shown on the site plan that encroaches into a stream buffer and potential issues for emergency response vehicles for several lots. The county included a suggestion a site development plan be approved by the Cherokee Fire Marshall's Office before Ball Ground issues a land disturbance permit if the annexation is approved.  
In other action, the city council will consider approving a widening of Old Dawsonville Road and improvements from Groover Street to William Court, about one-half mile near downtown Ball Ground.
Wilmarth said the project will include stormwater upgrades, utility relocations and a widening of the road. The widening will not include additional lanes, Wilmarth said, but it's expected to improve road safety because of the terrain in the area.
While the city looks to widen the road, it is also seeking to cut down on speeds. Wilmart said another aspect of the Old Dawsonville Road project is to "do a better job of speed enforcement." He said cars routinely are traveling double the posted 25 mph speed limit.
The council will also consider shifting some of the city's American Rescue Plan Act windfall of $830,000 to improving the roadway. The board could vote on shifting general stormwater dollars from the fund for curb, gutter and stormwater improvements to coincide with the Old Dawsonville Road widening project.