CANTON - The Canton Exchange will see two new restaurants open in the same building within a month. Pita Mediterranean Street Food opens its doors this week and De Allende Mexican Kitchen and Tequila Bar will open next month.
Pita Mediterranean Street Food, owned by Cherokee County residents Nilesh and Zankhana Patel, will have its grand opening Friday and is inviting the community to a free dinner that evening.
Nilesh Patel, who lives in southwest Cherokee near Acworth, said that the Canton eatery will be their first restaurant endeavor. Previously, he and his wife owned a convenience store.
"I worked in and out of the restaurant industry from when I grew up in California to here. I like the business, and I think Pita is a great concept," he said.
Pita, based in Fairburn with most locations in Georgia, is a quick-service Mediterranean concept with best-sellers including gyros, shawarmas and falafel, everything fresh and made to order. Entrees come in three formats: street pitas, pita platters and rice bowls. Included in the menu are vegetarian, vegan and gluten-free options. Desserts offerings are baklava, Turkish coffee and pistachio honey cookie ice cream, a Nutella pita and a baklava cheesecake.
The company has a special focus on authentic Mediterranean flavors, said chief marketing officer Mike Carino.
"Mediterranean itself is unique (in) the South. There's not a lot of Mediterranean restaurants that are out there," Carino said. "There's a lot of back-end work into making these cuisines. We were able to figure out how to make it affordable, and have a variety that everyone would like to try. A lot of people can be intimidated, especially when they don't know what they're eating. So we have this welcoming environment and also a very high standard of customer service so we know the first time you come and try our food, you will be coming back and trying these unique flavors."
Spices and marinades are made daily at the kitchen in Fairburn and delivered to area franchises, including the Canton location.
Visitors at Pita between 6-9 p.m. Friday will receive their choice of gyro, chicken gyro or falafel pita with fries and a drink. As many as 600-800 people are expected based on previous events.
The Canton location has hired seven employees, and is looking to double the size of its staff over the next few weeks. Those interested can visit the company website to apply.
Canton is the 22nd location for the company, among 36 new restaurants opening this year. Patel said that he plans to expand and open more franchises in the area, starting in or near the county.
In addition to dine-in or carry out, Pita Mediterranean Street Food is available for catering or delivery through Grubhub, DoorDash or Uber Eats.
De Allende in Canton is still under construction, estimated to open in mid-May. The Mexican restaurant is also locally-owned, by Lupe Fuentes and his wife, Paloma Fuentes, who live in Holly Springs. The first location opened at the Outlet Shoppes at Atlanta in Woodstock last year.
The concept, Fuentes said, is to bring a unique, authentic experience to the area. Many of the design features for the space will be imported from Mexico, including artwork and furniture, as well as some ingredients.
The name comes from San Miguel de Allende, a "magic" town in Mexico, Fuentes said.
"It's very unique; it's very crafty," he said. "Most of our stuff we get from down there, our decor was handmade from San Miguel de Allende. We're inspired by that town."
The restaurateur is the youngest of nine siblings, eight brothers and one sister, and all of his brothers are also in the food industry. From a young age, Fuentes spent much of his time in their family's restaurant, Monterrey in Woodstock, and he has memories of helping wash the dishes at 11 years old.
"I didn't want to stay home," he said. "My family was always very dedicated to the restaurant. I would always beg to go to the restaurant and I would help out in the back. I can't say I know it all, but I've learned a lot."
After working in Virginia for a few years, Fuentes moved back to Cherokee County with his wife to open his first restaurant, Pueblos in Ball Ground in 2015.
Although there are common staples familiar to Tex-Mex cuisine, Fuentes hopes to introduce authentic flavors many may not have tasted before.
"We're trying to introduce more authenticity in Mexican food," Fuentes said. "I feel like a lot of people in Woodstock appreciate what we offer different. We've had good feedback from people down at the Outlet Shoppes. I think Canton can appreciate our concept."
One of the most popular dishes is their enmoladas, a serving of enchiladas with a traditional handmade mole sauce. Another entree, called the molcajete, consists of grilled chicken, shrimp and steak with tropical queso and ranchero sauce, served on a heated lava rock.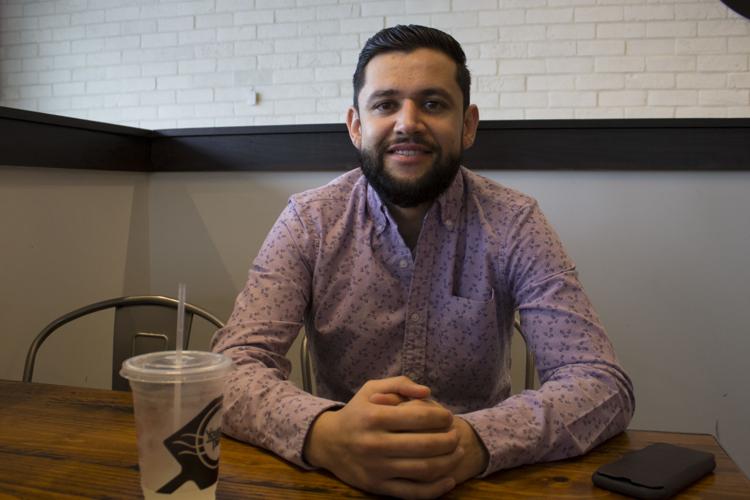 The Canton location will have about 15 employees, and will start its hiring process later this month.
New to the Canton restaurant is an open kitchen layout, something Fuentes couldn't do in Woodstock because of the limited space in the outlet mall.
"With an open kitchen, the chef and the cooks are included," he said. "They're a part of the experience and the ambiance."
The owner plans to include music at the new location, and may invite bands to perform once or twice a month.