CANTON – Unrelenting rain resulted in flooding across Cherokee County last week, closing public facilities and rendering some roads impassable, but public safety officials say residents and their property escaped mostly unscathed.
According to Cherokee County Water and Sewerage Authority measurements, the county received 7.16 inches of rain from Feb. 19 through Sunday.
Flood warnings for the Little River and Settingdown Creek were issued Thursday and remained in effect until Friday. The Etowah River flood warning, also issued Thursday, remained in effect until Sunday.
Flooding-related closures on Thursday included Etowah River Park, Heritage Park and Boling Park in Canton and Rope Mill Park, Noonday Creek Trail and Towne Lake Pass Trail in Woodstock. Industrial Mill Way, Johnson Brady Road and Gantt Road also closed after flooding on Thursday.
Boling Park reopened on Friday, and all county roads had reopened by Monday. No flood warnings or watches are currently in effect.
Etowah River Park and Heritage Park in Canton, as well as Rope Mill Park in Woodstock remained closed for cleanup on Monday.
Angela Thompson, spokeswoman for the city of Canton, said Monday that while residents may have access to Etowah River and Heritage Parks, the city is asking that they stay off the grounds to allow crews to adequately clean them.
"The parks are closed for usage. They will likely be open, by the latest, on Wednesday. (The city) has just spent the past couple days cleaning up silt and sediment and mud that washed up," Thompson said. "We have heavy equipment down there cleaning them up. It's not ideal for someone to be walking a pet on the paths."
Woodstock Parks and Recreation Director Preston Pooser echoed Thompson on Monday. Pooser said keeping the parks closed until cleanup is complete is a matter of safety, adding that the city's mountain bike trails will also remain closed until further notice.
"Right now, we have to let the water recede from over the walking concrete trails. When it does, our crews scrape, brush and blow the mud off and make sure they are safe to reopen. Additionally, we have to keep riders off of the mountain bike trails until they are dry. When people ride on them while they are still wet, it forms ruts that may make the trails unsafe. We work closely with (the Southern Off-Road Bicycle Association) on the opening and closing of the mountain bike trails. Their volunteers help us monitor the trails and keep the trails in safe riding condition for our park and trail users," he said in an emailed statement.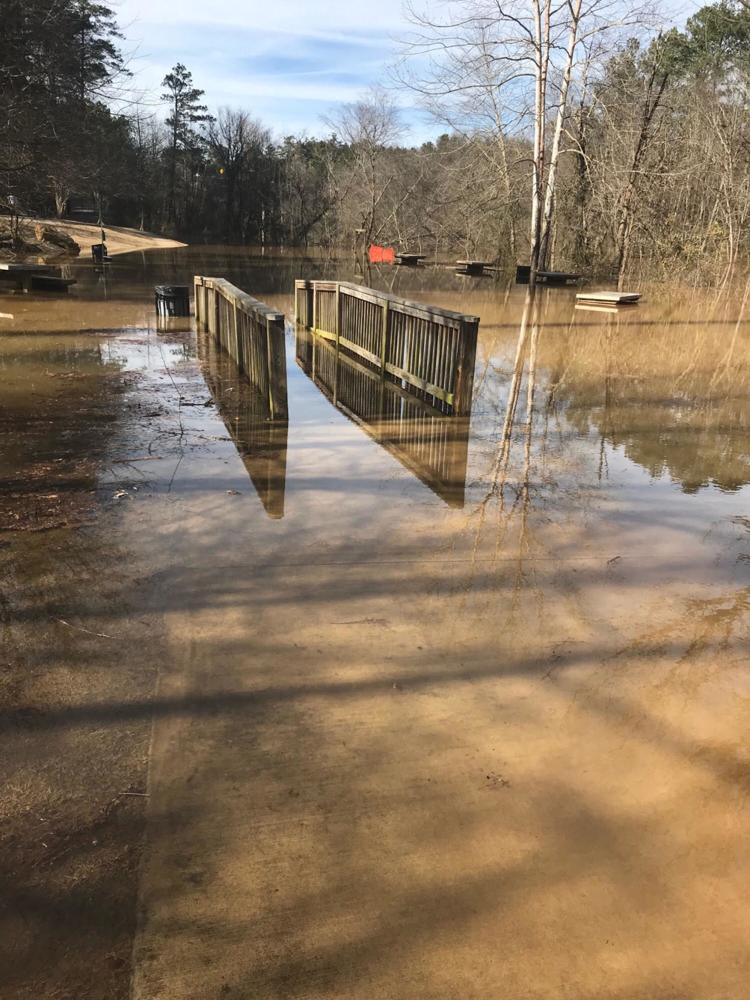 Renee Cornelison, director of the Cherokee County Emergency Management Agency said Monday that beyond the closures, the flooding did not cause notable property damage.
The Cherokee Sheriff's Office reported about 100 storm-related calls countywide from last Tuesday to Sunday. Those calls included reports of debris in roadways, as well as downed trees and powerlines.
Cornelison said that while rain is in the forecast this week, more flooding is not expected.
Cherokee forecasts from the National Weather Service show a mostly sunny Tuesday with a high of 63 and 30 percent chance for showers in the evening. Evening temperatures are expected to fall to the high 40s.
Wednesday's forecast shows a 40 percent chance for rain and temperatures in the mid-60s. Wednesday night lows will fall to the low 50s.
Chances for rain reach 70 percent on Thursday, accompanied by a high of 63. Friday brings a 50-50 chance of rain and highs in the low 60s.