CANTON – Cherokee County Commission Chairman Harry Johnston on Tuesday gave updates on the status of a proposed farm winery ordinance and a proposed noise ordinance, though there are not yet expected dates for those subjects to undergo public hearings.
Johnston shed light Tuesday on a "check-the-box ordinance" that county officials and staff have been discussing, which he said would allow the county to allow certain activities at farm wineries on a case-by-case basis.
At the base level, Johnston said, a proposed farm winery would need to request a special-use permit and, if approved, would be allowed to grow grapes, manufacture wine, sell bottles of that wine and offer samples at its facilities.
If the winery wanted to do more – for example, have a full kitchen or restaurant, sell other manufacturers' wines or serve other types of alcohol – applicants would need to announce that intent on the application documents. Those requests would then be reviewed and ultimately approved or denied by the board of commissioners.
UPDATED at 8:30 p.m. Dec. 4: More than a dozen people spoke at the public hearing, most supporting Big Door Vineyards' call for fewer local re…
"Of course that would be based largely on the location and proximity to residential uses and the disturbance that might create," Johnston said.
The county's farm winery ordinance has been a high-profile discussion item on the board of commissioners' agenda for months, hinging mainly on a dispute between county officials and the Sutallee farm winery, Big Door Vineyards.
Johnston said Tuesday he was not sure that the vineyard and the county would be able to come to an agreement that avoided litigation.
"I don't know that we'll be able to come to terms with the current winery in Sutallee area. They and we seem to have some differences that might be irresolvable, and it could lead to litigation with them. I would like to head that off, but their requests may be beyond what we would be willing to approve in their case," he said.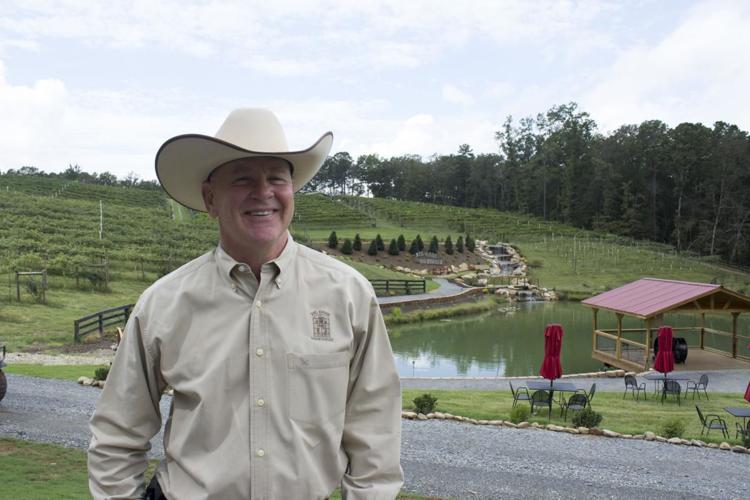 Big Door Vineyards owner Rodney Alldredge echoed that sentiment on Wednesday. Alldredge told the Tribune that he would be pursuing litigation in the coming months if the county is not willing to grandfather his winery into what he said were prior assurances made to him.
Those assurances, he said, include his ability to have a catering kitchen and correspondence from planning staff saying he would be able to have outdoor loudspeakers and beer and liquor licenses.
"I feel like we ought to be grandfathered in to be able to do all the things they said we could do before," he said. "I have proof that they had given me permission to do all these things initially, and I had spent over $1 million before they even started talking about doing anything different."
Johnston also introduced the suggestion of a three-tiered, time-of-day noise ordinance using decibel measurements for enforcement. The new proposal, which at this point is also only up for discussion, would limit noise entering someone else's property to the specified decibel amount.
Johnston said the restrictions would consider 7 a.m. – 7 p.m. as a daytime period, 7 – 11 p.m. an evening period and 11 p.m. – 7 a.m. the following day as a night period. Daytime decibel restrictions would be set at a maximum of 70, evening at 60 and night at 50. Sunday mornings until noon would also fall into the night restrictions.
CANTON – The definition of nuisances, as well as enforcement of noise ordinance violations will likely tighten in Cherokee County as the year …
"I think we have found that it's necessary to put some sort of decibel level in because, among other things, the lack of specificity in our current ordinance makes it hard to enforce. The judges are reluctant to impose a fine on somebody when the definition is it's so loud that it's disturbing to your neighbor," Johnston said. "We would obviously have to have some exceptions, because there are some things that make more noise that can't reasonably be avoided."
Possible exceptions may include school activities and lawn mowing during reasonable hours. Johnston also addressed a man who spoke during the public comment portion of the agenda about concerns with a private band using school property near his home to practice their music. Johnston said he was not sure at this point whether their activities would qualify for exception.
The noise ordinance discussion also included suggestions for the restriction of firearm noise in certain areas of the county, another topic which has frustrated residents in some larger-tract neighborhoods.
"Many of the complaints we get about noise do involve gunfire. It's a very tough thing to regulate, because you're getting into gun rights and the NRA and a lot of people around these parts like their guns and like the right to shoot them," Johnston said.
A resident of a neighborhood near Woodstock has brought county and state firearm law into the spotlight in a neighborhood dispute in which a t…
While regulating gunfire can be tricky, he said, the currently suggested solution would be to allow "an unlimited noise exception during daytime hours on properties that otherwise are not restricted on the discharge of firearms." He continued, however, that non-emergency firearm discharge be restricted to parcels of at least 1 acre. Johnston said that restriction would be separate from the noise ordinance.
The Cherokee County Board of Commissioners meet at 6 p.m. on the first and third Tuesdays of each month at the Northside Hospital Cherokee Conference Center, 1130 Bluffs Parkway in Canton. Agendas, minutes and videos, including live streams are available at legacy.cherokeega.com/apps/transparency/novusSearch.cfm.