While plans for a warehouse along Ga. Highway 92 have been placed on hold, neighbors of the proposed development continue to oppose the industrial project that they say threatens their privacy and is not what they were previously told might occupy the land.
Developers say the project would bring 160 construction-related jobs and up to 200 permanent jobs to the corridor, though the final number will depend on tenants.
Taylor & Mathis, with the support of the Cherokee Office of Economic Development, proposed last month plans for a 220,000-square-foot warehouse on about 41 acres of county property at Old Highway 92 and Hunt Road near Acworth. The plan would require a rezoning of the tract from residential to industrial use. The Cherokee County Planning Commission recommended denial of that proposal by a 6-1-1 vote. Cherokee County commissioners later tabled a decision on the case until May.
When, in November 2017, neighbors first heard that of the plans for a then-300,000-square-foot warehouse, Jeremy Dean and his wife, Andrea, began a petition to leave the land as green space. The initial petition (here) gained nearly 400 signatures, and an updated petition (here) in October 2018 garnered more than 100.
The first iteration of a warehouse proposal came to the county's planning commission in March 2018, but after fierce resident opposition and a unanimous recommendation for denial, Taylor & Mathis withdrew the plans. Neighbors continue to voice their opposition to the current plans.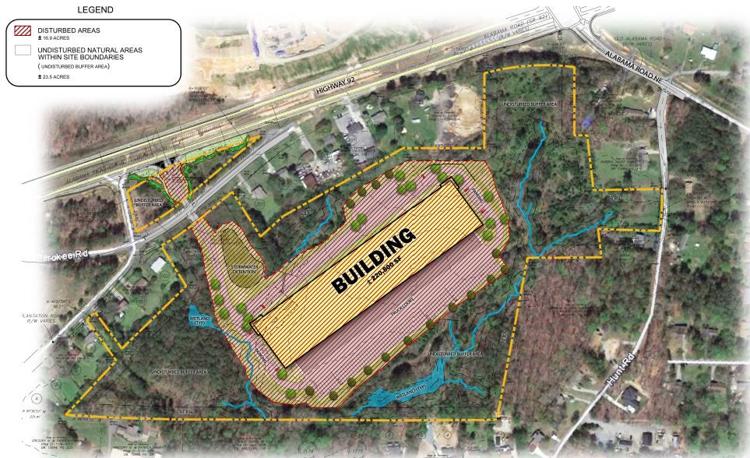 Dean, who lives adjacent the property, told the Tribune on Thursday that he and his neighbors aren't outright against the property's development, but want a use that will provide more jobs and other opportunities for the surrounding community than a logistics center would. He said residents in the area were formerly told that the land could become a park.
"The best possible outcome would be that they go back to putting a park in this area. We basically have to go to Cobb County to go to the nearest park," he said.
Bryan Reynolds, director of the Cherokee Recreation and Parks Agency, said recently that the 41-acre tract is one of two county-owned parcels that were slated for possible park use, but because the two parcels are so close to each other, "the future recreation and parks master plan proposes one new park in this area using either parcel."
The second option for a park location is on 43 acres near the intersection of Kellogg Creek Road and Old Alabama Road, less than 1.5 miles from the land Taylor & Mathis is seeking to rezone.
Dean said the second park location option comes as news to him and his neighbors. He said when he and his wife inquired about a park in their area, they were told to use Patriots Park, about six miles away.
Regardless of whether the Kellogg Creek parcel becomes a park, he said, residents in the area are still looking for compromise on the Taylor & Mathis rezoning request. Dean said even splitting the proposed 220,000-square-foot building into multiple buildings at around 50,000 - 60,000 square feet would allow for the preservation of more green space and provide larger buffers to the tract bordered on all four sides by homes. He also said introducing a mix of uses would provide services or recreation opportunities that residents and workers in the corridor, including employees of Yanmar America or Oechsler across the highway, don't currently have.
"I'm not saying we have to have restaurants, but it just would make more sense, because there's nothing right here," Dean said. "I don't think that the Bells Ferry (area) has been looked at the same way that the rest of the county has. We're below Highway 92 and in between Bells Ferry and (Interstate) 75. The corridor of 92 all the way up to Bells Ferry from 75 is not being utilized to present the live, work and play that they're trying to show in their master plans."
But representatives from Taylor & Mathis say they have tried to re-work their site plan to address resident concerns and provide the privacy and green space neighbors have asked for.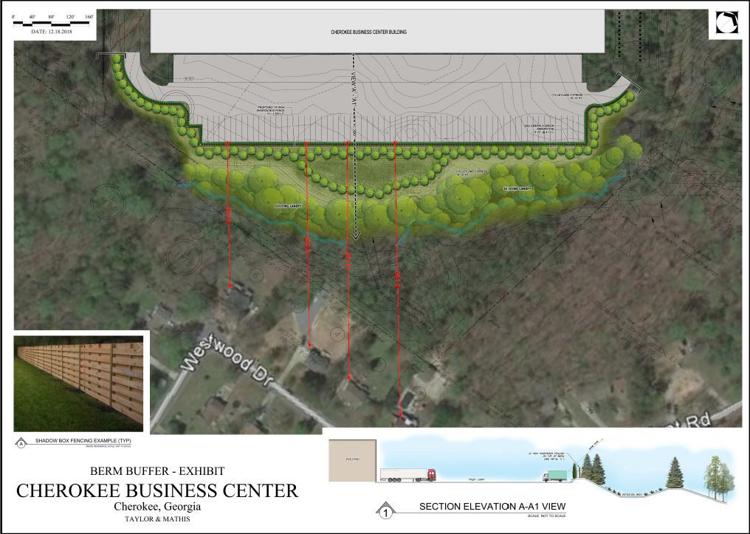 Hamilton Reynolds, president of the company's industrial division, noted Friday that between the first and second presentation of the proposal, the building size shrunk by 80,000 square feet and was changed to reduce truck traffic and increase office use.
The proposal, Reynolds said, also leaves more than half the acreage undisturbed and includes additional buffer and screening plans, including opaque fencing and natural berms, which will cost the company more than $250,000.
"Unfortunately, further modifications in our site plan are not economically feasible – our green space already represents 58 percent of the project," he said.
Dean also expressed frustration on Thursday with COED, saying that he and others in the area feel like the economic development office and Taylor & Mathis have established a vision for the site and will not change their minds.
COED Chairman Marshall Day said the office's decision to support Taylor & Mathis' rezoning request and warehouse proposal is one that comes from a desire to bring jobs to the county. Day said Taylor & Mathis has "a proven track record" of producing "quality corporate facilities," and the Highway 92 corridor is already home to many job-producing industrial business within the Cherokee 75 Corridor nearby.
"The Cherokee 75 Corridor is home to many corporate and regional headquarters that also have advanced manufacturing operations, some of which have their creative centers and research and development labs on site," he said. "Quality economic development provides much-needed diversification of our tax digest, keeping taxes low for our residents. It also provides career opportunities for the 78 percent of our residents commuting to jobs outside of Cherokee, giving people time with their families versus being stuck in traffic. We have a strong and successful history in our support of only the best quality business, corporate and light industrial projects."
CANTON – Plans for an industrial and office warehouse off Ga. Highway 92 near Acworth fell short of planning commission support for the second…
Day added that a building like what is being proposed would help the county market to "high-end companies, such as Adidas and Inalfa." But, he said, it is imperative that the county already have buildings — not just land — available, as about 90 percent of prospective corporate customers and expanding companies look for a building.
"We don't consider this a warehouse project, we consider it an opportunity to bring quality jobs to Cherokee's residents," Day said.
The county's 2018 comprehensive plan updates changed a portion of the county's suggested land use, including the subject property, from suburban growth to workplace center late last year. According to Jeff Watkins, the county's director of planning and zoning, the change in character area came as a result of "a great deal of public input and debate," and as a response to the Highway 92 corridor's rapid growth since the comprehensive plan update a decade earlier.
The workplace center designation and Highway 92 overlay along the corridor suggests a mix of uses, including possible industrial. Watkins also said that the subject property falls within the opportunity zone, adopted in 2010. The opportunity zone offers tax credits for the creation of new jobs in the state.
The case is expected to return to the board of commissioners at 6 p.m., May 7 at the Northside Hospital Cherokee Conference Center, 1130 Bluffs Parkway in Canton.