A new business made a tasty debut at Woodstock's Dean's Store and visitors center on Thursday evening, drawing a crowd of more than 100 to sample a variety of frozen treats.
"We invited about 30, and there were about 40 RSVPs, and then there were like 100 people," said Eric Velji, co-owner of Flux Ice Cream.
The event, hosted by Young Professionals of Woodstock, served as Flux Ice Cream's formal introduction to the community. Flux is based out of the same warehouse as another of Velji's businesses, Forerunner Foods, which is situated just over the county line in Cobb. But, Velji said on Friday, Flux's products will likely be making appearances in many places around the metro area, including Cherokee County.
Currently, Velji and co-owner Bobby King, who is also head chef at Freight Kitchen and Tap in Woodstock, plan to market their frozen treats at the Oct. 11 premiere of Flip or Flop Atlanta and the Oct. 13 Cadence Fair in downtown Woodstock, as well as downtown Canton's BBQ, Brews and Boos on Oct. 27.
"We're focused on a lot of the same principles as Forerunner Foods is – quality ingredients, seasonal stuff. For example, our ice cream is milk, cream, eggs, sugar, vanilla, salt and whatever flavor goes into it. That's it. There's no preservatives, there's no artificial flavor, there's no extra filler," Velji said. "It's just the way ice cream should be made, and you can taste it."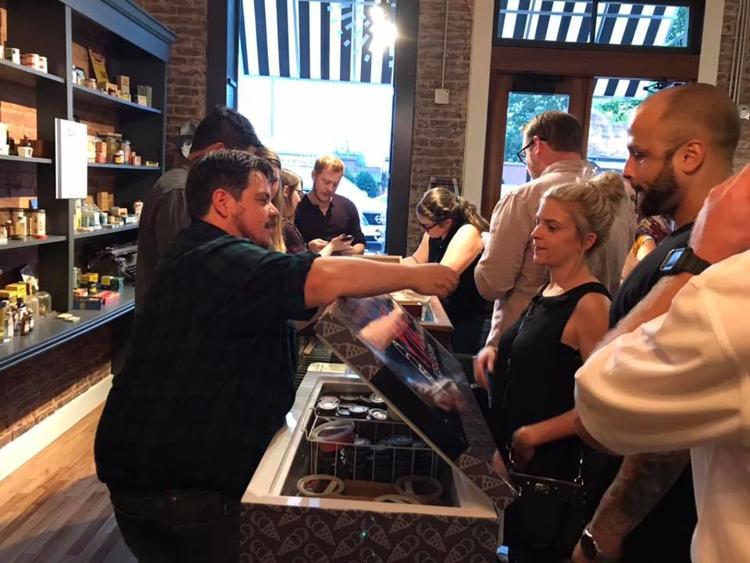 The company's co-owners say they want ice cream to be a "year-round thing" and believe that, in Georgia, that's entirely possible. While they produced peach and watermelon flavors for summer, Velji said, the season change has prompted their introduction of frozen apple cider and caramel apple. In winter the ice cream aficionados said they will likely roll out cream-based citrus flavors, and as the weather warms again customers can expect "fresh fruit and herbs" to make a comeback.
"We'll have our staple products – coffee will be a staple product, lemon sorbet will be a staple product – but we want to rotate through some stuff," Velji said. "It's always changing, always evolving. Even the product that we released last week, the version we released this week is just a little bit different… That's how it is. It's built by a chef, and it's designed to be the way and chef and a kitchen work."
He said the Flux flavors and the transcendence through time that the production of their ice cream symbolizes eventually gave birth to the name, nodding partly to Back to the Future's flux capacitor.
"We were sitting at a bar drinking trying to figure out what we wanted to do and what our identity is within the ice cream world," he said. "We wanted to make old-school, traditional ice cream – we're hand packing it, we're making it with traditional ingredients… but we want to do really modern unique things: we want to partner with breweries, we're working on a cocktail line of ice creams, a lot of really cool, modern things."
Main Street Woodstock board members and staff announced the organization's new name and "broader mission" to attendees of the Downtown Buzz at…
Velji said King is the mastermind behind making flavors work together, drawing on his expertise from a career of making great food. On the logistics side, Velji takes more of a lead role. But, he said, the current plan for a business model is not to be in large retail stores. It's to partner with community businesses.
Velji said the sharing of retail space in breweries and coffee shops – the types of businesses he's been targeting – can help to cross-promote. He said, while nothing is set-in-stone, Flux Ice Cream is in talks with Reformation Brewery in Woodstock and Dry County Brewing Company in Kennesaw.
"Our goal is more to take a King of Pops approach, where we're not doing brick and mortar and we're not doing trucks," he said. "We want to work with these partners for (customers) to come find them all over the metro area… They make a little money, we make a little money and it's a good partnership."
A fair warning to all the ice cream lovers who might soon be seeking out Flux's products: no matter where you find them, always expect the unexpected.
"We don't know what we're going to make next month. We make ice cream that we want to eat. If next week, I'm like, 'Man, I'm really craving honeycomb and mint,' then we'll try it," Velji said. "You'll never see Moose Tracks, you'll never see cookies and cream – bottom line is if Mayfield makes it, we probably never will."
For more information, follow Flux Ice Cream on Facebook.