CANTON – Dozens of residents cheered, applauded and patted the back of a local winery owner as Cherokee County commissioners voted unanimously to table a vote on amendments to the county's regulations on farm wineries – regulations that the local winery and more than 1,300 petitioners have rejected as detrimental to business.
The unanimous vote was absent the support of former Commissioner Bob Kovacs, whose resignation from the board took effect a day prior.
Thirteen people spoke at the night's public hearing on proposed amendments to the section of Cherokee County ordinances, 10 of whom felt that the county was "over-regulating" the farm winery industry in the county. While the hearing was about amendments to farm winery regulations broadly, virtually every speaker specifically mentioned Big Door Vineyards, continuing a dispute between the county, the winery and some of its neighbors.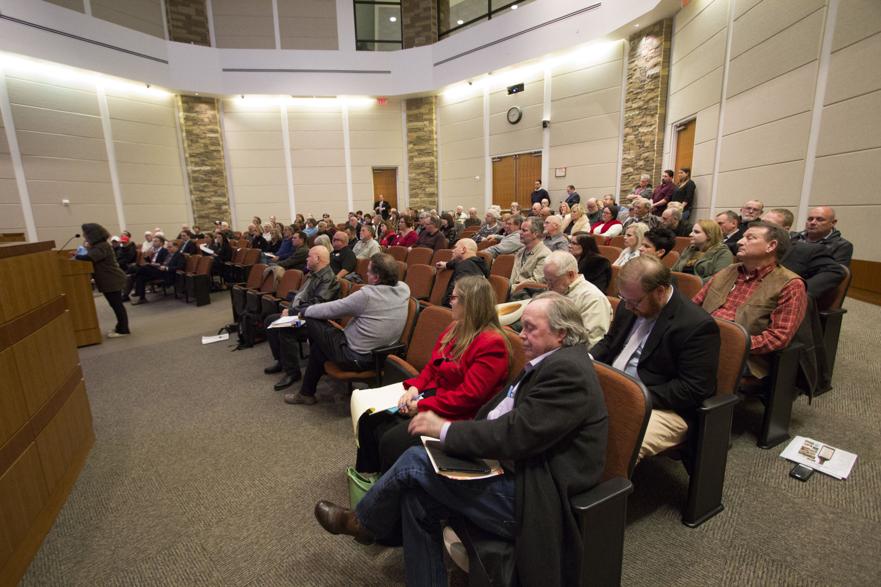 Current and proposed county regulations go beyond state regulations to further limit events, vendors and noise, though the newest proposal does seek to allow a choice of limited food truck attendance or twice monthly ticketed events.
The hearing began with county staff presenting their studies of wineries in and around Cherokee County. County Engineer Geoff Morton said county staff had conducted extensive research of 57 winery websites and visited four wineries in three counties before settling on the proposed changes to current regulations.
Morton noted that out of the 57 websites reviewed, the county found only three wineries that served alcohol other than wine, four that had a restaurant or café on site, two that had food trucks or other vendors on a limited basis and 16 that provided live music or concerts. He said most wineries also limited their operations from 12 – 6 p.m.
Morton continued that seven North Georgia county ordinances were reviewed. He said a majority require conditional use permit or special use permit for a farm winery land use, and a majority require county approval if the winery will function as an events facility.
UPDATED at 8:30 p.m. Dec. 4: More than a dozen people spoke at the public hearing, most supporting Big Door Vineyards' call for fewer local re…
The public's comments began with three speakers who said they were in support of tighter regulations on farm wineries in the county and who specifically cited Big Door Vineyards' activities as detrimental to the area where they live. The business is located off Ga. Highway 20 at 125 Clearwater Drive near White and bordering Bartow County.
Two neighbors who have been outspoken opponents of Big Door's desires to host weddings, concerts, dinners and other events on the property, Dean Phillips and Russ Giudicessi, spoke first and second, respectively. Both men said the winery falls within an agriculturally-zoned subdivision, and therefore should not be able to function as a commercial entity.
"The issue that I have with the proposed ordinance is that it allows commercial activity on farm property. Most of us bought farm property, agricultural property in Cherokee County, expecting that we may have cattle farms, or people who grow grapes, or people who grow wheat or corn or … different types of animals – that was expected," Phillips said. "What we didn't expect is that an individual could have land next to us, some of us right across the street, and open up a facility that was commercial in nature."
SUTALLEE – A Cherokee County farm winery four years in the making, but opening to the public this year, has the top wine in a statewide compet…
Giudicessi began by praising Kovacs, who formerly represented the district including Big Door Vineyards, for his work with neighbors both in opposition and support of tighter regulations. He echoed Phillips' comments, and added that the current regulations don't go far enough. Giudicessi said he would like to see a "narrowing" of language to ensure that the county marshals are able to effectively enforce regulations. He also noted that Kovacs' resignation meant that the district had no representation at the meeting, and asked commissioners to consider that in their decision.
The third supporter of tightening regulations and opponent of Big Door called the winery a "corporate invasion of privacy," that he said "ruined the aesthetic" of the surrounding community.
Speakers who attended in support of Big Door spoke in stark opposition to the previous speakers, and said the county should revert its farm winery regulations back to what the state allows. Those speakers included Gary Engel, vice president of the Georgia Wine Producers' board of directors and owner of Ellijay's Engelheim Vineyards; a site designer and contractor on the Big Door property; the winery's attorney; neighbors and patrons of Big Door; and the winery's owner, Rodney Alldredge.
Engel told the board that wineries were historically good for the area where they operate, saying that property values around his own winery have increased since his operation began. He noted that his winery is also often the site of events, music, caterers and food trucks, but that his and most wineries must be sensitive to the quality of life of their neighbors.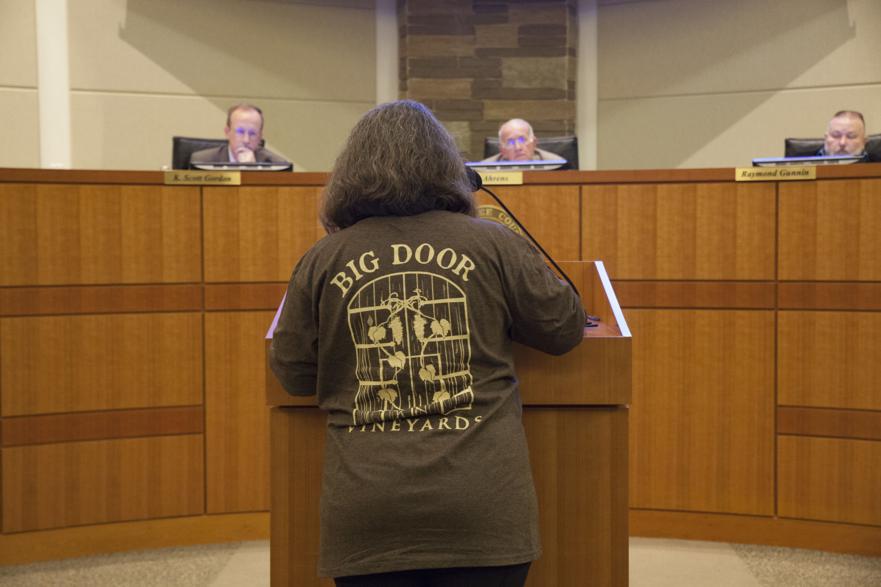 Derek Poarch, the attorney representing Big Door, addressed commissioners saying the county originally welcomed the winery with open arms. He said Alldredge had spent $1 million preparing his site for the operation that he thought would continue to be welcomed, but the relationship with the county has since turned "adversarial."
Alldredge spoke toward the end of the hearing, repeating several speakers' pleas to afford farm wineries more freedom from regulation, and specifically voicing his opposition to the proposed regulations of food trucks, sale of various types of alcohol and prohibition of outdoor loudspeakers, among others.
"We need to have a farm winery ordinance that will allow a farm winery to thrive, not just survive," he said. "Allow them to do what they do. You should only restrict if there is a problem – if there is a known problem – not someone creating thoughts of things that could possibly go wrong in the future."
Alldredge asked any supporters of Big Door Vineyards in attendance to hold up a copy of a petition if they signed it, an invitation that dozens in the room took. He then asked those who "came here to support freeing up the business propositions of this farm winery, please stand up to show your support." Again, dozens stood, applauded and cheered.
The online version of the petition, which expresses belief that the county's farm winery ordinances are too strict, had reached 1,356 signatures by noon on Wednesday.
Cherokee County's Big Door Vineyards medaled in three categories in the prestigious 2018 San Francisco International Wine Competition held thi…
After the close of Tuesday's hearing and just prior to the vote to delay a decision on the amendments, Commissioner Scott Gordon gave his reasoning for the motion to that effect.
"In my time on the county commission, it has always been my personal preference after public hearings – especially contentious public hearings – that we, as a board, take time to pause, review what we've heard, (and) weigh the things that have been brought forward to us. And clearly we have been given a lot of information tonight," Gordon said. "In light of that, I'm personally not ready to make any action on this."
The case is expected to return to commissioners on Dec. 18 at 6 p.m. The Cherokee County Board of Commissioners meets at 6 p.m. on the first and third Tuesday of each month at the Northside Hospital Cherokee Conference Center at 1130 Bluffs Parkway in Canton.