BALL GROUND – One of Ball Ground's newest businesses opened its doors for a city taste test on Saturday, welcoming guests in from the cold, rainy weather for a much-needed cup of joe.
Barrel House Coffee Company, a new addition to Ball Ground's downtown district on Gilmer Ferry Road, celebrated its soft opening on Saturday, introducing guests to its unique spin on locally roasted coffee.
The business is co-run by two local couples – Ryan and Kathryn Turnage and James and Nicole Howard – and gives customers a choice between "barrel-aged and non-barrel-aged" coffees.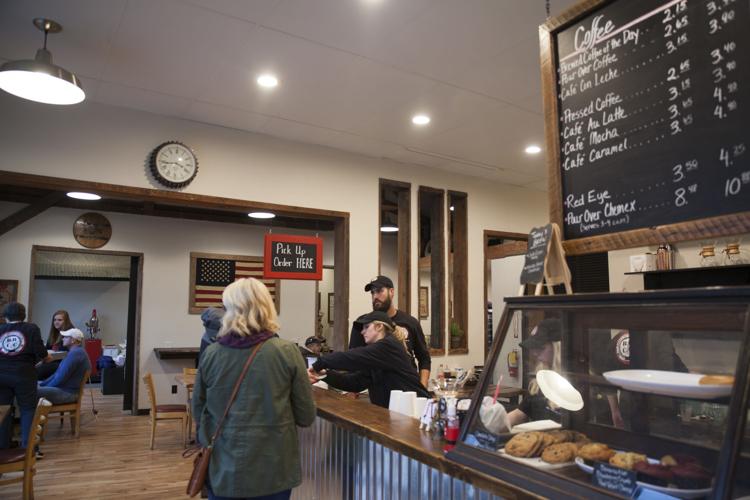 Nicole Howard said recently that, prior to roasting their beans, the business owners let them sit in empty whiskey and bourbon barrels to absorb the flavor and aroma. This practice, she said, was a result of curiosity stemming from another of the Howards' local businesses.
"My husband and I have been making barrel table (kits) for about 4.5 years," she said. "Last year sometime, I started roasting coffee on my own, because I was intrigued… James suggested, 'Hey, what if we take some of this green coffee and put in one of our barrels that we use for tables?'"
The Howards said they were impressed by the flavors absorbed from the aromas inside the barrel, and after taste tests with friends and family and at places of work, they decided to roast enough coffee to sell at Locally Yours, another Ball Ground business they co-own.
Ryan and Kathryn Turnage joined to partner with the Howards over the summer, when both couples agree the timing lined up perfectly. Both Nicole Howard and Ryan Turnage said that they had flirted with opening a coffee shop, but couldn't find the right partners until now.
Ryan Turnage, a self-proclaimed coffee and whiskey aficionado, said he first saw the coffee for sale at Locally Yours.
"As soon as I saw that I walked up to the owners and said, 'Hey, we need to have a conversation.' They were immediately on board with trying to get a coffee shop open," he said.
Nicole Howard said the locally roasted coffee has been a point of pride since its beginnings, but said she hopes the brick-and-mortar coffee shop will put Ball Ground on the map.
"We love our product, but we wanted something that people would say, 'Hey, there is a great place in Ball Ground, and wouldn't you believe that they are barrel-aging their coffee.' It's something unique that people wouldn't just want to pass by but would actually want to come to Ball Ground," she said.
She added that the interior of the store was a labor of love, with virtually every countertop, shelf and decoration being crafted, sanded and painted by "all of us," but especially her grandfather, Earl Layne, and Ryan Turnage.
Ryan Turnage said the work on the store displays the owners' and employees' passions and personalities enveloped in the business.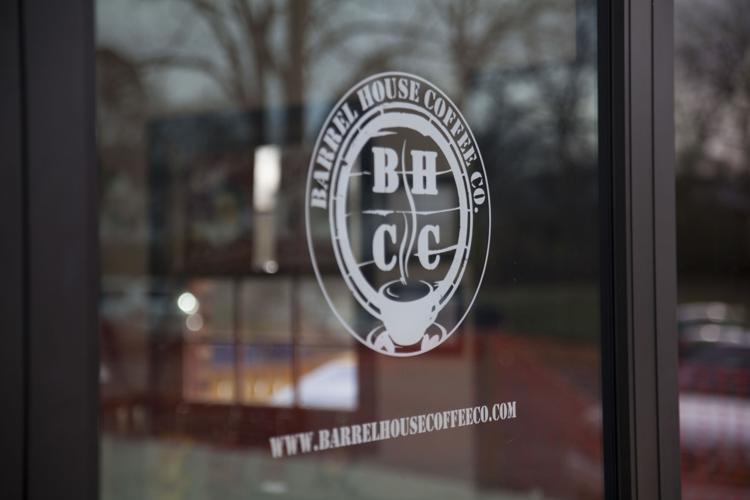 "We did the counters, all the tables, the bar, the barrel rack, the roasting platform for our roaster. I mean, everything in here has been touched or built by either Earl, myself or our partners, including painting the walls. We're just so excited to get into this town and present our version of a coffee shop to them," he said.
Nicole Howard also credited her daughters Madison and Claire Howard for their work roasting coffee, sanding, cleaning and contributing overall to the success of the business's opening.
City Manager Eric Wilmarth said the city shares the owners' excitement for the opening of downtown's first coffee shop.
"I do feel like it's been something people have been looking for, and we do have a number of people that say they're looking for that hangout spot," Wilmarth said. "Our slogan is 'We roll out the red carpet, not the red tape,' and we love adding businesses to our downtown. This is one of those businesses that fits in when you're trying to accomplish a walkable downtown with businesses that thrive off of each other."
Ryan Turnage agreed, saying that's exactly what they aim to be for the city: a community hub and successful, mutually beneficial business.
"We're absolutely excited to be able to give this to the town," Ryan Turnage said.
The shop's menu items include barrel-aged and non-barrel-aged coffee choices, pastries and cakes. Menu items may expand as the business does, owners said.
Barrel House Coffee Company is located at 275 Gilmer Ferry Road, suite 5. The store is open Tuesday – Sunday from 7 a.m. – 7 p.m. and closed on Monday, though hours may be adjusted later. A grand opening date has not yet been set.