A Canton native will represent the city on Friday when he appears on an earlier filmed episode of the CBS game show, The Price is Right.
Nathan Smith, 23, an insurance underwriter who grew up in Canton and attended Cherokee High School, was chosen to be a contestant on the show after he and his family made a trip to Los Angeles in December just to be in the audience.
"I had no intention of being on the show, but I guess the application and interview process went well, and one thing led to another and I was able to be one of the ones selected," Smith told the Tribune on Friday. "The whole experience was awesome. Definitely nerve-wracking. But getting a good Drew Carey hug is pretty awesome."
Unlike other game shows that may have multiple rounds of auditions and interviews, contestants to compete on The Price is Right are selected the day of the filming. Smith said, though he didn't expect to be chosen, he prepared a short pitch to give to the show's producers.
"Everyone there wants to see the show, and then you can opt in or out of whether you want to be picked. But the majority of people do want to be picked, so the producer just goes down the line and asks each person a question. The better impression you have, the better able you are to kind of hijack the interview," he said. "I ran through it in my head a couple times, and it was pretty fluid by the time it got to my turn."
Smith said it was even more exciting to get a chance to appear on The Price is Right, since it has been a family favorite for years. He said he inherited a love for the game show from his mother and grew up watching it as often as possible and recording it when he would miss it.
Though he was not allowed to give any specifics of winnings or how far he was able to advance, Smith said his Friday appearance is definitely worth watching.
The 23-year-old says, though he moved to Omaha, Nebraska in 2017, Canton is his hometown, and he was sure to give it a shout-out during filming.
Smith's appearance on The Price is Right will air 11 a.m. Friday on CBS.
Other Canton residents, also Smiths but of no relation, have appeared on the show in the past, though not as contestants.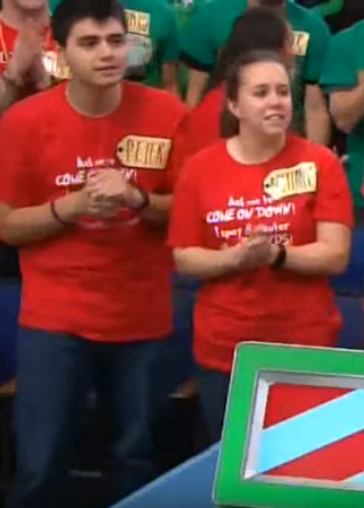 Andrew Smith, his wife Brittany Smith, and his brother, Peter Smith, appeared on The Price is Right's 2018 Christmas special, where they sat in the front row of the audience. The episode was filmed in November, also in Los Angeles.
Andrew Smith, who works as a lawyer in downtown Canton, said on Tuesday that he and his family made it into the top 10 for contestant interviews but were not chosen to compete.
He told the Tribune that though they were not able to compete for prizes, every member of the audience received an air fryer for Christmas.
"We each took one home, which made for an interesting plane ride back to Atlanta," he said.
Andrew Smith and his family appeared on the Dec. 21 airing of The Price is Right.