MACEDONIA – Holiday Lights at Veterans Park, an annual drive-thru light supporting local charities, began its second year on Nov. 23 and will continue through Dec. 31.
This year, organizers say they've made some changes and hope to welcome more than 40,000 visitors, twice as many as last year.
"We're excited about our differences. We have added at least a half-million lights. We've added some new programming to our tunnel and new programming to our 40-foot tree. We have a 180-degree digital tree that's very patriotic. We have a 360-degree tree that's also digital. We've also added a third drive-thru tunnel," said David Pitts, the event's organizer.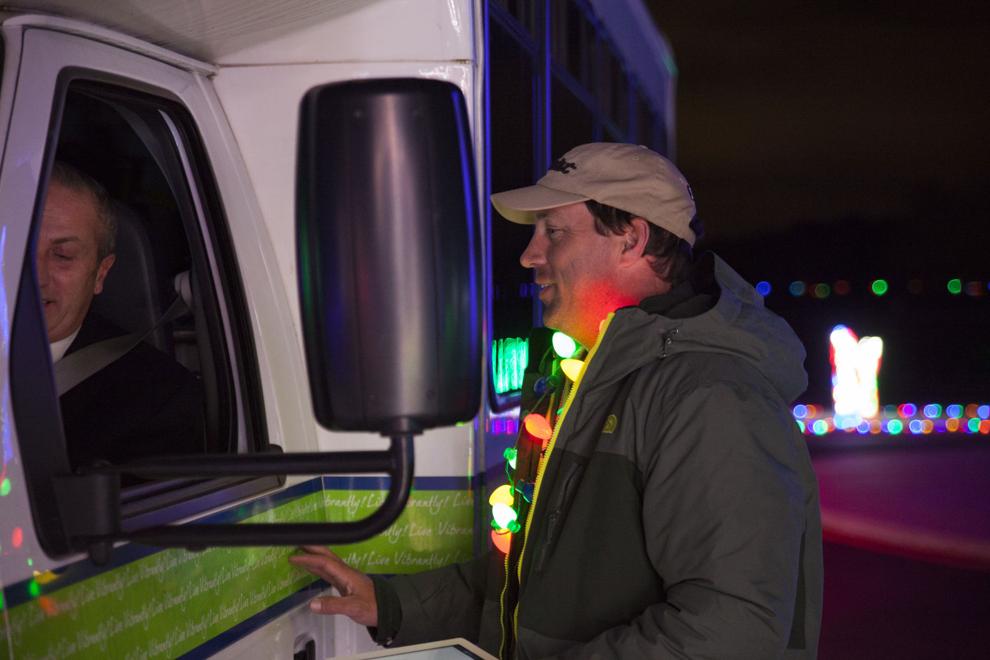 Pitts, who also runs the walking light tour at Hobgood Park in Woodstock, Holiday Lights of Hope, said Thursday this year's show at Cherokee Veterans Park off Ga. Highway 20 will benefit five charities: Enduring Hearts, Papa's Pantry, Cherokee Recreation and Parks Agency's Play it Forward, Veterans of Cherokee County and the SkillsUSA. Holiday Lights of Hope, which also benefits local charities, opened Thursday.
Pitts said last year's show at Veterans Park didn't raise as much for the charities as they'd hoped, but was still covering its first-year setup and maintenance costs. The charities did receive thousands in out-of-pocket donations from organizers, however.
"It's hard to quantify, but last year, we gave to the charities, even though the show did not pay for itself," he said.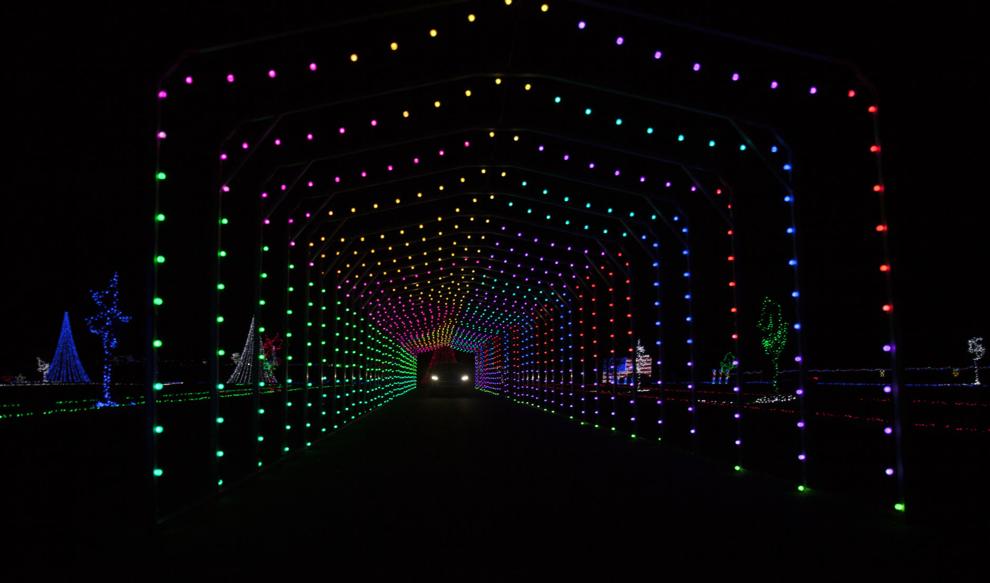 This year, Pitts said, $4,000 was raised for the charities before the show even opened, and the hope is to "have a really good year for our charities." The "vast majority" of proceeds this year will go directly to the charities, but some of the money will still be used to recuperate costs.
The 2-mile drive-thru show costs $20 per vehicle, boasts a setup of more than 2 million lights and fittingly dedicates a quarter-mile stretch to veterans, displaying a tribute to each branch of the U.S. military. Pitts said the average vehicle takes about a 15-minute drive through the track. He also said the $20 always covers extra run-throughs on the same night, just in case you didn't get to see every feature. The show runs rain, snow or shine.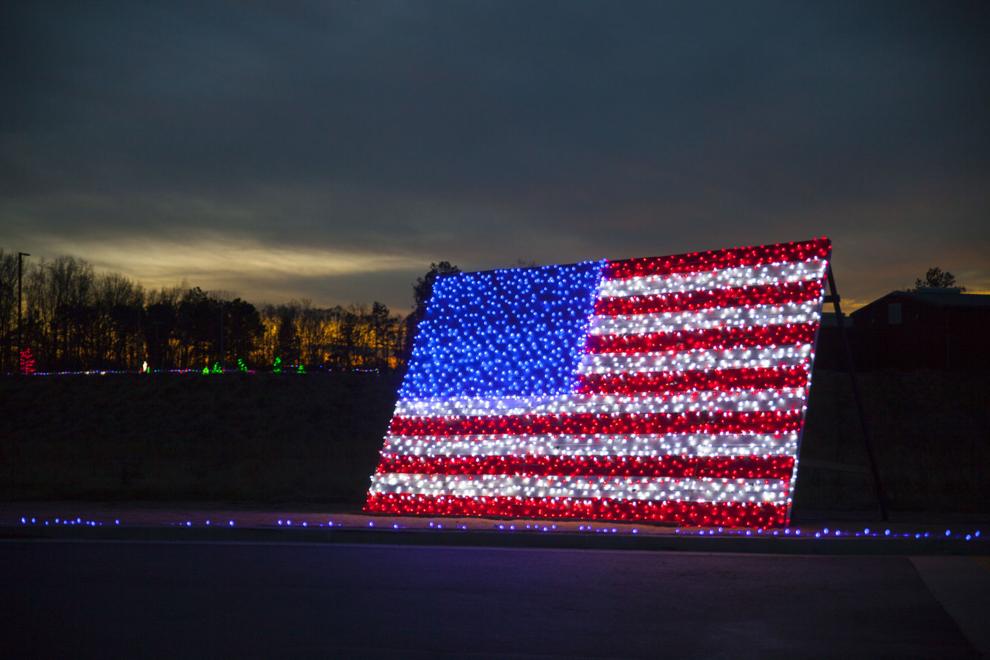 "Because it's so many lights, we know folks might miss something, so we let them go through as many times as they like," Pitts said.
This year, event organizers are also offering a season pass for $50, which gets patrons into the Veterans Park light show every night as long as it's open. Next year, there are plans to combine the season pass for both the show at Veterans Park and the show at Hobgood Park.
Pitts and other volunteers said they love the fact that Holiday Lights at Veterans Park has become a community team effort. A local Junior ROTC program assisted in light setup and that a Cherokee sheriff's deputy's wife gives her time frequently to help at the ticket booth, Pitts said.
The sheriff's office provides security and traffic control for the event, and WLJA Radio, 101.1 FM has also partnered with the show this year to promote the event and coordinate Christmas music to begin when the light show opens nightly at 6 p.m.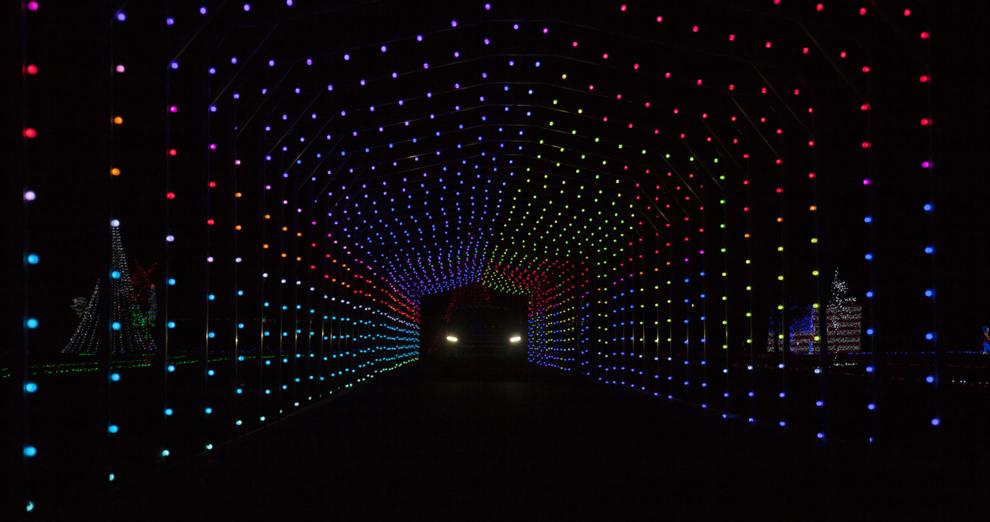 But the highlight of the weeks of the event's operation, Pitts said as a bus full of seniors rolled in, is seeing the smiles on the locals' faces as they drive up to the entrance tunnel.
"Our intent is to create a community event that is beneficial to our charities, but also to the community. So we try to keep it reasonably priced, and we continue to try to be innovative and change it up so it's a new experience," he said.
Holiday Lights at Veterans Park is open nightly, beginning at 6 p.m. now through Dec. 31. The event closes at 9 p.m. Thursday – Sunday and 10 p.m. on Friday and Saturday. Veterans Park is located at 7345 Cumming Highway, Canton.
For more information, visit the Holiday Lights at Veterans Park Facebook page.