No one does pies and cakes better than Tina Kell, who whips up dozens of tasty and popular desserts for her family's restaurants in downtown Canton each week.
When it comes to the holidays Kell also knows a thing or two about making sure her family gatherings have plenty of sweets to please the crowd.
"I have always collected cookbooks, I have about 500 that I have collected in the 47 years I have been married," Kell said. "We have always been a family about food. Now with four grandchildren for Thanksgiving and Christmas, I ask them what they want and make sure to include their requests."
Kell said her family holiday dessert table annually features a pumpkin pie, a cherry pie and that she always does triple chocolate mousse because it is such a family favorite. Christmas isn't complete without a selection of cookies she bakes up to share.
Since she is from a family of Swedish descent who always liked to cook, a love of food is in her and her family's genes. Her grandmother on her father's side owned a restaurant in Minnesota and baked all her own bread and her father cooked for a lumber camp.
Her two sons, Zach Kell and Josh Kell, familiar faces at the family's restaurants, Goin Coastal, Queenie's and Downtown Kitchen are carrying on the family tradition, one they learned at their mother's table. Queenie's is named for the matriarch of the Kell family.
"All of Zach and Josh's friends came to our house when they were growing up on Sundays, and we always cooked at home," she said.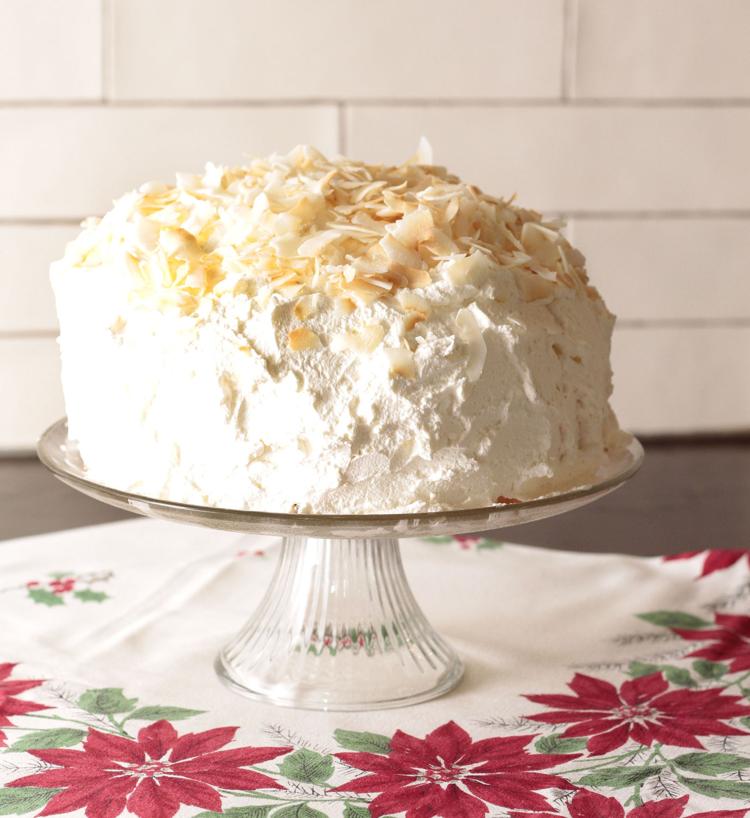 Nowadays Tina, who lives in the Woodmont community where she has made her home for the last nine years with husband Bill, enjoys trying her hand at dessert recipes designed to please a crowd at the restaurant or at home.
Using her extensive library of cookbooks, she chose a Thanksgiving Sweet Potato Pie recipe and a Christmas Coconut Cake to take center state this holiday.
"Because we only do old-fashioned Southern desserts, I researched and decided to do a sweet potato pie as I think it is typical od true Southern dinners," Kell said. "And everything I found is that you can't have Christmas in the South without a coconut cake."
Tina's take on the traditional Christmas sweet features custard between the layers and larger flake coconut on top.
For her potato pie, which makes a flavorful alternative to the ususal pumpkin filling, she uses fresh orange fleshed sweet potatos and puts them through a potato ricer to remove the pulp.
Following are her own recipes along with her special cooking tips to make your holidays delicious.
Queenie's Christmas Coconut Cake
Cake
2 cups sugar
1 cup unsalted butter, softened
4 large eggs, room temp
3 cups cake flour
1 Tbsp baking powder
1/2 tsp salt
1/2 cup milk
1/2 cup coconut milk(shake can before you measure)
1 tsp vanilla
1/2 tsp coconut extract
Coconut Filling
1/2 cup sugar
1/4 cup cornstarch
1/8 tsp salt
4 large egg yolks, room temp
1 cup half & half
1 cup coconut milk(shake can before you measure)
1 cup sweetened flaked coconut
3 Tbsp unsalted butter
1 tsp vanilla
1/4 tsp coconut extract
Additional ingredient - 1 cup heavy cream
Coconut Frosting
3 cups heavy cram
1 tsp vanilla
1/2 tsp coconut extract
1/3 cup sugar
Garnish-wide shaved coconut flakes-toasted
1. Prepare the coconut filling so it can cool. Whisk together sugar, cornstarch and salt in a heavy saucepan. Whisk egg yolks, 1/2 & 1/2 and the coconut milk in a bowl. Gradually whisk egg mixture into the sugar mixture. Cook over medium heat, whisking constantly, 6 to 7 minutes or just until the mixture starts to bubble. Cook, whisking constantly, 1 minute more and then remove from the heat.
2. Whisk the flaked coconut and butter, vanilla and coconut extract into the sugar egg mixture. Transfer to a bowl and place a sheet of plastic wrap directly on the mixture. This will prevent a film forming on the custard as it cools. Let stand for 30 minutes or place in the frig to chill while cake is being baked.
3. Making the cake. Preheat oven 350.
Beat 1 cup butter at medium speed with mixer until creamy. Gradually add 2 cups sugar beating until light and fluffy. Add the eggs one at a time beating just until blended after each addition.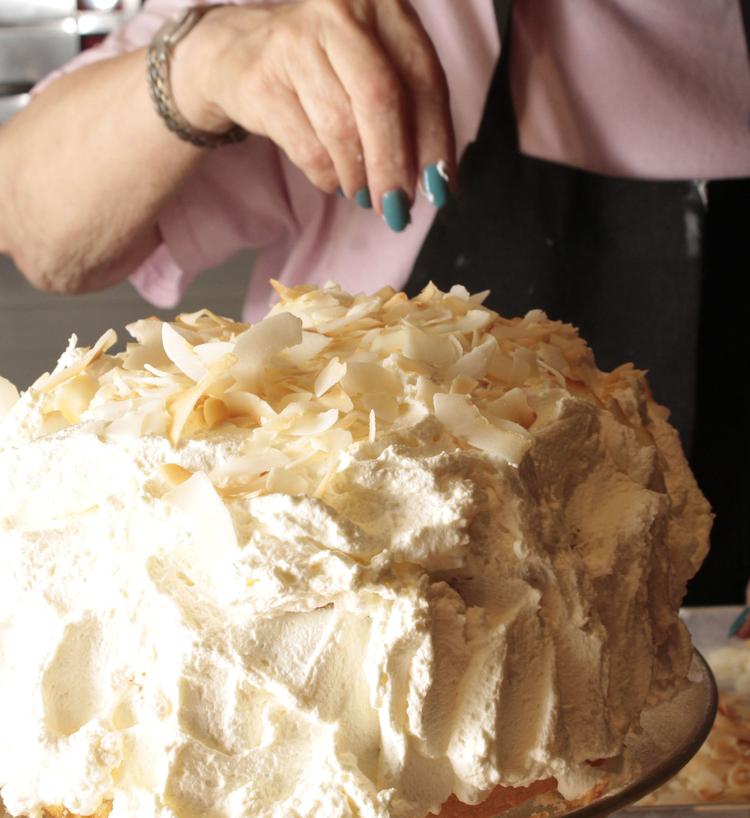 4. Stir together the cake flour, baking powder and salt. In another bowl stir together the milk and coconut milk. Add flour mixture to the butter mixture and alternate with the milk mixture. Begin and end with the flour. Beat at low speed just until blended. Stir in the vanilla & the coconut extract. Spoon the batter into two 9-inch cake pans. I spray my pan lightly with Pam and then line with a circle of parchment paper. If you don't want to do this just grease and flour your cake pans.
5. Bake for 30 minutes or until a wooden toothpick inserted in center comes out clean. Cool in pans on a wire rack for at lease an hour.
6. When you are ready to assemble your cake the cakes should be completely cool and the custard is cold. I make my cakes and custard the day before and put together when I want to serve.
7. Beat 1 cup heavy cream at high speed of a hand mixer until stiff. Gently fold into the custard.
8. To assemble the cake split each layer in half with a serrated knife or dental floss . You will end up with four layers. Place your first layer on serving plater, cut side up, and spread with 1 1/3 cup of custard filling. Repeat with remaining layers and filling ending with final cake layer cut side down. Frost with the frosting and top with toasted coconut flakes
Coconut Frosting
Beat 3 cups heavy cream, 1 tsp vanilla and 1/2 tsp coconut extract with mixer at medium to high speed for 2 minutes or until soft. Gradually add 1/3 cup sugar beating for 2 minutes or until stiff peaks form.
Queenie's Thanksgiving Sweet Potato Pie
2 large orange fleshed sweet potatoes - about 1 3/4 lbs
1/2 cup sugar
2 large eggs, lightly beaten
1/4 cup half and half
3/4 tsp ground cinnamon
1/4 tsp fresh ground nutmeg
7 Tbsp unsalted butter, melted
1/2 cup brown sugar
Your favorite 9 inch pie crust
Roast your sweet potatoes the day before or early in the day in an oven at 350 degrees for 1 hour or until they are really soft when you squeeze them. Once they are cool peel them and either put them in a food processor and mix until they are very smooth. I prefer to use a potato ricer.
Measure 2 1/2 cups of the puree into a mixing bowl. Add sugar, eggs, half and half, cinnamon nutmeg, butter & brown sugar.
Mix until smooth and pour into your pie crust.
Place on a baking sheet and bake in a 350 degree oven until the filling is almost set with a little jiggle in the center, about 1 hour. Cool completely on a wire rack. Cover and refrigerate until ready to serve.
Serve with your favorite whipped cream (it's fun to add little maple syrup or sorghum to your whipped cream)
*Make sure you pinch strips of aluminum foil around the edge of crust so it does not burn or get to dark while cooking. | 6 servings
Photography by Erin Gray Cantrell