Whether choosing country living or an urban lifestyle, Cherokee County has something for everyone. Come along with Cherokee Life as we take you inside two beautiful homes that showcase the best the community has to offer, whatever your preference.
Country living offers tranquility
For those who choose to live off the beaten path, the rural beauty and sense of being away from it all offer special benefits.
Lisa and Mike Tressler know that feeling when they return home each day to the reproduction Southern farmhouse they completed in 2014 on five of Lisa's family's 70 acres in the Sixes Community.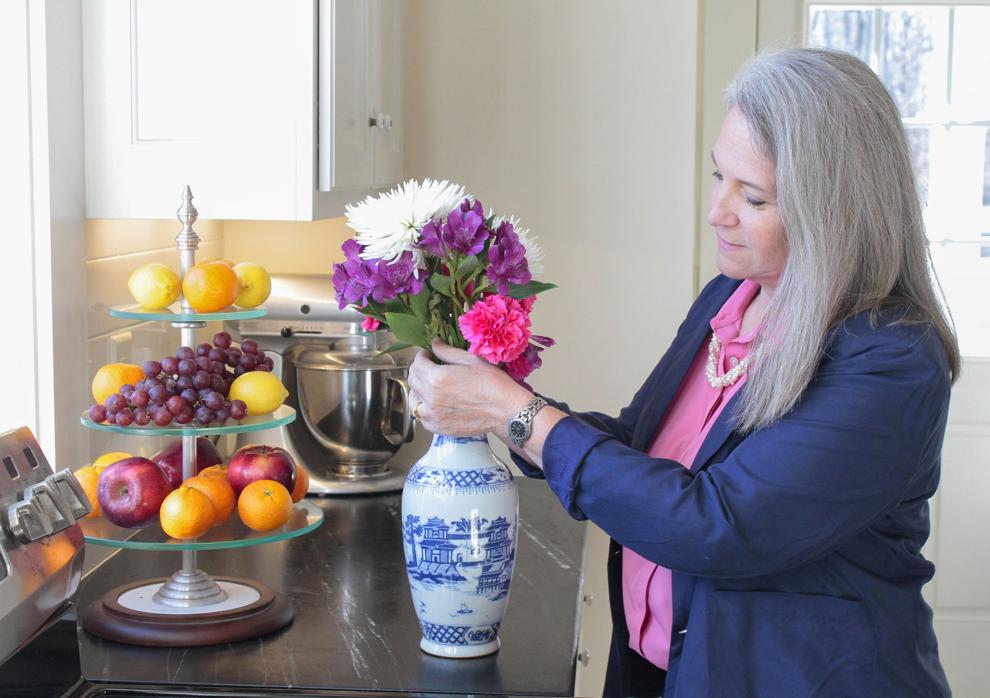 Only a short drive away from the BridgeMill community and surrounding shopping and dining options, the lovely white frame two-story home seems a world away.
"Once I turn onto Lemon Street, I feel my blood pressure drop and I get that quiet, peaceful feeling," Lisa says of living in the country. "Here you get the wildlife, you get to garden, you see the land."
The couple has not always had the option to live a bucolic lifestyle. They met while students at Georgia Tech, and lived overseas and in major cities while Mike served in the military as a nuclear medical officer. When they lived in Frankfurt, Germany, Lisa worked for the U.S. Corps of Engineers as a deputy project manager on four embassies the U.S. built after the Soviet breakup.
These days, although they are both busy with careers and raising their two sons, they return home each evening to serenity.
Lisa's father bought the property from his great aunt in the early 1960s. It had been in the Harp family since the 1800s, she said. Her grandparents, the Hillhouses, lived in the area until their home was taken down when Lake Allatoona was built in the 1950s.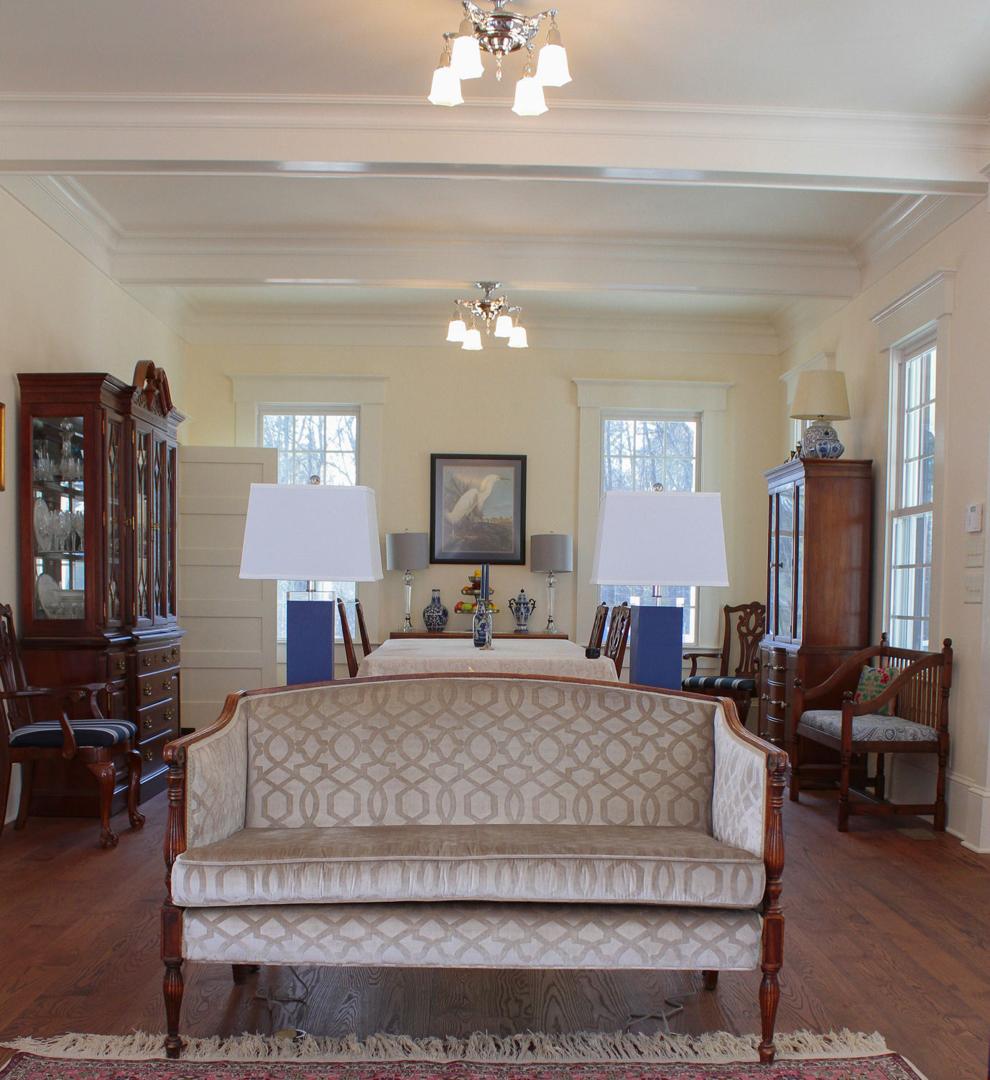 "There are elements of my grandparents' house here in our new house. We wanted something that fit," Lisa said. When they got ready to build in 2013 they chose a Southern Living floorplan of an adapted Georgian style home by an architect whose work they admired. Norris Dunn and his son Shane Dunn were the builders for the project. Lisa's mother also lives on the property.
The house has 3,400 square feet of living space and features a wrap-around front porch and a screened back porch that Lisa says the family loves to enjoy whenever the weather permits.
Step into the house from the impressive wrap-around porch, and the front door leads directly into the living and dining room that stretches the width of the house, offering a massive, light space for entertaining and family functions.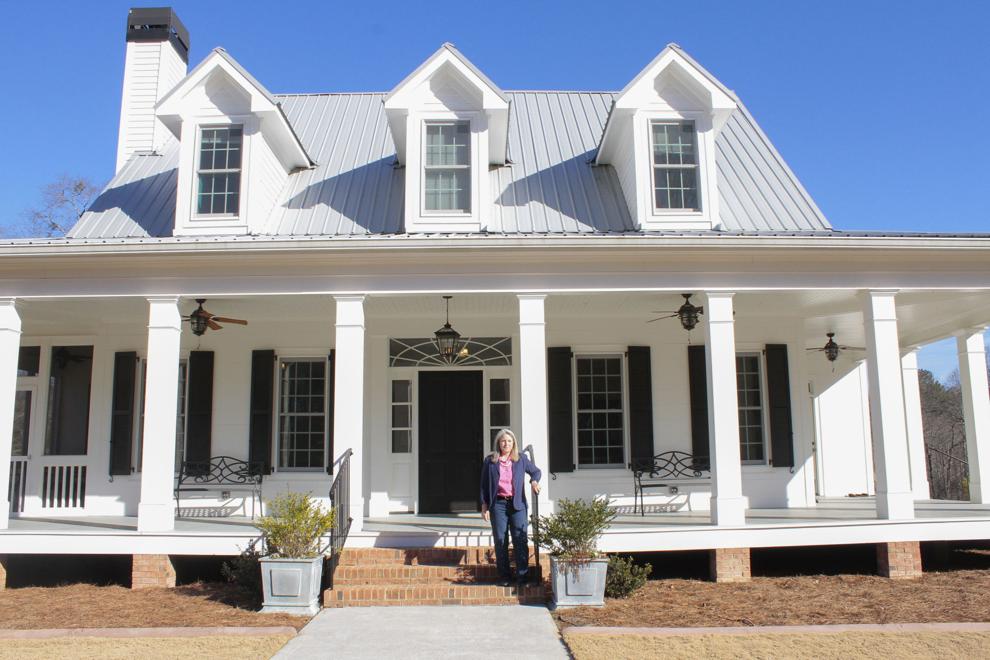 "I love bright, I don't like dark rooms," Lisa said of the light-filled home. "I tried to do '20s, '30s, '40s style with lots of windows. I like the open living and dining room so that we can accommodate large family gatherings."
Marble from Tate was used for the fireplace and the formal area is decorated with a mixture of antiques, vintage finds and family pieces. Lisa especially cherishes a desk she designed and her father started making out of walnut he found on the property. But he died before it could be finished and neighbor Jack Hefner finished it for Lisa.
"Dad and I drew up the plans for the desk. He loved walnut wood," she said of the special piece.
The downstairs of the home features the master suite as well as a separate wing that houses an office or fourth bedroom and full bath that is accessible and designed if the couple needs to look after an elderly relative.
"We really planned it so that the main living is on the first level," Lisa points out. Upstairs, you find the two bedrooms for the couple's sons.
The gourmet kitchen and spacious great room stretch behind the living and dining room and are easily accessed by the family through a convenient mudroom. The area features a built-in desk and cabinets.
"I love the cubbies and nooks and desk so that when you come in the door there is a convenient place to put everything," she said.
The kitchen's gleaming white cabinets and soapstone countertops offer a pleasant palette to showcase pieces of blue and white that Lisa has collected for much of her life. Artwork from around the world blends seamlessly with local artwork of historic sites by watercolor artist Elly Hobgood.
The bedroom in the spacious master wing offers a sitting area that looks out over the extensive pastureland that surrounds the house and a place for the couple to enjoy morning coffee.
Whether starting the day, or ending it, the Tresslers find the peace and quiet they love right in their own home.
While the thought of urban living might conjure up images of a loft in New York City, vibrant towns such as Woodstock offer their own brand, with walkable communities close to the city center filled with sophisticated living spaces, a plethora of amenities and like-minded neighbors.
Tara Daigle loves her urban lifestyle in The Woodstock Downtown, a community nestled on quiet streets with historic names just steps from Main Street and its hustle and bustle. Daigle's stately traditional brick home offers a tranquil oasis for the local businesswoman, who exuberantly embraces everything about city living.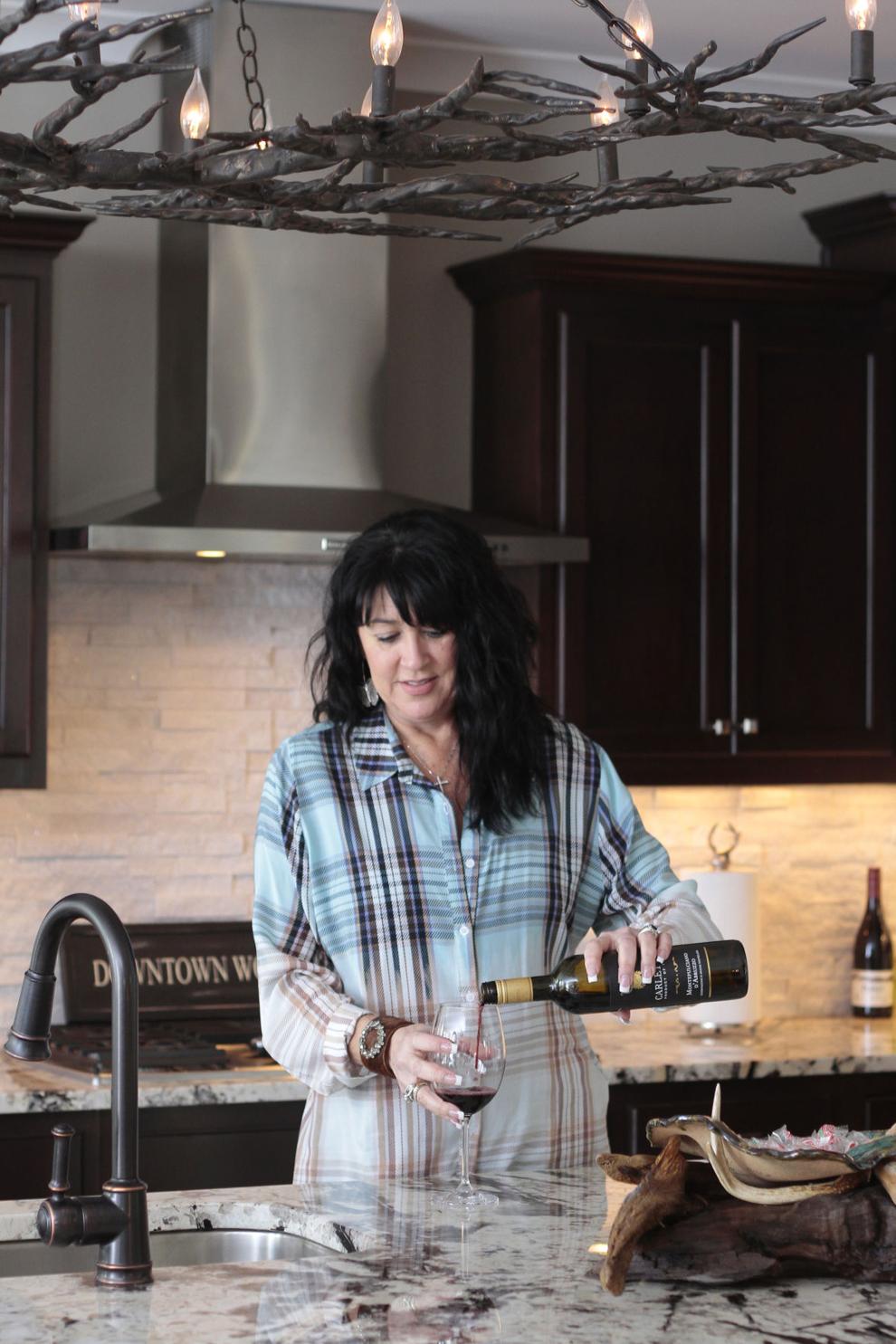 Whether it is enjoying a concert presented on her neighborhood's stage, hosting a wedding for 250 for her daughter at the nearby Elm Street Green, or stepping into one of the shops or restaurants she can easily reach on a walk, Daigle finds just the right blend in downtown Woodstock.
"I like the mix, the mixture of historical and contemporary, such as Century House restaurant, which is in a historic house and Madlife," Daigle says, referencing the vibrant downtown music and dining venue.
Daigle has lived in her gorgeously decorated 3,300-square-foot four-bedroom, three-bath home on McAffee Street for about two years, but has been a resident of the area for nine years, trying out condo and townhome living before moving into one of the area's homes.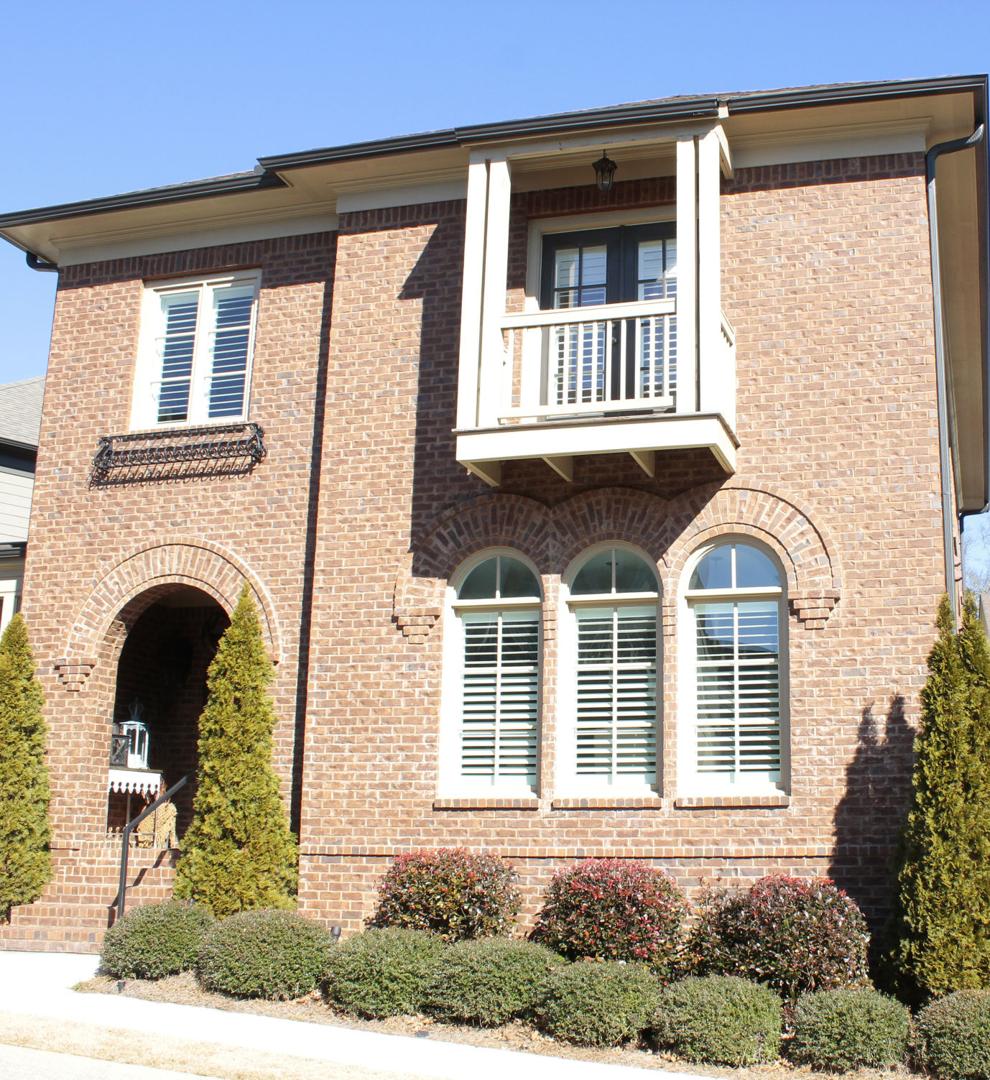 Built by John Weiland in 2013, the residence, which was on the Woodstock Junior Women's Club Christmas Tour of Homes in 2016, is one of only three fully brick homes in the community. The neighborhood is made up of 100 homes, 60 townhomes and 66 condos.
"There are all types of people in here from all walks of life and all different occupations. We have families, we have kids, we have singles," Daigle points out. "For a person here who is shy, it almost makes them get out and meet people. For those who like a lot to do, there is always something going on."
Daigle says one of the best features is that The Woodstock Downtown is a true walkable community.
"Everybody in here supports Elm Street theatre, the restaurants, and we love events such as First Friday and the Woodstock Farmers Market," she said.
Step inside Daigle's spacious home and you will immediately notice the sunroom off the foyer that serves as a modern music room with a gleaming grand piano. She purchased the piano from a neighbor who was moving, and it looks completely at home in its new space.
The stunning modern gourmet kitchen features a large granite island with an inviting breakfast nook. The magnificent iron chandelier over the island was chosen by Daigle at home design store Pineapple Park in Woodstock, which also did the holiday decorating for the house when it was on the tour of homes. The kitchen backsplash is rough- hewn quartz that sparkles with natural beauty and was chosen by Daigle, along with the granite.
The kitchen opens to the living area, and Daigle continued her redecorating there, removing some built in cabinets in the living room that originally flanked the fireplace, replacing them with cabinets by Hooker. The entire space was repainted in a pleasing modern palette.
Daigle, who updated the home with all new light fixtures when she purchased it, said she uses only contractors and shops in downtown Woodstock for all her decorating needs. "I believe in supporting our local merchants and establishments," she said. An expansive, airy formal dining room completes the first floor living area. 
Everywhere, the owner's private art collection, including oils and watercolors collected during her travels, enhances the space. Look around and you notice immediately that Daigle loves angels, and they are featured predominately in the artwork and accents throughout the house.
Upstairs, a loft area filled with furniture that is both functional and fun opens into the luxurious master suite that features plenty of space and an inviting spa bath. The master walk-in closet would elicit feelings of envy in any shoe and pocketbook lover, and the entire closet area is perfectly decorated.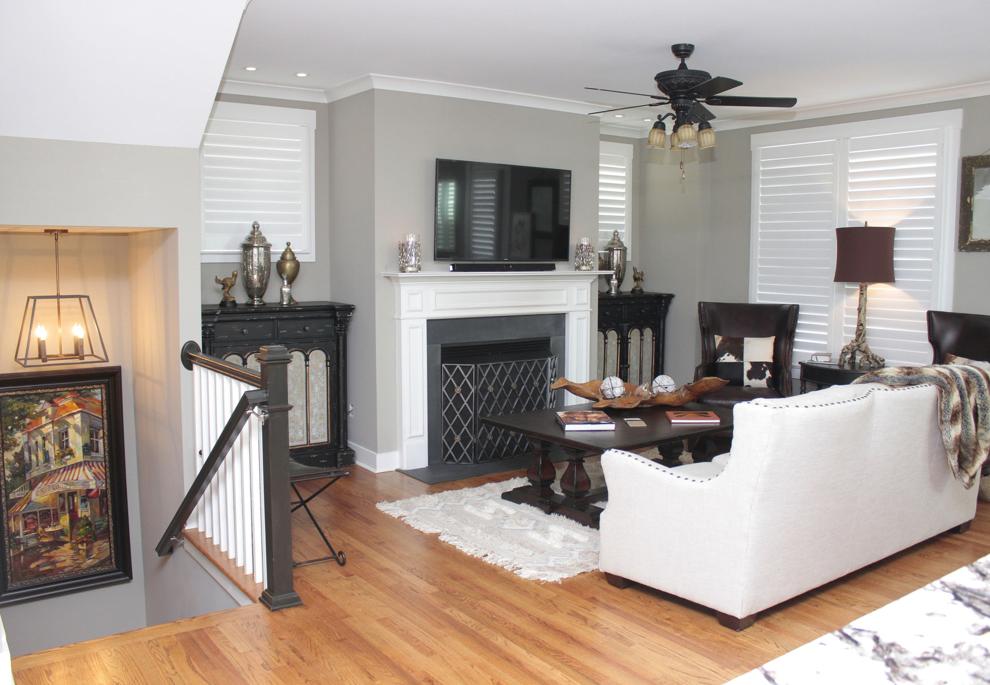 "It is a mix of modern and traditional; that is what I like, a mix" she said.
The finished terrace level has an office, bedroom and bath and a three-car garage.
Throughout the year, Daigle said that people choose to come into the neighborhood to take photos, whether it is a group going to prom, a wedding party looking for a lovely backdrop, or a family. She also pointed out that whenever someone has surgery or an illness in the neighbor, everyone is there to help.
Daigle loves that her lifestyle allows her the ability to stay involved in community activities with a variety of friends, old and new. She points to the annual Christmas parade, where she participated among the 100 floats.
The new downtown rooftop wine bar, Rootstock and Vine, hosted a ticketed parade watching party where those with tickets could gather to view the parade and Daigle's family was among those who participated.
"Where else can you get that, go to a parade and visit a rooftop bar? Living in Woodstock has it all," she said.
Photography by Erin Gray Cantrell